JACKSON NOMINATION
What senators are saying: Tracking reactions to Jackson's nomination
on Feb 25, 2022
at 8:22 pm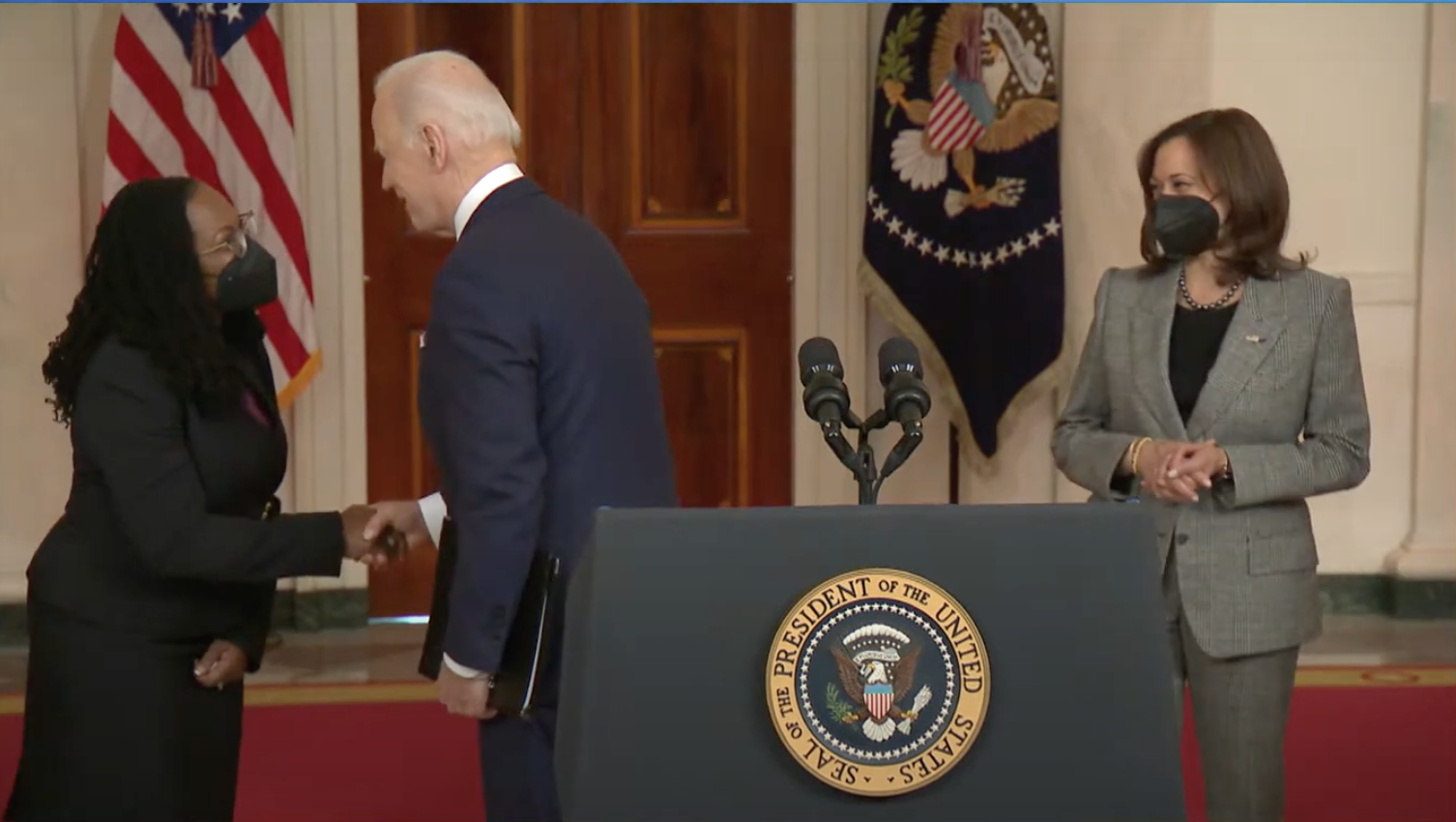 After President Joe Biden's nomination of Judge Ketanji Brown Jackson, attention now turns to the Senate's advice-and-consent process. It takes a simple majority in the Senate to confirm a nominee to the court. The chamber is split 50-50, with Vice President Kamala Harris able to cast the decisive vote in the event of a tie.
Here's how senators from both parties reacted to the nomination on Friday.

Key Democrats
Two moderate Democrats – Kyrsten Sinema of Arizona and Joe Manchin of West Virginia – frequently hold the pivotal votes in the Senate, and they have shown willingness to block Biden's legislative initiatives. Neither Sinema nor Manchin, however, has voted against a single one of Biden's judicial nominees for the lower courts. Both issued non-committal statements on Friday about Jackson's nomination.
Sinema said she looks forward to meeting Jackson, adding that she evaluates all judicial nominees based on their professional qualifications, their belief in an independent judiciary, and whether they would uphold the rule of law. "I take seriously my constitutional duty to provide advice and consent," she said.
Statement on Judge Ketanji Brown Jackson's Nomination for the Supreme Court pic.twitter.com/S5Ne1VX309

— Kyrsten Sinema (@SenatorSinema) February 25, 2022
Manchin issued a similar statement, saying he would assess Jackson's "record, legal qualifications and judicial philosophy to serve on the highest court in the land."
I look forward to meeting with Judge Jackson before determining whether to provide my consent.

— Senator Joe Manchin (@Sen_JoeManchin) February 25, 2022
Republicans to watch
Last June, three Republican senators joined all 50 Democrats in voting to confirm Jackson to the U.S. Court of Appeals for the District of Columbia Circuit. Those three Republicans are Lindsey Graham of South Carolina, Susan Collins of Maine, and Lisa Murkowski of Alaska.
Graham publicly lobbied Biden to nominate J. Michelle Childs, a district judge from his home state of South Carolina. Graham (as well as Rep. Jim Clyburn, D-S.C.) said Childs would bring much-needed educational diversity to the court because she attended public universities. Shortly after news broke that Biden had selected Jackson (who has undergraduate and law degrees from Harvard), Graham tweeted that "the radical Left has won President Biden over yet again." "The Harvard-Yale train to the Supreme Court continues to run unabated," he added.
If media reports are accurate, and Judge Jackson has been chosen as the Supreme Court nominee to replace Justice Breyer, it means the radical Left has won President Biden over yet again.

The attacks by the Left on Judge Childs from South Carolina apparently worked.

— Lindsey Graham (@LindseyGrahamSC) February 25, 2022
Collins released a brief statement: "Ketanji Brown Jackson is an experienced federal judge with impressive academic and legal credentials. I will conduct a thorough vetting of Judge Jackson's nomination and look forward to her public hearing before the Senate Judiciary Committee and to meeting with her in my office."
Murkowski released a similar statement on Friday afternoon, adding: "I've been clear that previously voting to confirm an individual to a lower court does not signal how I will vote for a Supreme Court justice. I am committed to doing my due diligence before making a final decision on this nominee. Being confirmed to the Supreme Court — the nation's highest tribunal, and a lifetime appointment — is an incredibly high bar to achieve."
Judiciary Committee members
Before the full Senate votes on Jackson's nomination, the Senate Judiciary Committee will examine her record and question her over several days of hearings. Here's what some members of the committee have said:
Dick Durbin, D-Ill., chair of the committee, said "President Biden has chosen an extraordinary nominee in D.C. Circuit Judge Ketanji Brown Jackson." The committee, he said, "will begin immediately to move forward on her nomination with the careful, fair, and professional approach she and America are entitled to."
Chuck Grassley, R-Iowa, the committee's ranking Republican, said: "I look forward to meeting with Judge Jackson face to face on Capitol Hill in the coming days, and working with Senator Durbin to finalize the committee's initial questionnaire and records request, as is customary in this process. As ranking member, I have no intention of degrading the advice and consent role as Senate Democrats have in recent confirmations. I intend to show up and do the job that Iowans pay me to do."
Marsha Blackburn, R-Tenn., called Biden's announcement of his nominee during Russia's ongoing invasion of Ukraine "extremely inappropriate."
Sheldon Whitehouse, D-R.I., said Jackson is "a thoroughly qualified nominee." Responding to Republican criticism, Whitehouse added, "I hope my colleagues across the aisle consider Judge Jackson in good faith, as our Founders envisioned when entrusting the Senate with the responsibility to provide advice and consent. Even before this nominee was named, the right-wing donors who packed the Court under President Trump sought to disparage Justice Breyer's replacement, alleging the same dark-money scheme that they, themselves, hatched and executed."
Ted Cruz, R-Texas, said on Friday evening: "While I have concerns about how President Biden is handling this nomination process, I look forward to evaluating Judge Jackson on her record, views, and judicial philosophy alone. Sadly, Senate Democrats have undermined the American people's confidence in previous judicial confirmation processes with vicious personal smears and unfounded accusations. … I believe Judge Jackson should be treated with the dignity and decorum that has been lacking from the consideration of past nominations." He added, "While I previously voted against confirming Judge Jackson to her current position on the D.C. Circuit, I will engage in careful consideration of her nomination."
Richard Blumenthal, D-Conn., called Jackson's nomination "truly thrilling" and said, "She is a star — an example of the best of America." Blumenthal later tweeted praise of the reference in Jackson's speech at the White House to Constance Baker Motely, a Connecticut native.
Other statements from Judiciary Committee members: Cory Booker, D-N.J.; Chris Coons, D-Del.; Diane Feinstein, D-Cal.; Mazie Hirono, D-Hawaii; Amy Klobuchar, D-Minn.; Patrick Leahy, D-Vt.; Jon Ossoff, D-Ga.; John Cornyn, R-Texas; Josh Hawley, R-Mo.; John Kennedy, R-La.; Mike Lee, R-Utah; Ben Sasse, R-Neb.; and Thom Tillis, R-N.C.
Party leadership