SCOTUS NEWS
In historic first, Biden nominates Jackson to Supreme Court

on Feb 25, 2022
at 5:26 pm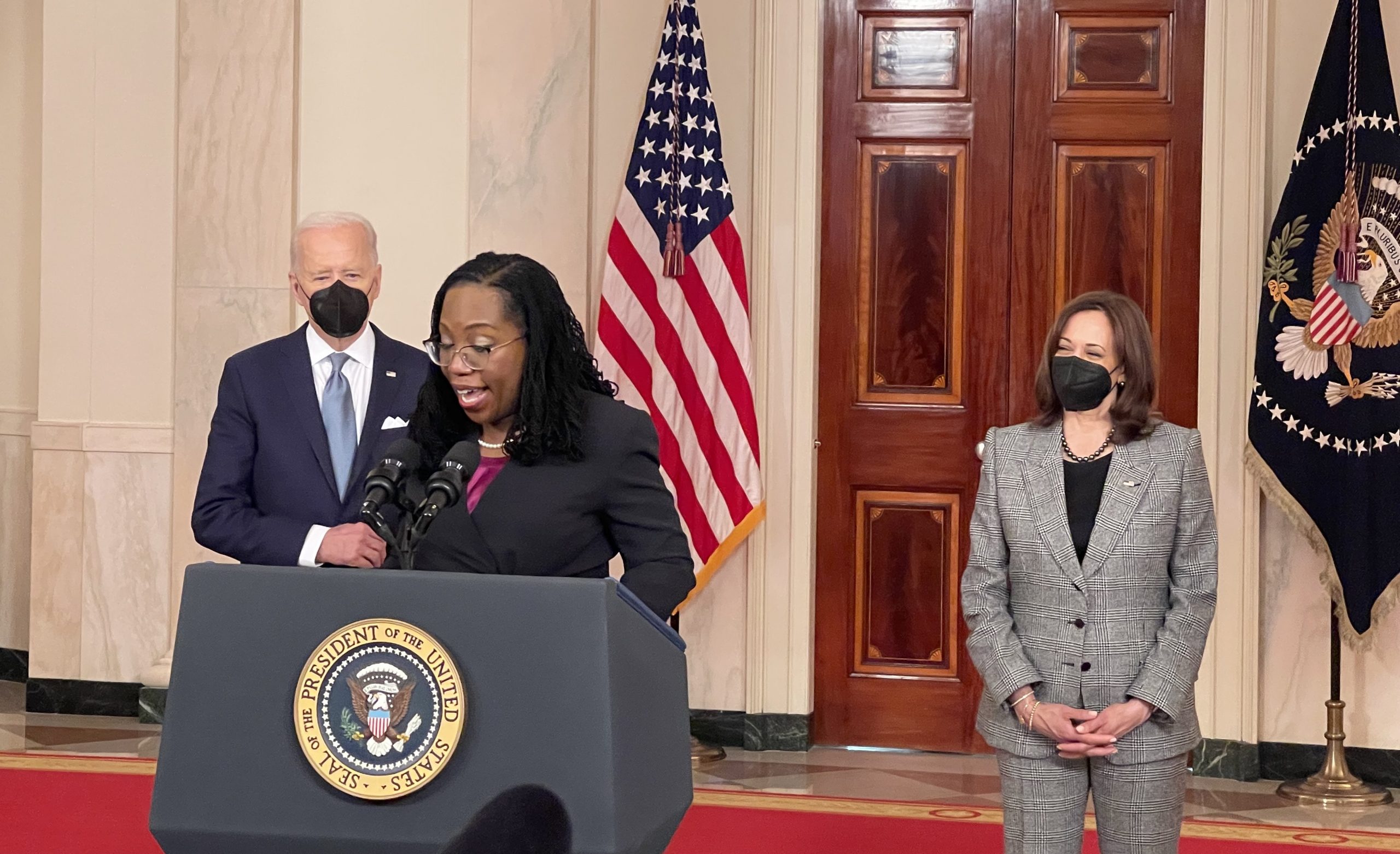 President Joe Biden on Friday nominated Judge Ketanji Brown Jackson of the U.S. Court of Appeals for the District of Columbia Circuit to be a Supreme Court justice. Biden's announcement fulfilled his campaign pledge to nominate the first Black woman to serve on the court.
If the 51-year-old Jackson is confirmed to succeed 83-year-old Justice Stephen Breyer, who last month declared that he would step down this summer, the ideological balance on the conservative-dominated court is unlikely to change. But Jackson's confirmation would ensure that Breyer's seat remains occupied by a justice nominated by a Democratic president for the foreseeable future, and she would also make history in another way, as the first federal public defender to serve on the court.
Jackson had been widely regarded as a likely nominee even before Breyer announced his retirement, but on Friday Biden made it official. Biden entered the ceremony at the White House with Jackson and Vice President Kamala Harris. All were masked, with Biden and Jackson removing their masks to speak.
Biden went first. He noted that "for too long, our government and courts haven't looked like America." He also emphasized that he was looking for a justice with a "pragmatic understanding that the law must work for the American people," who knows that "the Constitution is a resilient charter of liberty."
Jackson, Biden asserted, is the kind of extraordinarily well-qualified nominee who can inspire others to serve the United States "at the highest level." He praised Jackson's "uniquely accomplished and wide-ranging background." In addition to spending two years as an assistant federal public defender, she worked in private practice at several top law firms and served on the U.S. Sentencing Commission. In 2012, President Barack Obama nominated her to become a U.S. district judge in Washington, D.C., and she was confirmed to that position the following year. After eight years on the district court, she was nominated and confirmed to the D.C. Circuit last year.
If confirmed to the Supreme Court, Jackson would be the first justice with significant experience representing criminal defendants since Justice Thurgood Marshall, who retired in 1991. She also would join Justice Sonia Sotomayor as one of only two current members of the court with experience as trial-court judge – "a critical qualification in my view," Biden said.
In her brief remarks, Jackson outlined her life story, focusing primarily on the personal side rather than the professional one. She began by thanking God, saying that her life "has been blessed beyond measure" and that "one can only come this far by faith." Jackson described her father, who left a career as a public schoolteacher to go to law school when she was a young child, as her "first professional role model."
Jackson acknowledged (as news stories had reported) that one of her uncles was sentenced to life in prison on federal drug charges. (He was released after Obama commuted his sentence in 2016.) But she stressed that her family also had links to law enforcement: After graduating from college, her brother became a police officer and eventually a detective, working in inner-city Baltimore before joining the military and serving two tours of duty in the Middle East. And another uncle served as the police chief in Miami.
She spoke directly to Breyer, for whom she clerked in the late 1990s: "Members of the Senate will decide if I can fill your seat," Jackson said. "But I could never fill your shoes."
Jackson noted what she described as an "interesting coincidence": She shares a birthday with Constance Baker Motley, who became the first Black woman to serve on the federal bench when she was appointed as a district judge in 1966. Jackson emphasized that she stood "on Judge Motley's shoulders, sharing not only her birthday but also her steadfast commitment to equal justice under law." Jackson can only hope, she said, that her own life and career — and her love of the United States and the Constitution — will inspire future generations.
With that, Jackson donned her mask again, and – after a brief pause for Biden to belatedly introduce Dr. Jill Biden and Douglas Emhoff, the vice president's husband – the trio left the room together.
The announcement of Jackson's nomination came at the end of a week in which Russia's invasion of Ukraine dominated headlines in the United States and around the world. At Thursday's White House press briefing, White House Press Secretary Jen Psaki had assured reporters that despite the war, Biden was still on track to name a nominee by the end of February – which is also Black History Month. If she is confirmed, Jackson will make history in her own right.
This article was originally published at Howe on the Court.