Wednesday round-up

on Nov 7, 2018
at 7:31 am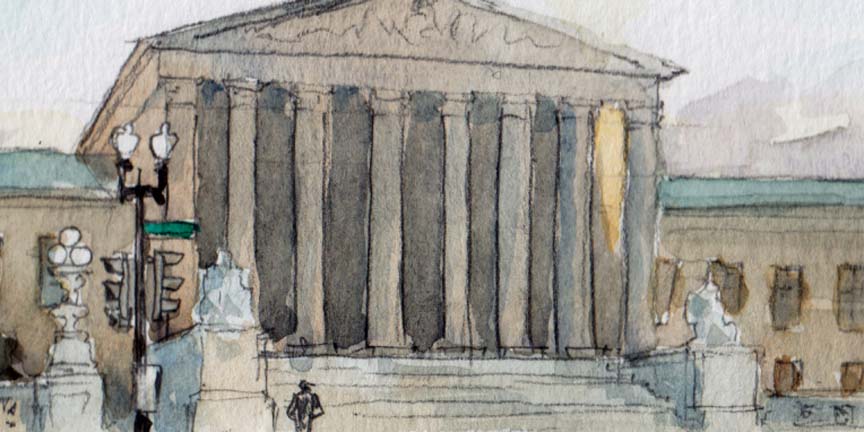 This morning the Supreme Court will wrap up its November session with two oral arguments. The first case today is Republic of Sudan v. Harrison, which involves service of process on foreign governments under the Foreign Sovereign Immunities Act. Amy Howe had this blog's preview, which first appeared at Howe on the Court. Kathryn Adamson and Sarah Evans have a preview at Cornell Law School's Legal Information Institute. This morning's second case is Culbertson v. Berryhill, which asks whether a statutory cap on attorney's fees in Social Security benefit cases is limited to fees incurred in representing a client before the agency or also applies to representation in court. Kathryn Moore previewed the case for this blog; Ushin Hong and Russell Mendelson have Cornell's preview.
Yesterday the court issued its first decision of the term, in Mount Lemmon Fire District v. Guido, in which the justices held unanimously that the Age Discrimination in Employment Act applies to all state and local governments, no matter how many employees they have. Charlotte Garden analyzes the opinion for this blog. At Education Week's School Law Blog, Mark Walsh reports that "[t]he 8-0 decision rejects an argument that the ADEA's provision applying the law to private employers with 20 or more workers should also be read to apply to public employers." Lisa Soronen discusses the opinion at the Council of State Governments' Knowledge Center blog. Another look at the opinion comes from Tibor Nagy Jr. and Hera Arsen at Ogletree Deakins.
Amy Howe has this blog's analysis of yesterday's oral argument in Bucklew v. Precythe, in which an inmate argues that because he suffers from a rare medical condition, execution by lethal injection will cause him intolerable pain and would therefore violate the Eighth Amendment; her analysis first appeared at Howe on the Court. [Disclosure: Goldstein & Russell, P.C., whose attorneys contribute to this blog in various capacities, is counsel on an amicus brief in support of the petitioner in this case.] Jess Bravin reports for The Wall Street Journal that, "[a]s conservative and liberal justices appeared to divide in predictable fashion over the case, the court's newest member, Brett Kavanaugh, emerged as a potential swing vote, ready to question capital punishment like the justice he succeeded, Anthony Kennedy." At Reason's Volokh Conspiracy blog, Paul Cassell "urge[s] the Court to reject Bucklew's arguments because of his deliberate dilatory tactics."
This blog's analysis of Monday's argument in Sturgeon v, Frost, in which the court considered whether the National Park Service can regulate activities on navigable waters within the national park system in Alaska, comes from Sandi Zellmer. Emily Hammond analyzes the argument in Monday's second case, Virginia Uranium, Inc. v. Warren, which asks whether a Virginia moratorium on uranium mining is pre-empted by the Atomic Energy Act, for this blog.
Briefly:
For The National Law Journal (subscription or registration required), Tony Mauro reports that "[t]he court announced that Deepak Gupta of Washington's Gupta Wessler was 'invited to brief and argue' as amicus curiae 'in support of the judgment below' in a Social Security case from Kentucky captioned Smith v. Berryhill," meaning that means that "Gupta will argue a position in the case that the U.S. Justice Department—representing Social Security official Nancy Berryhill—no longer embraces."
Ronald Mann reports for this blog that yesterday the justices called for additional briefing in Frank v. Gaos, a case argued last week in which the court has been asked to make it harder for companies to settle class-action lawsuits without providing direct compensation to class members; the parties have been asked to address "the justices' concern that the plaintiffs in this case may not have 'standing' to bring the class action."
At the Council of State Governments' Knowledge Center blog, Lisa Soronen observes that American Legion v. American Humanist Association, in which "the Supreme Court will decide whether a local government has violated the First Amendment by displaying and maintaining a 93-year-old, 40-foot tall Latin cross memorializing soldiers who died in World War I," "may have a big impact on state and local governments across the country that own land with veteran's memorials containing religious symbols."   
We rely on our readers to send us links for our round-up.  If you have or know of a recent (published in the last two or three days) article, post, podcast, or op-ed relating to the Supreme Court that you'd like us to consider for inclusion in the round-up, please send it to roundup [at] scotusblog.com. Thank you!