Monday round-up

on Nov 26, 2018
at 6:54 am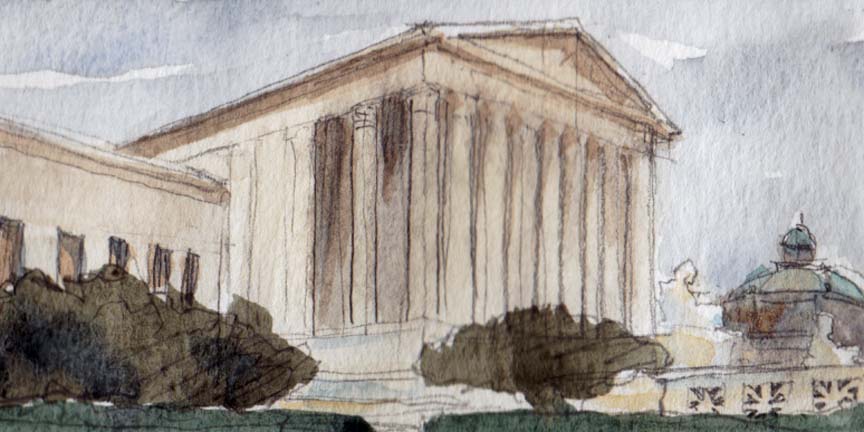 This morning the Supreme Court begins its December sitting with oral arguments in two cases. The first is Apple v. Pepper, in which the justices will consider whether IPhone-app purchasers can bring an antitrust suit against Apple. Amy Howe previewed the case for this blog, in a post that was first published at Howe on the Court. Basem Besada and Isaac Idicula preview the case for Cornell Law School's Legal Information Institute, and SubscriptLaw offers a graphic explainer. This morning's second case is Nieves v. Bartlett, which revisits the question of whether probable cause defeats a First Amendment retaliatory-arrest claim. Howard Wasserman had this blog's preview. Clotilde Le Roy and Jarrett Field preview the case for Cornell. SubscriptLaw's graphic explainer is here.
On Friday, the federal government made another request for the Supreme Court to review a district-court ruling before a court of appeals has considered the case, this time in a trio of challenges to the Trump administration's ban on service in the military by most transgender people. Amy Howe has this blog's coverage. For The Washington Post, Robert Barnes reports that "[t]he Trump administration has taken an aggressive posture when lower courts have ruled against it on important issues," asking "the Supreme Court — with varying degrees of success — to accept the cases before they have run through the normal appeals process." Additional coverage comes from Ariane de Vogue and Joan Biskupic at CNN, Adam Liptak for The New York Times and Pete Williams at NBC News.
Briefly:
At Law.com, Tony Mauro reports that "Justice Anthony Kennedy, who shaped the U.S. Supreme Court's approach to LGBT rights and was a staunch proponent of individual liberty, will be honored next month by The American Lawyer with a Lifetime Achievement Award."
Kevin Daley observes at The Daily Caller that "Justice Brett Kavanaugh seems to be keeping a low profile in his first months on the U.S. Supreme Court, after his bitter confirmation enflamed much of the public and recast the 2018 elections."
We rely on our readers to send us links for our round-up.  If you have or know of a recent (published in the last two or three days) article, post, podcast, or op-ed relating to the Supreme Court that you'd like us to consider for inclusion in the round-up, please send it to roundup [at] scotusblog.com. Thank you!