Relist Watch

on Oct 24, 2017
at 1:49 pm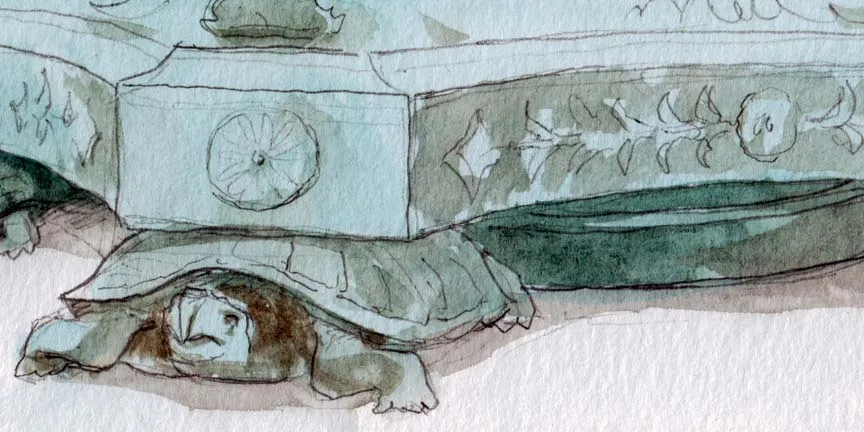 John Elwood reviews yesterday's relists.
For the first time during October Term 2017, we have had a week off between Supreme Court conferences. That's great – everyone has had a little more time to chi–ll–ax and focus on what really matters.
But now it's Tuesday and the dockets are up to date and … no matter how many times we check, all we've been able to find is one lonely new relist. So there will be an air of familiarity as you read down this week's list of cases.
Our sole new relist is a capital case out of Alabama. Reeves v. Alabama, 16-9282, concerns how a prisoner can establish that he received ineffective assistance of trial counsel under the familiar standard of Strickland v. Washington. Petitioner Matthew Reeves was convicted of shooting Willie Johnson – no, not that one – during a robbery. Reeves alleges that trial counsel failed to present any of the ample evidence in their possession that he suffered from intellectual disabilities, and their decision cannot "be explained by a decision to devote resources to an alternative strategy" or "other mitigating factors," because they didn't present any meaningful mitigation testimony. The Alabama court of criminal appeals rejected Reeves' argument, noting that under Strickland, a prisoner bears the burden of overcoming the "strong presumption" that counsel rendered effective representation. Observing that Reeves had not presented the testimony of his trial counsel at the evidentiary hearing at which he alleged their ineffectiveness, the state court reaffirmed precedent holding that a prisoner alleging ineffective assistance "must, at his evidentiary hearing, question trial counsel regarding his or her actions and reasoning." Before the Supreme Court, Reeves argues that the testimony of trial counsel is not necessary to establish ineffectiveness, but rather that ineffectiveness can be established through the testimony of other witnesses.
And with that, we've come to the end of the new relists. We'll just have to make the best of the reruns until the next order list comes along.  But take heart, readers: That is just one week off.
Thanks to Kent Piacenti for compiling the cases in this post.
========================================================
New Relists
Issue: Whether, when trial counsel does not testify about his or her own strategic decisions as part of a claim under Strickland v. Washington, a defendant may establish ineffective assistance of counsel using other evidence, as most circuit and state courts hold; or whether the presumption of sound strategy is categorically irrebuttable in the absence of trial counsel's testimony, as the Alabama Court of Criminal Appeals held here.
(Relisted after the October 13 conference)
Returning Relists
616 Croft Ave., LLC v. City of West Hollywood, 16-1137
Issue: Whether a legislatively mandated permit condition is subject to scrutiny under the unconstitutional-conditions doctrine as set out in Koontz v. St. Johns River Water Management District, Dolan v. City of Tigard and Nollan v. California Coastal Commission.
(relisted after the September 25, October 6 and October 13 conferences)
National Institute of Family and Life Advocates v. Becerra, 16-1140
Issue: Whether the free speech clause or the free exercise clause of the First Amendment prohibits California from compelling licensed pro-life centers to post information on how to obtain a state-funded abortion and from compelling unlicensed pro-life centers to disseminate a disclaimer to clients on site and in any print and digital advertising.
(relisted after the October 6 and October 13 conferences)
A Woman's Friend Pregnancy Resource Clinic v. Becerra, 16-1146
Issues: (1) Whether a determination that a law is content-based leaves room for a court to apply something less than strict scrutiny, specifically (a) whether the court's decision in Reed v. Town of Gilbert establishes a bright-line rule for content-based speech, (b) whether content-based, compelled speech is subject to lower scrutiny if it is deemed to be an abortion-related disclosure, and (c) whether the First Amendment permits lower scrutiny for content-based restrictions on professional speech or professional facilities; and (2) whether a law requiring religious nonprofits to post a government message antithetical to their beliefs triggers heightened or minimal scrutiny under the free exercise clause.
(relisted after the October 6 and October 13 conferences)
Livingwell Medical Clinic, Inc. v. Becerra, 16-1153
Issues: (1) Whether the U.S. Court of Appeals for the 9th Circuit erred, in conflict with the U.S. Courts of Appeals for the 2nd and 4th Circuits, in holding that the petitioners can be compelled to advertise free or low-cost abortion services to all clients; and (2) whether the 9th Circuit erred in not applying strict scrutiny to a law that compels speech and is content-based, in conflict with the decisional law of the Supreme Court.
(relisted after the October 6 and October 13 conferences)
Minnesota Voters Alliance v. Mansky, 16-1435
Issue: Whether Minnesota statute Section 211B.11, which broadly bans all political apparel at the polling place, is facially overbroad under the First Amendment.
(relisted after the October 6 and October 13 conferences)
Issue: Whether the U.S. Court of Appeals for the 9th Circuit exceeded the proper scope of federal habeas review by setting aside a state criminal sentence based on a putative federal due-process right to specific performance of a plea agreement that was superseded and withdrawn, in accordance with state law, before the entry of judgment.
(relisted after the October 6 and October 13 conferences)
Sykes v. United States, 16-9604
Issue: Whether Missouri's second-degree burglary statute is divisible into two offenses with separate elements for the purpose of analyzing whether a conviction under that statute qualifies as a conviction for a "violent felony" as defined in the Armed Career Criminal Act of 1984, 18 U.S.C. § 924(e)(2)(B)(ii).
(relisted after the October 6 and October 13 conferences)
Issues: (1) Whether the Supreme Court's precedents clearly establish that a prisoner is incompetent to be executed for a murder because he does not remember or acknowledge committing it; and (2) whether the state court was objectively unreasonably in concluding that Madison was competent to be executed.
(relisted after the October 6 and October 13 conferences)
Issues: (1) Whether reasonable jurists could disagree with the district court's rejection of the petitioner's Rule 60(b) motion, and, accordingly, whether the U.S. Court of Appeals for the 11th Circuit erred in denying a certificate of appealability; (2) whether, given the petitioner's credible evidence that a juror voted for the death penalty because the petitioner is a "nigger," the lower court erred in ruling that he failed to make "a substantial showing of the of the denial of a constitutional right" under 28 U.S.C. § 2253(c)(2); and (3) whether Pena-Rodriguez v. Colorado created a new constitutional claim, and, if not, whether the lower courts erred in denying the petitioner's motion for relief from judgment under Rule 60(b)(6).
(relisted after the October 6 and October 13 conferences)