Relist Watch: Worst Monday in October

on Oct 7, 2020
at 6:23 pm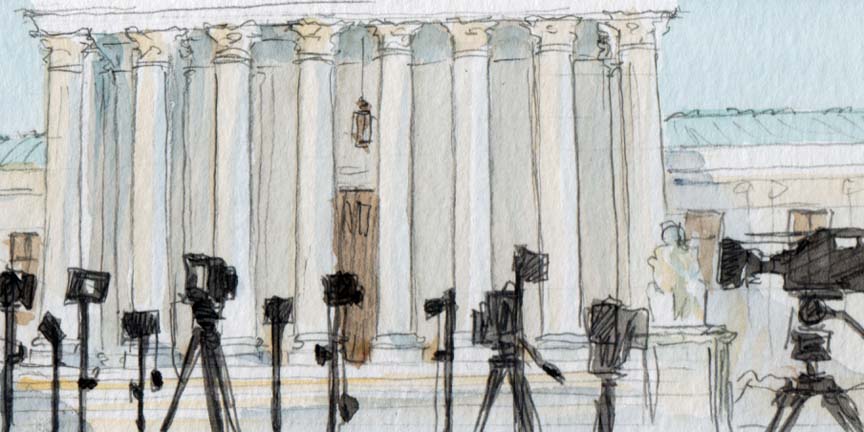 John Elwood reviews the relists from the "long conference" … barely.
The Supreme Court began October 2020 with black crepe still draped over an empty bench as, for only the second time in its history, it began a sitting of remote telephonic arguments. But though they were down a member and working remotely, the justices went efficiently about their business, relisting 15 cases involving a host of issues. Because the press of business is especially pressing just now, this week we'll once again be favoring our readership with the affordable luxury of Relist Watch Select.TM
In short, the court relisted the following cases after its long conference on Sept. 29:
a challenge to the Department of Homeland Security's policy of returning to Mexico asylum seekers who enter through the southern border but lack documentation;
four cases involving constitutional challenges to the appointment of administrative patent judges;
a case holding that Idaho prison officials violated the Eighth Amendment by refusing to provide a transgender prisoner with gender reassignment surgery;
a constitutional challenge to a state-law negligence action making a leader of a protest demonstration personally liable in damages for injuries inflicted by an unidentified person's violent act there;
an antitrust case involving the National Football League;
a challenge to the seizure of firearms when police came to a house to take the owner into custody for a "mental health hold," when his wife wished to keep the firearms at the residence;
another case challenging qualified immunity;
a case asking whether state anti-SLAPP statutes apply in federal diversity cases;
a case addressing whether the concrete apron in front of a garage is part of a house's curtilage for Fourth Amendment purposes;
a 30-year-old capital murder case that raises a hearsay issue;
a case addressing whether the Indian Gaming Regulatory Act preempts a state ad valorem tax; and
yet another case arguing that the U.S. Court of Appeals for the 9th Circuit applied an insufficiently deferential standard in a habeas case.
Tune in next week, when the workload (and probably my mood) should lighten. Have a good week and stay safe!
New Relists
Rodriguez v. City of San Jose, California, 19-1057
Issues: (1) Whether the Fourth Amendment allows an exception to its warrant requirement for so-called "community caretaking" when the alleged danger to the community has been resolved and the premises to be searched and items then seized do not contain or pose an immediate threat making it impossible to obtain a timely warrant; (2) whether issue preclusion can bar a claim for deprivation of a constitutional right when the prior decision discussing the constitutional issue did not depend on resolving the merits of that issue, found state-law procedures remained that could moot the claimed infringement and thus could not have been further reviewed in the Supreme Court given that the constitutional claim would be seen as unripe and potentially avoided by adequate and independent state grounds; and (3) whether the Supreme Court should exercise its supervisory powers to review the improper circumvention of Second Amendment protections in the U.S. Court of Appeals for the 9th Circuit.
(relisted after the Sept. 29 conference)
National Football League v. Ninth Inning, Inc., 19-1098
Issues: (1) Whether an agreement among the members of a joint venture on how best to distribute the venture's jointly created core product may be condemned under the Sherman Act without requiring the plaintiff to establish that defendants harmed competition in a properly defined antitrust market; and (2) whether, notwithstanding the Supreme Court's decision in Illinois Brick Co. v. Illinois, antitrust damages claims may be brought by indirect purchasers who do not allege that they paid a price fixed by the alleged conspirators.
(relisted after the Sept. 29 conference)
Mckesson v. Doe, 19-1108
Issue: Whether the First Amendment and the Supreme Court's decision in NAACP v. Claiborne Hardware Co. foreclose a state law negligence action making a leader of a protest demonstration personally liable in damages for injuries inflicted by an unidentified person's violent act there, when it is undisputed that the leader neither intended, authorized, directed, nor ratified the perpetrator's act nor engaged in or incited violence of any kind.
(relisted after the Sept. 29 conference)
Wolf v. Innovation Law Lab, 19-1212
Issues: (1) Whether the Department of Homeland Security policy known as the Migrant Protection Protocols is a lawful implementation of the statutory authority conferred by 8 U.S.C. § 1225(b)(2)(C); (2) whether MPP is consistent with any applicable and enforceable non-refoulement obligations; (3) whether MPP is exempt from the Administrative Procedure Act requirement of notice-and-comment rulemaking; and (4) whether the district court's universal preliminary injunction is impermissibly overbroad.
(relisted after the Sept. 29 conference)
Taylor v. Riojas, 19-1261
Issues: (1) Whether, when the unconstitutionality of government officials' conduct is obvious, that suffices to render the violation clearly established, as the U.S. Courts of Appeals for the 6th, 9th and 11th Circuits have recognized in analogous cases, or whether there must also be binding precedent directly on point, as the U.S. Court of Appeals for the 5th Circuit held below; (2) whether government officials are entitled to qualified immunity so long as there is no prior precedent recognizing the unconstitutionality of an identical fact pattern, as the U.S. Courts of Appeals for the 5th and 8th Circuits have held, or whether prior precedent can clearly establish a constitutional violation despite some factual variation, as the U.S. Courts of Appeals for the 3rd, 4th, 7th, 9th, 10th and 11th Circuits have held; and (3) whether the judge-made doctrine of qualified immunity, which is not justified by reference to the text of 42 U.S.C. § 1983 or its common law backdrop and which has been demonstrated not to serve its policy goals, should be narrowed or abolished.
(relisted after the Sept. 29 conference)
Retzlaff v. Van Dyke, 19-1272
Issue: Whether, under the doctrine of Erie Railroad Co. v. Tompkins, state anti-SLAPP (Strategic Litigation Against Public Participation) statutes apply in federal diversity cases, as the U.S. Courts of Appeals for the 1st, 2nd and 9th Circuits hold, or do not apply, as the U.S. Courts of Appeals for the 5th, 10th, 11th and District of Columbia Circuits hold.
(relisted after the Sept. 29 conference)
Idaho Department of Correction v. Edmo, 19-1280
Issues: (1) Whether the U.S. Court of Appeals for the 9th Circuit erred in concluding that the guidelines set by an advocacy organization – providing for sex reassignment surgery instead of hormone therapy and counseling for gender dysphoria – constitute the constitutional minima for inmate medical care under the Eighth Amendment, when the U.S. Courts of Appeals for the 1st, 5th, 10th and 11th Circuits have all concluded that they do not; and (2) whether the 9th Circuit's holding that a prison health-care provider's individualized medical decision was unreasonable and therefore constituted deliberate indifference, regardless of his subjective reasoning, conflicts with Estelle v. Gamble, holding that mere negligence does not establish deliberate indifference, and Farmer v. Brennan, holding the provider must have known of and disregarded a substantial risk of serious harm to find deliberate indifference.
(relisted after the Sept. 29 conference)
Rogers County Board of Tax Roll Corrections v. Video Gaming Technologies Inc., 19-1298
Issue: Whether a generally applicable state ad valorem tax, as assessed against personal property owned by a non-Indian, out-of-state corporate entity and leased to a tribe for use in its casino operations, is preempted by the Indian Gaming Regulatory Act and the Supreme Court's "particularized inquiry" balancing test from White Mountain Apache Tribe v. Bracker, when the tax does not infringe on any federal regulatory purpose contained in the IGRA, the tax does not interfere with any tribal sovereignty interests and the tax supports relevant and important government interests, such as law enforcement, schools and health services.
(relisted after the Sept. 29 conference)
Bovat v. Vermont, 19-1301
Issue: Whether a police officer can access "semiprivate" areas within a home's curtilage to conduct an investigation without a warrant.
(relisted after the Sept. 29 conference)
Shinn v. Kayer, 19-1302
Issue: Whether the U.S. Court of Appeals for the 9th Circuit violated 28 U.S.C. § 2254's deferential standard, and employed a flawed methodology that the Supreme Court has repeatedly condemned, when it granted habeas relief based on a de novo finding that a Sixth Amendment violation had occurred.
(relisted after the Sept. 29 conference)
United States v. Arthrex, Inc., 19-1434
Issues: (1) Whether, for purposes of the Constitution's appointments clause, administrative patent judges of the U.S. Patent and Trademark Office are principal officers who must be appointed by the president with the Senate's advice and consent, or "inferior Officers" whose appointment Congress has permissibly vested in a department head; and (2) whether the U.S. Court of Appeals for the Federal Circuit erred by adjudicating an appointments clause challenge brought by a litigant that had not presented the challenge to the agency.
(relisted after the Sept. 29 conference)
Smith & Nephew Inc. v. Arthrex Inc., 19-1452
Issue: Whether administrative patent judges are "principal" or "inferior" officers of the United States within the meaning of the Constitution's appointments clause.
(relisted after the Sept. 29 conference)
Arthrex, Inc. v. Smith & Nephew, Inc., 19-1458 [Vide 19-1434, 19-1452, 19-1459]
Issues: (1) Whether the U.S. Court of Appeals for the Federal Circuit's severance remedy is consistent with congressional intent, when Congress has long considered tenure protections essential to secure the independence and impartiality of administrative judges; and (2) whether the Federal Circuit correctly held that the elimination of administrative-patent-judge tenure protections was sufficient to render APJs inferior officers, even though their decisions still are not reviewable by any principal executive officer.
(relisted after the Sept. 29 conference)
Polaris Innovations Ltd. v. Kingston Technology Co., 19-1459
Issues: (1) Whether severance of the tenure protections for administrative patent judges was unavailable to the U.S. Court of Appeals for the Federal Circuit in Arthrex Inc. v. Smith & Nephew Inc. to remedy the violation of the Constitution's appointments clause by the inter partes review statute because Congress would have maintained such protection for APJs; and (2) whether the Arthrex decision's removal of APJ tenure protections is insufficient to cure the violation of the appointments clause by the IPR statute.
(relisted after the Sept. 29 conference)
Dailey v. Florida, 19-7309
Issue: Whether the Florida Supreme Court's analysis of Chambers v. Mississippi, employing a factor-based approach that has been embraced by some courts but rejected by most others, was unconstitutional.
(relisted after the Sept. 29 conference)