A "view" from the courtroom: Third Mondays

on Mar 4, 2019
at 4:10 pm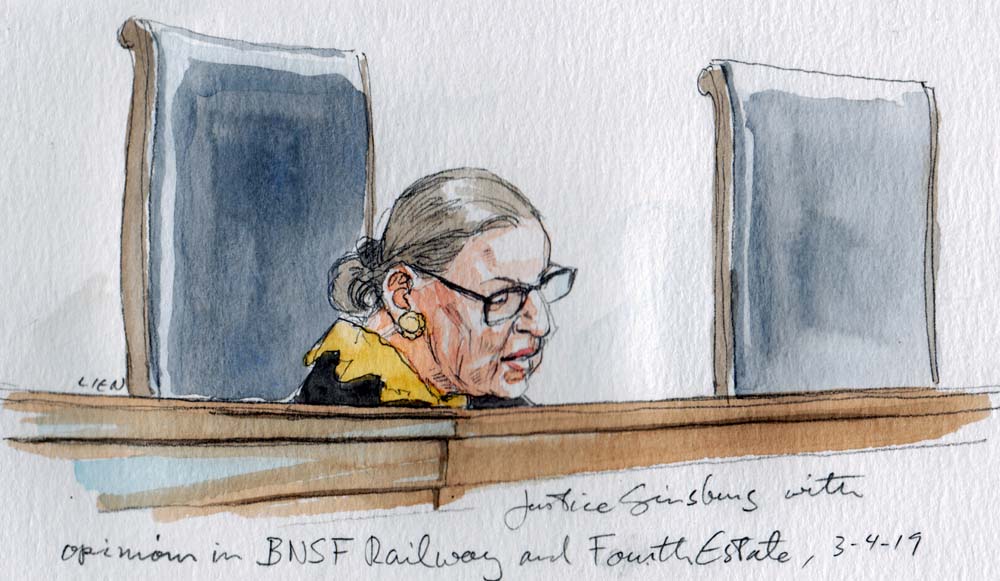 The title above is not a new Supreme Court podcast, to replace the recently shelved "First Mondays" (which we hold out hope will be unshelved someday). No, it refers to days like today, when the court meets on a Monday after hearing two weeks of arguments to issue orders and opinions.
Such days often get a bit less attention than argument days, or opinion days later in the term when bigger decisions tend to be announced. But they have their charms. Today we will have three opinions from the bench, with two from Justice Ruth Bader Ginsburg (including one based on a case from the January sitting that she missed in person during her recuperation from lung surgery) and one from Justice Brett Kavanaugh that shows a slightly cheeky side.
While the Supreme Court has been lying relatively low recently, especially in light of what is going on in the political branches, this past weekend provided some reminders of the court's continuous role in law and popular culture.
First came the news on Saturday that the U.S. women's soccer team would don jerseys celebrating famous women for their match that day against England. Defender Becky Sauerbrunn wore "RBG" in the nameplate of her No. 4 jersey, in honor of Ginsburg. Other players paid tribute to author J.K. Rowling, Beyoncé, the late Mother Teresa, and the late astronaut Sally Ride. (The SheBelieves Cup turned out to be a 2-2 draw.)
Speaking of astronauts, the second reminder of the court came when we saw the new "Apollo 11" documentary about the first mission that landed men on the Moon, in an Imax theater at the National Air and Space Museum. The stunning footage, drawn from NASA's vaults, includes a scene from the launch at the Kennedy Space Center on July 16, 1969. A contemporaneous announcer declares that "members of the Supreme Court" were among the VIPs who included Vice President Spiro Agnew, some 200 members of Congress, and the late-night TV host Johnny Carson. A brief shot of the government VIP stand went by too quickly to identify any particular members of the court.
And finally, Sunday night's "60 Minutes" on CBS featured the case of Juliana v. United States, a challenge brought by young people against the federal government's handling of climate change going back to … well, the Space Age. The lawsuit includes among its plaintiffs "future generations" of children who fear being harmed by climate change.
The case made a cameo at the Supreme Court twice last year, with the court declaring in one order that although the government's request for relief was premature, "the breadth of respondents' claims is striking, … and the justiciability of those claims presents substantial grounds for difference of opinion."
The case is slated for what the government derisively describes as "the plaintiffs' requested 'Trial of the Century'," and is likely to reappear here at some point.
Back in Washington, the courtroom is pretty full on this Third Monday, and we will discover after this morning's opinions that dozens of lawyers are being presented for admission to the Supreme Court bar, so many that they fill not only the bar section but also about one-third of the public gallery.
The press section is nearly empty today. One person to be sworn into the bar asks Nina Totenberg and me whether we are sitting in the section for law clerks to the justices. Sorry, but you're way off.
When the court takes the bench at 10 a.m., three members are absent: Justices Stephen Breyer, Samuel Alito and Neil Gorsuch.
Chief Justice John Roberts announces that Kavanaugh has the court's opinion in Rimini Street Inc. v. Oracle USA Inc., about whether "full costs" in the Copyright Act means the costs specified in a general federal costs statute.
Writing for a unanimous court, Kavanaugh says the answer is yes, but not before he explains that he disagrees with Oracle's argument that the word "full" before "costs" authorizes courts to award expenses beyond those authorized in the general costs statute.
"Adjectives modify nouns—they pick out a subset of a category that possesses a certain quality," Kavanaugh says. "The word 'full' operates in the phrase 'full costs' just as it operates in other common phrases: A 'full moon' means the moon, not Mars. A 'full breakfast' means breakfast, not lunch. A 'full season ticket plan' means tickets, not hot dogs. So too, the term 'full costs' means costs, not other expenses."
Kavanaugh has a hint of a sly smile as he refers to "full season ticket plan," which evokes his personal Washington Nationals ticket package that drew scrutiny during his confirmation process last year. And his reference to hot dogs means it's been a big sitting for that particular food, with Breyer's hypotheticals last week in Manhattan Community Access Corp. v. Halleck about a whole week of "hot dog shows" on community access TV for New Yorkers to debate which type is the best dog. (That is something for which there would be substantial grounds for difference of opinion.)
Ginsburg has two opinions, for which she delivers summaries that arguably are more detailed than necessary given their subject matter. The first is BNSF Railway Co. v. Loos, which holds that a railroad's payment to an employee for working time lost due to an on-the-job injury is taxable "compensation" under the Railroad Retirement Tax Act. This case was argued in November. Gorsuch has filed a dissent, joined by Justice Clarence Thomas.
Ginsburg's second opinion is Fourth Estate Public Benefit Corp v. Wall-Street.com LLC, which holds that registration of a copyright occurs when the Copyright Office registers a copyright, and not when a claimant delivers an application to the office.
This case was argued January 8, the second day of the January sitting on which Ginsburg was absent from the bench. She ended up missing the entire sitting, but as Roberts explained each day, Ginsburg would participate by reading the briefs and the transcript of oral argument. Now we see that she did. And when the court said she was working at home, she was indeed hard at work at home.
Kavanaugh's Rimini Street opinion is also from January, so he is giving Ginsburg a run for the title as speediest author.
But it's not a space race. It's just another average Third Monday on the court. There are two more of those, at the end of the March and April sittings. After that, they're just opinion Mondays.