Thursday round-up

on Feb 22, 2018
at 7:12 am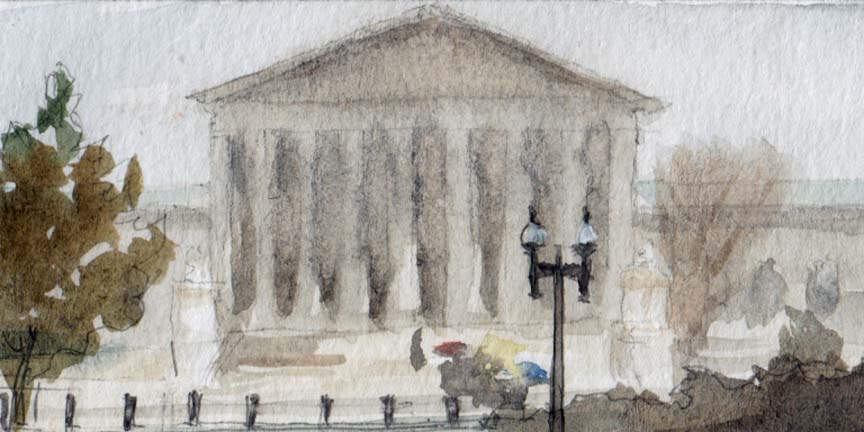 Yesterday the court doubled its opinion output for this term in argued cases. Adam Liptak reports on all four of yesterday's opinions for The New York Times, and Nina Totenberg does the same at NPR. In Murphy v. Smith, the justices held 5-4 that courts must apply up to 25 percent of a judgment to pay attorneys fees in civil-rights cases brought on behalf of prisoners. Subscript offers a graphic explainer for the opinion. At LAWnLinguistics, Neil Goldfarb remarks that in analyzing the text of the relevant statute, Justice Neil Gorsuch referred to one of two authoritative books on English grammar, marking the first time that tome has been cited in a Supreme Court opinion.
In Rubin v. Islamic Republic of Iran, the court ruled 8-0, with Justice Elena Kagan recused, that the Foreign Sovereign Immunities Act does not provide a freestanding basis for parties to satisfy a judgment against a foreign state by seizing that state's property. Amy Howe has this blog's opinion analysis, which first appeared at Howe on the Court, and Subscript has a graphic explainer. At The National Law Journal (subscription or registration required), Tony Mauro reports that the ruling "made it more difficult to attach museum artifacts and other holdings in the United States to fulfill judgments against foreign countries." Additional coverage of Rubin comes from Jess Bravin for The Wall Street Journal.
In Class v. United States, the court held that a guilty plea does not bar a defendant from challenging the constitutionality of the statute of conviction on direct appeal. For The Wall Street Journal, Jess Bravin reports that "[t]he 6-to-3 vote upset the court's ideological alliances, as Justice Neil Gorsuch joined Chief Justice John Roberts and four liberal colleagues in the majority." Additional coverage of Class comes from Debra Cassens Weiss at the ABA Journal. Subscript's graphic explainer is here.
Finally, in Digital Realty Trust Inc. v. Somers, the court ruled unanimously that the anti-retaliation provision of the Dodd-Frank Act does not apply to a whistleblower who has not first reported a violation to the Securities and Exchange Commission. For the Los Angeles Times, David Savage reports that "[w]hile Congress may have aimed to broadly protect company whistleblowers to ferret out fraud, the text of the statute included a narrow definition of who qualified for protection." Richard Wolf reports for USA Today that "[t]he court's decision appeared assured during oral argument in November, when even liberal justices appeared stumped by the language of the law." Additional coverage comes from Jessica Gresko at the Associated Press, Robert Barnes for The Washington Post, and Tony Mauro and Marcia Coyle at Law.com. Commentary comes from Ross Runkel at his eponymous blog, who remarks that "[t]wo concurring opinions will be of interest to anyone who wants to know the intellectual process that Justices use when interpreting statutes." At The Employment Law Group, R. Scott Oswald predicts that "[t]he real-world impact of Somers is likely to be immediate and somewhat perverse." Additional commentary comes from Margaret Campbell and Hera Arsen at Ogletree Deakins.
Yesterday the justices also heard oral arguments in two criminal-procedure cases. The first was Rosales-Mireles v. United States, which asks when erroneous applications of the U.S. Sentencing Guidelines should be corrected on plain-error review. Yesterday's second case was Dahda v. United States, in which the justices considered how broadly to read a statute requiring the exclusion of a wiretap order that exceeds a judge's territorial jurisdiction.
On Tuesday, the justices heard oral arguments in two more criminal cases. The first was Currier v. Virginia, which asks what happens to a defendant's double jeopardy protections when he consents to sequential trials for multiple, overlapping offenses. Lissa Griffin analyzes the argument for this blog. Tuesday's second case was City of Hays v. Vogt, which asks whether a probable-cause hearing is part of a criminal case within the meaning of the Fifth Amendment's self-incrimination clause. Rory Little has this blog's argument analysis.
At The Atlantic, Garrett Epps takes issue with Justice Clarence Thomas' assertion, in dissent from denial of cert this week in a challenge to California's 10-day waiting period for firearms purchases, that "[i]n case after case, … the Court intervenes to protect rights like free speech, fair trial, and even reproductive choice—and yet ignores limits on gun possession"; Epps argues that "[t]hough we call constitutional guarantees by the common term 'rights,' each one of them involves different circumstances and different consequences." In an op-ed for The Washington Post, Charles Lane looks at the Thomas dissent in light of the aftermath of last week's school shooting in Florida, pointing out that "even if the Parkland shootings lead to tougher laws — state or federal — the final word could belong to the Supreme Court."
At the Pensacola News Journal, Emma Kennedy reports that "[a] group that includes former Florida Supreme Court justices and Circuit Court judges" has filed an amicus brief supporting the cert petition of Florida death-row inmate Eric Branch, whose execution is scheduled for today, urging the Supreme Court "to address what they believe is an unconstitutional application of the law." At Florida Court Review, John Cavaliere looks at all the filings that relate to Branch's case.
Briefly:
We rely on our readers to send us links for our round-up.  If you have or know of a recent (published in the last two or three days) article, post, podcast, or op-ed relating to the Supreme Court that you'd like us to consider for inclusion in the round-up, please send it to roundup [at] scotusblog.com. Thank you!