Wednesday round-up

on Jan 24, 2018
at 6:55 am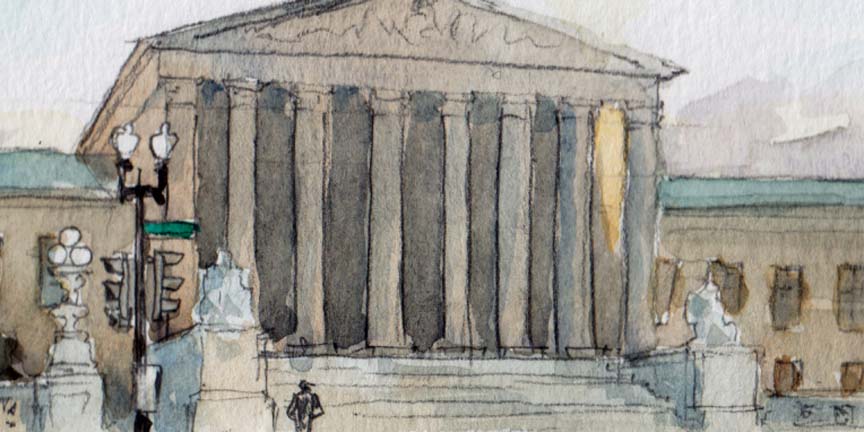 For USA Today, Richard Wolf reports that "[t]he justices agreed Tuesday to decide quickly whether to hear the Trump administration's appeal of a federal district court's order to restart the DACA program without waiting for an appeals court ruling," and that "[b]y setting up a fast track for both sides to submit court papers, the high court likely will consider the Justice Department's request at its Feb. 16 conference." Additional coverage comes from Laura Francis at Bloomberg Law and Mark Walsh at Education Week's School Law Blog, who reports that the "order underscores the fact that as the immigration debate remains stalled in Congress, the nation's highest court may step in and consider the legality of the Trump administration's effort to end the program of deportation relief … for young undocumented immigrants who were brought to the United States as children." At Crime and Consequences, Kent Scheidegger observes that "[i]f the status of the 'dreamers' is fixed by statute" in the meantime, "then this will be one more case for the mootness bin."
For this blog, Robert Yablon analyzes Monday's opinion in Artis v. District of Columbia, in which the court ruled 5-4, over a dissent by Justice Neil Gorsuch, that the tolling provisions of the federal supplemental jurisdiction statute stop the clock on the state limitations period while the state claims are pending in federal court. Subscript has a graphic explainer for the opinion.
For the Tribune News Service (via Governing), David Savage reports that in District of Columbia v. Wesby, the court's ruling in favor of police officers sued for false arrest after arresting partygoers in an abandoned house accorded the officers "the benefit of the doubt in believing they had probable cause to make the arrests." Additional coverage of the opinion in Wesby comes from Constitution Daily.
At the Environmental Law Prof Blog, Dave Owen is unsurprised by Monday's decision in National Association of Manufacturers v. Department of Defense, in which a unanimous court held that challenges to the "waters of the United States" rule must be filed in federal district courts, remarking that "[t]he government's arguments were grounded primarily in judicial and administrative convenience rather than statutory text, which, in this textualist era, is a pretty good recipe for a 9-0 loss." At Foley Hoag's Law and the Environment blog, Seth Jaffe remarks that "the challengers could easily have won under the 'give me a break' doctrine of statutory interpretation," and that "[t]he government had only one real argument in its favor: sending these cases to the district courts is just plain nuts." [Disclosure: Goldstein & Russell, P.C., whose attorneys contribute to this blog in various capacities, is among the counsel to the respondents in this case.]
At Roll Call, Todd Ruger reports on the court's decision to review Weyerhaeuser Company v. U.S. Fish and Wildlife Service, a challenge to the federal government's critical-habitat designation for the dusky gopher frog, noting that "[t]he case, touching on property rights and government power, is closely watched by environmentalists, business groups and 18 states, which filed a brief to urge the court to hear the case and rein in overly broad critical habitat determinations that cost jobs and tax revenue." At Constitution Daily, Scott Bomboy reports that the solicitor general, in a brief urging the court to let stand the lower-court ruling in favor of the Fish and Wildlife Service, had argued that the service "had the latitude to make the frog-protection rule under a concept called Chevron deference, which allows government agencies to make reasonable interpretations of ambiguous laws or statutes."
Briefly:
We rely on our readers to send us links for our round-up.  If you have or know of a recent (published in the last two or three days) article, post, podcast, or op-ed relating to the Supreme Court that you'd like us to consider for inclusion in the round-up, please send it to roundup [at] scotusblog.com. Thank you!