Friday round-up

on Oct 13, 2017
at 7:09 am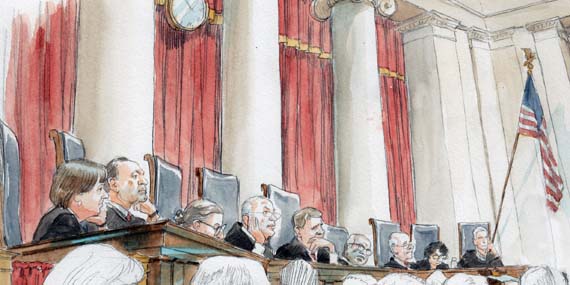 On Wednesday the justices heard oral argument in National Association of Manufacturers v. Department of Defense, which will determine the venue for challenges to Clean Water Act rules. [Disclosure: Goldstein & Russell, P.C., whose attorneys contribute to this blog in various capacities, is among the counsel to the respondents in this case.] Miriam Seifter has this blog's argument analysis. John Siciliano covers the argument for the Washington Examiner.
At The Economist's Democracy in America blog, Steven Mazie discusses the court's dismissal as moot last week of one of two challenges to President Donald Trump's March 6 travel ban, noting that "[a]s one set of battles over Mr Trump's appetite for banning Muslim people from America's shores fizzles out, another is set to begin." At The Atlantic, Garrett Epps suggests that even though the administration's "third travel-ban order may very likely be upheld" in the Supreme Court, the first two bans "and the government's inept efforts to defend [them] have permanently damaged this administration's legal credibility."
Briefly:
The Heritage Foundation's SCOTUS 101 podcast features a discussion of "recent oral arguments, the latest action in the travel ban case, and women in the Court."
At his eponymous blog, John Q. Barrett remarks that President Ronald Reagan's criticism of partisan gerrymandering may bear on Gill v. Whitford, in which the court will decide whether Wisconsin's electoral maps are the product of an unconstitutional partisan gerrymander.
The Corporate Crime Reporter notes that even though consumer advocate Ralph Nader testified against the nomination of Justice Stephen Breyer to the Supreme Court, Breyer "[a]pparently… does not hold a grudge," recently stopping in at the Nader-inspired American Museum of Tort Law for a one-hour tour.
In an op-ed for The Daily Caller, Kevin Daley observes that "Justices Ruth Bader Ginsburg and Neil Gorsuch are trading barbs, rather frequently, in the first sitting of the Supreme Court's new term," noting that "Gorsuch has frequently questioned the received wisdom of his Court, prompting from Ginsburg a flash of pique."
We rely on our readers to send us links for our round-up.  If you have or know of a recent (published in the last two or three days) article, post, podcast, or op-ed relating to the Supreme Court that you'd like us to consider for inclusion in the round-up, please send it to roundup [at] scotusblog.com. Thank you!