Wednesday round-up

on Mar 27, 2019
at 7:12 am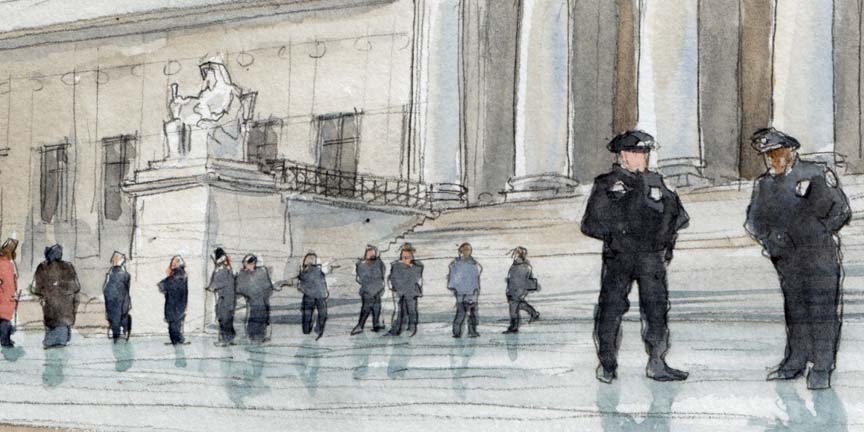 Today the justices wrap up their March argument sitting with one oral argument, in Kisor v. Wilkie, in which they will reconsider precedents that require courts to defer to a federal agency's reasonable interpretation of its own regulations. Amy Howe previewed the case for this blog. Benjamin Rodd and Julia Hollreiser have a preview for Cornell Law School's Legal Information Institute, and Subscript Law offers a graphic explainer for the case.
Yesterday the court heard oral arguments in two partisan-gerrymandering cases, Rucho v. Common Cause, a challenge to North Carolina's federal congressional map, adopted by the state's Republican-controlled legislature in 2016, and Lamone v. Benisek, in which Republican voters are challenging a single Maryland congressional district. Jon Levitan rounded up early coverage of the arguments for this blog. For The Wall Street Journal, Jess Bravin and Brent Kendall report that "[t]he Supreme Court again appeared hesitant Tuesday to embrace a judicial remedy for partisan gerrymandering, with no justice in the conservative majority expressing enthusiasm for myriad formulas offered in separate cases to address an age-old practice of American politics." Ariane de Vogue reports at CNN that "Justice Brett Kavanaugh — whose vote could be key — said he would not 'dispute' that extreme partisan gerrymandering has become a problem that was especially evident in a map drawn in his home state of Maryland[, b]ut he also questioned if the courts should stay out of the issue because states are reacting with their own initiatives."
Additional coverage comes from Domenico Montenaro and Nina Totenberg at NPR, David Savage at the Los Angeles Times, Kevin Daley at The Daily Caller, and Michael Bobelian at Forbes. Commentary on the argument comes from Lisa Soronen at the NCSL Blog. In an op-ed at BuzzFeed.News, David Gans writes that "Chief Justice Roberts has positioned himself as the Court's most insistent defender of First Amendment freedoms," and these "cases will test whether Roberts deserves that accolade." At The Atlantic, Sam Wang observes that "[a]s mathematical diagnostic tools [for measuring the constitutionality of partisan gerrymandering] improve, … the Court might find it difficult to pretend that it has no choice but to do nothing." In an op-ed for The Wall Street Journal, David Rivkin and Richard Raile urge the court to "put an end to this futile experiment by ruling that [partisan-gerrymandering] claims are nonjusticiable political questions."
The justices also issued two decisions yesterday. In Sturgeon v. Frost, a unanimous court held that a federal law bars the National Park Service from exercising regulatory control over the Nation River in Alaska because the river is not "public land" under the statute. Brent Kendall and Jess Bravin report for The Wall Street Journal that with this decision, "[a]n Alaska moose hunter won a second improbable victory from the U.S. Supreme Court, which ruled the federal government couldn't stop him from using his hovercraft to reach hunting grounds he had visited for decades." At E&E News, Ellen Gilmer reports that "[w]hile some court watchers have dismissed the case as a novelty issue, the legal fight involves important debates on public lands, federalism and water rights." Tony Francois looks at the decision at the Pacific Legal Foundation blog.
In Republic of Sudan v. Harrison, the court held 8-1 that under the Foreign Sovereign Immunities Act, a plaintiff in a lawsuit against a foreign government must send the summons and complaint directly to the foreign minister in the country's capital. Amy Howe analyzes the opinion for this blog, in post that first appeared at Howe on the Court.
This blog's analysis of Monday's oral argument in PDR Network, LLC v. Carlton & Harris Chiropractic Inc., which asks whether the Hobbs Act, a jurisdictional-channeling statute, requires courts to accept the Federal Communications Commission's interpretation of a statute allowing recipients of junk faxes to sue the senders for damages, comes from Christopher Walker. Joel Goldstein has an analysis of the second argument on Monday, in The Dutra Group v. Batterton, which asks whether punitive damages are available in a suit alleging a breach of the general maritime duty to provide a seaworthy vessel, for this blog.
At The National Law Review, Brian Pierson looks at the court's opinion in Washington State Department of Licensing v. Cougar Den Inc. in which the court ruled that members of an Indian tribe are exempt under an 1855 treaty from paying state taxes on fuel transported to the reservation on public highways. Subscript Law has a graphic explainer for the decision.
Briefly:
At truthdig, Bill Blum writes that "[u]nlike some of his GOP counterparts, [Justice Clarence] Thomas has demonstrated no migration to the ideological center[; i]f anything, he's become increasingly radical over time."
At Reason's Volokh Conspiracy blog, Will Baude wonders whether the court's decision next term in Ramos v. Louisiana, which asks whether the Sixth Amendment guarantee of a unanimous jury in a criminal case applies to the states, will help clarify what "the Constitution tell[s] us about incorporation of the bill of rights, and what … the Supreme Court [should] do about the other enumerated rights it has not incorporated, such as the Seventh Amendment's guarantee of a civil jury, or the Fifth Amendment's right to grand jury indictment."
We rely on our readers to send us links for our round-up. If you have or know of a recent (published in the last two or three days) article, post, podcast, or op-ed relating to the Supreme Court that you'd like us to consider for inclusion in the round-up, please send it to roundup [at] scotusblog.com. Thank you!