Friday round-up

on Jan 4, 2019
at 7:14 am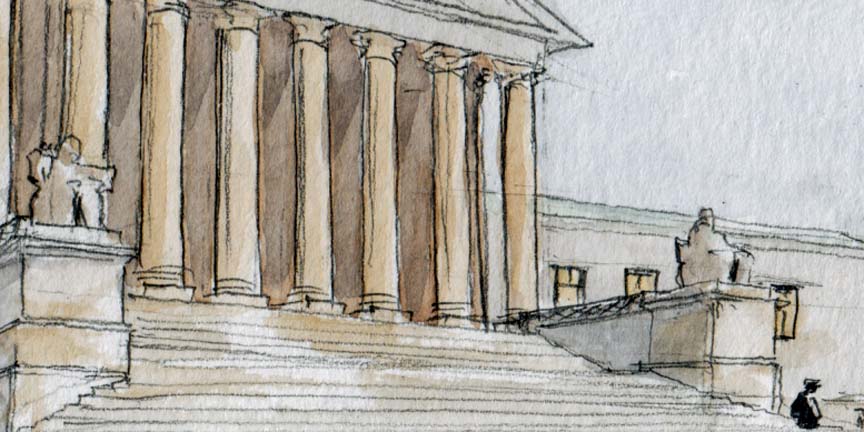 Briefly:
Tony Mauro reports at Law.com that "Justice Samuel Alito Jr., who until now recused himself in a pending copyright case, Rimini Street Inc. v. Oracle USA Inc., will participate after all"; "[b]ecause of a family inheritance several years ago, Alito and his wife have had holdings in numerous corporations, unlike most other justices," [and Alito] has sold several of the stocks over time, often in anticipation of an oral argument that posed a conflict of interest."
At Rewire.News, Jessica Mason Pieklo writes that "[t]he Supreme Court on Friday will consider taking three cases that could determine whether an employer can legally discriminate against employees for being LGBTQ," noting that "[i]f the Court agrees to hear some, or all, of the petitions, it will be testing both the strength of employment discrimination law under Title VII and retired Supreme Court Justice Anthony Kennedy's LGBTQ rights legacy."
At Route Fifty, Bill Lucia reports that "Fifteen Republican state attorneys general are urging the U.S. Supreme Court to side against over two dozen states and local governments battling with the Trump administration over the inclusion of a question about citizenship status on the 2020 census."
Also at Route Fifty, Laura Maggi looks at The American Legion v. American Humanist Association, an establishment clause challenge to a World War I memorial shaped like a cross on public property. [Disclosure: Goldstein & Russell, P.C., whose attorneys contribute to this blog in various capacities, is counsel on an amicus brief in support of the petitioners in this case.]
At FiveThirtyEight, Amelia Thomson-DeVeaux observes that "[o]ver the past few months, the solicitor general's office has blanketed the court with requests to bypass the normal legal process and rule swiftly in high-profile cases," concluding that "[w]hatever happens, [the justices'] responses to the Trump administration this month will be an important indicator of how the court's conservative wing — and in particular, Chief Justice Roberts — sees their relationship with the president."
At Bloomberg Law, Kimberly Robinson reports that "[t]he Supreme Court is considering whether to take up a pair of cases tackling partisan gerrymandering head on," and that "[i]f the court once again fails to settle the partisan gerrymandering issue this term, or gives its blessing to extreme gerrymanders, it may spur additional states [to adopt] redistricting commissions and lawsuits challenging them."
At Reason's Volokh Conspiracy blog, Orin Kerr offers his take on why the plaintiffs in Frank v. Gaos, which involves the settlement of a class-action lawsuit against Google under the Stored Communications Act for disclosing users' search terms, have standing; he suggests that "the case is easier when you realize that Section 2702 is better understood as an intangible conversion statute, not a privacy tort statute," so that "[b]y alleging a Section 2702 violation, the plaintiffs are alleging a concrete and particular harm: Conversion of their personal property, albeit through intangible means of copying and distributing it."
In an op-ed for USA Today, Glenn Harlan Reynolds considers Tennessee Wine & Spirits Retailers Association v. Blair, a challenge to Tennessee's durational residency requirements for liquor licensing, noting that "though at the end of Prohibition, states were allowed to stay 'dry' if they wanted to, or to restrict liquor sales to state-monopoly stores, the purpose of that local-option provision wasn't to allow them to discriminate against people from elsewhere."
Subscript Law has a graphic explainer for Weyerhaeuser Company v. U.S. Fish and Wildlife Service, in which the court held that the Endangered Species Act allows the government to designate land as a "critical habitat" only if it is habitat for the listed species, and that the designating agency's assessment of the costs and benefits of the designation is reviewable in court.
In an op-ed for The Wall Street Journal, Ilya Shapiro and Matthew Larosiere urge the justices to review Mance v. Whitaker, "in which the Fifth Circuit upheld a pre-Heller federal law prohibiting licensed dealers from selling handguns across state lines," contending that "[w]ith Mance, the court could provide a meaningful framework for evaluating Second Amendment cases without directly affecting any state law."
We rely on our readers to send us links for our round-up. If you have or know of a recent (published in the last two or three days) article, post, podcast, or op-ed relating to the Supreme Court that you'd like us to consider for inclusion in the round-up, please send it to roundup [at] scotusblog.com. Thank you!