Tuesday round-up

on Oct 9, 2018
at 6:55 am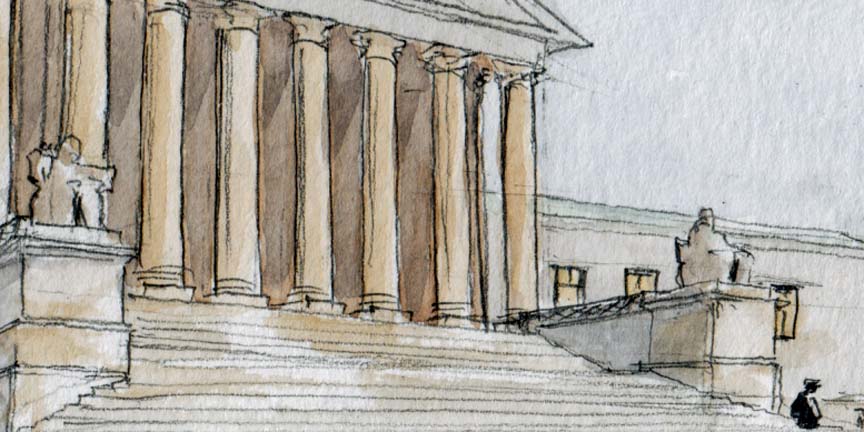 This morning, Justice Brett Kavanaugh will join the Supreme Court bench for the first time to hear argument in two cases, both involving the mandatory sentencing enhancement provisions of the Armed Career Criminal Act. In Stokeling v. United States, the court will consider whether a state-law robbery offense meets the ACCA's definition of a violent felony. Rory Little previewed the case for this blog. Matt Farnum and Trevor O'Bryan have a preview at Cornell Law School's Legal Information Institute. The second argument is in two consolidated cases, United States v. Stitt and United States v. Sims, both of which involve the "generic" definition of burglary for the purposes of an ACCA enhancement. This blog's preview again came from Rory Little, while Clotilde Le Roy and Jarrett Field preview Stitt and Sims for Cornell. Subscript Law has a graphic explainer.
Last night Kavanaugh took his ceremonial oath, which had already been administered privately on Saturday, during a public event in the East Room of the White House. Mark Walsh covers the event for this blog. Additional coverage comes from Richard Wolf for USA Today, who reports that Kavanaugh's appearance at the ceremony "follows a whirlwind weekend in which he was confirmed by the Senate, sworn in, hired law clerks and assembled his high court chambers." For The Washington Post, Robert Barnes reports that "Kavanaugh has made good on his pledge to hire women to serve as his law clerks, becoming the first justice to have an all-female staff."
Joan Biskupic writes at CNN that "with the addition of Kavanaugh, the high court passed a new marker of exclusivity: For the first time ever, a majority of the sitting justices once served as Supreme Court law clerks." At The National Law Journal (subscription or registration required), Tony Mauro reports on the extent to which Justice Clarence Thomas' experience "may foreshadow how … Kavanaugh will be received when he joins his new colleagues." Commentary and analysis on Kavanaugh confirmation come from Garrett Epps for The Atlantic, the editorial board of The Wall Street Journal, Lisa Keen at Keen News Service, Joan Biskupic for CNN, David French at National Review, Michael Dorf at Take Care, Kenneth Jost at Jost on Justice, Julio Gonzales at The Federalist, Katrina Trinko at The Daily Signal, Tom Ginsburg and Aziz Huq at Take Care, Bill Blum at truthdig, Andrew McCarthy in an op-ed at The Hill, and Michael Bobelian at Forbes.
The latest episode of First Mondays (podcast) "cover[s] labor law's intersection with arbitration, the takings clause and immigration," recapping  "last week's arguments in Knick v. Township of Scott and New Prime Inc. v. Oliveira while also previewing this week's argument in Nielsen v. Preap." In a podcast at Howe on the Court, Amy Howe "run down the Supreme-Court-related news of the week, including the first oral argument of the term in a death penalty case, the justices' latest orders and the process leading to the confirmation of Brett Kavanaugh." More discussion of last week's oral arguments comes from Mary Reichard at The World and Everything In It.
Briefly:
In two posts at the Yale Journal on Regulation's Notice & Comment blog, here and here, Bernard Bell previews Thacker v. Tennessee Valley Authority, in which the justices will decide whether an implied discretionary function exception bars a negligence claim against the TVA.
At Outsourcing Justice, Imre Szalai discusses last week's oral argument in New Prime Inc. v. Oliveira, about the scope of an exemption in the Federal Arbitration Act for transportation workers involved in interstate commerce, suggesting that "after the oral argument, it looks like an 8-0 decision in favor of the workers could actually occur."
At The Atlantic, Garrett Epps looks at Nielsen v. Preap, a case on tomorrow's argument docket involving the immigration law's mandatory detention provision, noting that "the heart of the dispute is an everyday word: when."  
We rely on our readers to send us links for our round-up.  If you have or know of a recent (published in the last two or three days) article, post, podcast, or op-ed relating to the Supreme Court that you'd like us to consider for inclusion in the round-up, please send it to roundup [at] scotusblog.com. Thank you!