SCOTUS Map: October 2018
on Oct 19, 2018
at 3:55 pm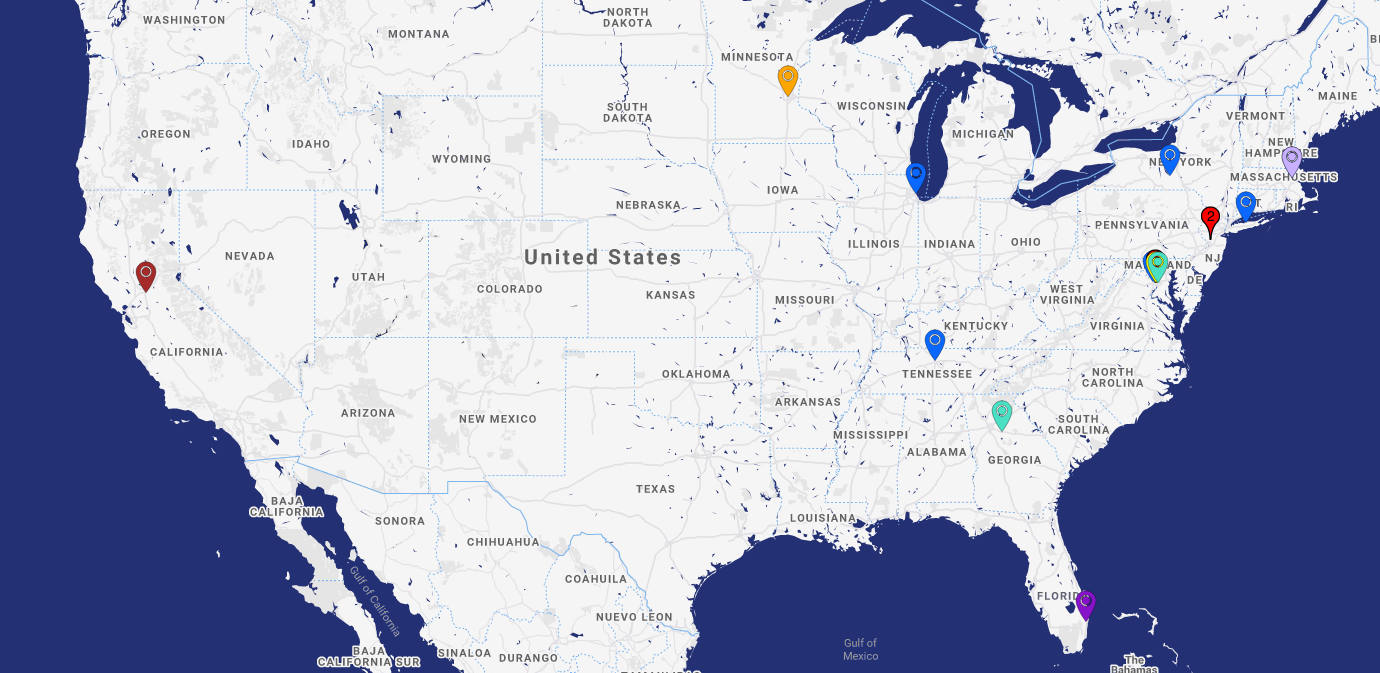 The Supreme Court justices strove to calm the frayed nerves of a nation in the aftermath of the Justice Brett Kavanaugh's tumultuous confirmation fight, attempting to restore a narrative about a nonpartisan and independent court that had been damaged with each twist of the hearings.
Justices Sonia Sotomayor and Elena Kagan, making a joint appearance at a Princeton alumnae conference on October 5, spoke at length on the court's role as a neutral arbiter in an era of intense partisanship. "Part of the court's strength and part of the court's legitimacy depends on people not seeing the court in the way that people see the rest of the governing structures in this country right now," Kagan stated. "It's an incredibly important thing for the court to guard—this reputation of being fair, of being impartial, of being neutral, and not simply an extension of the terribly political process and environment that we live in."
Conceding that the votes in many closely-watched 5-4 rulings could be predicted by looking at the party of the president who nominated the justice, Kagan noted that the lack of a swing vote could harm the court's image:
It's been an extremely important thing for the court that in the last 30 years, starting with Justice [Sandra Day] O'Connor and continuing with Justice [Anthony] Kennedy, there's been a person who people found the center, or people couldn't predict in that sort of way, and that's enabled the court to look as though it was not owned by one side or another, and was indeed impartial and neutral and fair. It's not so clear, I think, going forward, that sort of middle position – it's not so clear whether we'll have it. All of us need to be aware of that, every single one of us, and to realize how precious the court's legitimacy is. We don't have an army, we don't have any money. The only way we get people to do what we say that they should do is because people respect us, and respect our fairness.
Sotomayor offered a further reason for the politicization of the court: "[O]ur political parties have adopted the academic discussions [about originalism vs. the living constitution] that judges were having for the longest time about how to interpret laws and the Constitution… And when the political parties adopted that language as their own, they've now superimposed that on the court, so originalists get identified as the choice of a certain group of politicians, and non-originalists, the choice of another group, of a different party." This, Sotomayor said, "has hurt the court a lot."
The justices then spoke of civility as both a moral good and a long-term strategy. "[W]e have to rise above partisanship in our personal relationships," Sotomayor said, urging the audience to find the good in each other, as the justices do. "We have to treat each other with respect and dignity and with a sense of amicability that the rest of the world doesn't often share. Elena's relationship with Justice Scalia is well-known … and Neil Gorsuch and I are doing a lot of work together promoting civic education in the United States. Our openness about respecting one another is an example that's important for us both to maintain and promote."
Being civil does not mean that the justices compromise their fundamental approaches to interpreting the Constitution, Sotomayor continued, which sometimes leads to the 5-4 decisions that the public finds so divisive. "But we do manage to agree on lots of things and to the extent we can avoid ruling in such expansive ways as to foreclose continued conversation, I think we have a chance of holding on to our legitimacy."
Kagan admitted that there is "a little bit of self-interest going on here, because we live in this world where it's just the nine of us." Harboring grudges or ill will toward a colleague would backfire in future cases, she stated, "since you have not much of a chance of persuading that colleague to come along with what you think is the right thing to do." According to Kagan, "we all have a vested interest in having good relations with each other, and that is part of what maintains our good behavior."
Video of Sotomayor and Kagan's talk is available online via Circa. Coverage comes from NJ.com, North Jersey Record, The Daily Princetonian and Bloomberg.
Two days later, after Kavanaugh had been confirmed and sworn in as the newest justice, Sotomayor spoke at an American Academy of Arts & Sciences event in Cambridge, Massachusetts, where she carefully tiptoed around questions about the dynamics of the court going forward. While acknowledging that the arrival of a new colleague is like having a "new child in the family" — "It disrupts everything, doesn't it? It changes your world" — the justice was quick to emphasize that all families agree on some things and disagree on others. "That family conversation, when there's a new member, changes… There are those who will ask me to predict what that change will be. That's not a useful enterprise, at least for me, because I have to watch this development and participate in it with as open a mind as I can have." Video of Sotomayor's remarks is accessible on the American Academy of Arts & Sciences website.
Echoing Sotomayor's description of the court as a family, Chief Justice John Roberts compared gaining a new justice to having a "new in-law at Thanksgiving dinner" at an October 16 appearance at the University of Minnesota Law School.
Notably, Roberts took a few minutes ahead of the scheduled conversation to deliver prepared remarks addressing "the contentious events in Washington of recent weeks."
I will not criticize the political branches, we do that often enough in our opinions. But what I would like to do briefly is emphasize how the judicial branch is and how it must be very different.

I have great respect for our public officials. After all, they speak for the people, and that commands a certain degree of humility from those of us in the judicial branch who do not. We do not speak for the people, but we speak for the Constitution. Our role is very clear: We are to interpret the Constitution and laws of the United States and ensure that the political branches act within them.

That job obviously requires independence from the political branches. The story of the Supreme Court would be very different without that sort of independence. Without independence, there is no Brown v. Board of Education. Without independence, there is no West Virginia v. Barnette, where the court held that the government could not compel schoolchildren to salute the flag, and without independence there is no steel seizure case, where the court held that President Truman was subject to the Constitution, even in a time of war.

Now, the court has from time to time erred, and erred greatly. But when it has, it has been because the court yielded to political pressure, as in the Korematsu case, shamefully upholding the internment during World War II of Japanese American citizens.

Those of us on the court know the best way to do our job is to work together in a collegial way. I am not talking about mere civility, although that helps. I am instead talking about a shared commitment to a genuine exchange of ideas and views through each step of the decision process. We need to know in each step that we are in this together.

There is a concrete expression of that collegiality in a tradition at the court that has prevailed for over a century. Before we go onto the bench to hear an argument in a case, and before we go into the conference room to discuss a case, we pause for a moment and shake each other's hand.

It's a small thing, perhaps, but it is a repeated reminder that, as our newest colleague put it, we do not sit on opposite sides of an aisle. We do not caucus in separate rooms. We do not serve one party or one interest. We serve one nation. And I want to assure all of you that we will continue to do that to the best of our abilities, whether times are calm or contentious.
CNN, The Washington Post and POLITICO summarized Roberts' remarks, as did Andrew Hamm for this blog. C-SPAN posted video of the appearance.
At an October 19 ceremony celebrating the expansion of the Judicial Center in Newton County, Georgia, Justice Clarence Thomas also spoke about judicial independence. "Judicial independence is critical to liberty and to justice. In our great country, the judiciary is not a puppet for those in power, nor is it the engine for pioneering social change," the Rockdale Newton Citizen and the Associated Press quoted him as saying. "Rather, it is a safeguard against tyranny, and an assurance of neutral arbiters for those seeking the protection of the law."
Although the sitting justices projected a united front, retired Justice John Paul Stevens felt no such obligation to match his message to his former colleagues'. Stevens made headlines at an October 4 Institute for Learning in Retirement event in Boca Raton, Florida, when he said that Kavanaugh's temperament disqualified him from a seat on the court. The justice, who had favorably quoted Kavanaugh in one of his books, explained: "At that time, I thought he had the qualifications for the Supreme Court should he be selected… I've changed my views for reasons that have no relationship to his intellectual ability or his record as a federal judge. He's a fine federal judge who should have been confirmed when he was nominated. But his performance during the hearings caused me to change my mind… [As several commentators have noted], he has demonstrated a potential bias involving enough potential litigants before the court that he would not be able to perform his full responsibilities."
Asked how Kavanaugh's hearings differed from Thomas', Stevens replied: "There is nothing Clarence did during the hearings that would disqualify him from sitting in cases after he came on the court… As a person, I am very fond of him. He is a very decent and likable person. You cannot help but like Clarence Thomas, which I don't think necessarily would be true of this particular nominee." Coverage comes from the Palm Beach Post and the New York Times. Video of the event is available on C-SPAN.
On the same day of Stevens' lecture, five of his former coworkers — Roberts, Thomas, Justice Samuel Alito, Kagan and Gorsuch — attended the unveiling of a statue of Justice Antonin Scalia at George Mason University. Coverage of that event comes from the Associated Press and the Washington Post. Justice Stephen Breyer, meanwhile, appeared at The Atlantic Festival to discuss Shakespeare and the law. Andrew Hamm of this blog covered Breyer's talk. Footage comes from C-SPAN.
In other events this month: