Wednesday round-up

on Sep 12, 2018
at 7:09 am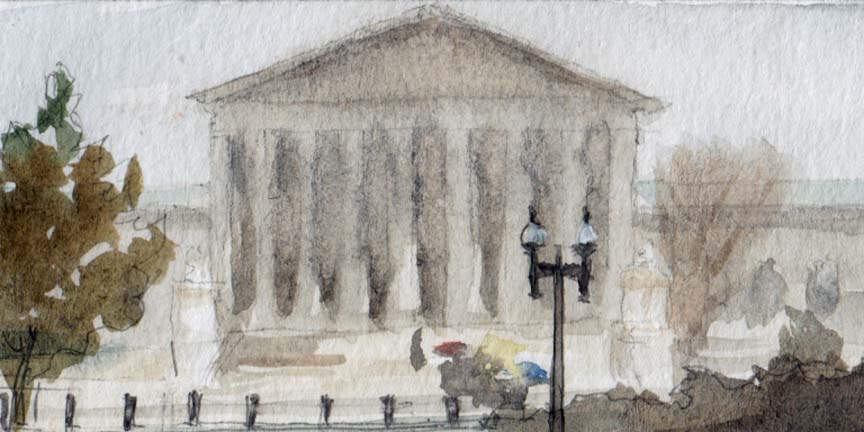 Ariane de Vogue and Phil Mattingly report for CNN that "[a]fter spending more than 20 hours testifying before the Senate Judiciary Committee last week, Supreme Court nominee Brett Kavanaugh is still answering questions," as "Democrats are following committee rules and sending Kavanaugh pages and pages of so called 'questions for the record.'" Todd Ruger reports for Roll Call that "[a]s the Senate continues its processing of … Kavanaugh, it does so in the shadow of the last day of the Senate Judiciary Committee's hearing, with strikingly different depictions of the appeals court judge on display." At USA Today, Erin Kelly reports that Judiciary Committee "Chairman Chuck Grassley, R-Iowa, released an agenda Monday with Kavanaugh's name at the top of a list of judicial nominees that the committee will consider Thursday," but that "Democrats are expected to use a committee rule to delay the vote until Sept. 20 or 27."
At CNN, Grace Sparks breaks down the results of a new poll showing that "Americans are divided on whether or not senators should vote to confirm Brett Kavanaugh to the Supreme Court, with 38% who say yes and 39% who say no." For Politico, Elana Schor and Burgess Everett report that Kavanaugh's performance at the hearing is "not stopping the Supreme Court nominee's liberal critics from unleashing new ads and grass-roots campaigns in one last shot at derailing him" by "keep[ing] pressure on the dwindling number of senators still undecided on President Donald Trump's high court pick."
In The Washington Post's Fact Checker column, Glenn Kessler concludes that California Democratic Senator Kamala Harris' statement that Kavanaugh "'uncritically used the term "abortion-inducing drugs," which is a dog whistle term used by extreme anti-choice groups to describe birth control,'" at the hearing was misleading; Kessler awards Harris four Pinocchios. In an op-ed for The Hill, Armstrong Williams that much of the Democrats' efforts to "try and sully Kavanaugh" at the hearing "looked more like a poor comedy than serious political theater." In an op-ed for The New York Times, Michelle Goldberg maintains that Kavanaugh's opinion in Garza v. Hargan, in which he would have delayed an undocumented teen's ability to receive an abortion, "offers a clue about what's in store for American women if he's confirmed to the Supreme Court." At Rewire.News, Katelyn Burns calls the story of "Kelly Gregory[, who] is a Tennessee resident living with stage 4 terminal breast cancer[,]… emblematic of what is at stake for many people in the United States when it comes to health care, and that's exactly why Sens. Dianne Feinstein (D-CA) and Amy Klobuchar (D-MN) both told it last week" during the hearing.
Briefly:
At Law360 (subscription required), retired state-court judge George Eskin urges the justices to review Lacaze v. Louisiana, which "involves an egregious personal conflict of interest for a judge who presided over a capital case."
We rely on our readers to send us links for our round-up.  If you have or know of a recent (published in the last two or three days) article, post, podcast, or op-ed relating to the Supreme Court that you'd like us to consider for inclusion in the round-up, please send it to roundup [at] scotusblog.com. Thank you!