Friday round-up

on Aug 10, 2018
at 7:02 am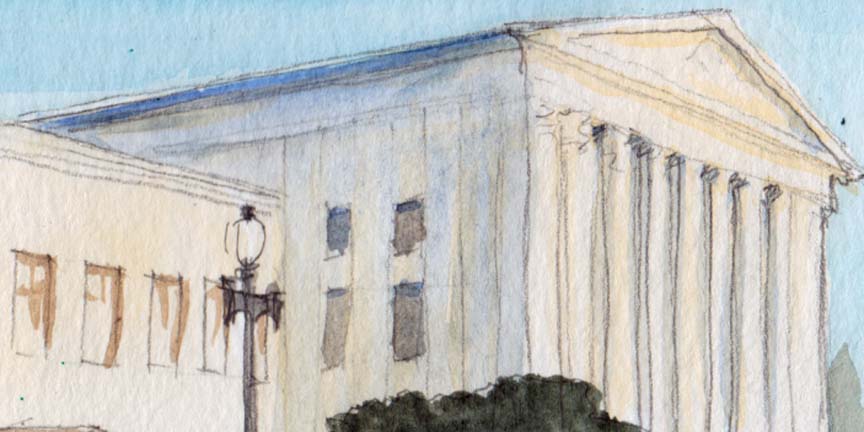 Robert Barnes reports for The Washington Post that "[a] Senate committee released a sliver of the voluminous White House record of Supreme Court nominee Brett M. Kavanaugh on Thursday, amid a rancorous partisan debate over how the documents are being released to the public." For The New York Times, Charlie Savage and Michael Shear report that an email included among the documents shows that "Kavanaugh volunteered to prepare a senior Bush administration official to testify about the government's monitoring of conversations between certain terrorism suspects and their lawyers after the Sept. 11, 2001, attacks." According to Eliana Johnson at Politico, the email "is likely to reignite a debate over [Kavanaugh's] involvement in making the legal case for the Bush administration's treatment of terrorist suspects — and whether he misled Congress about it."
For The Washington Post, Amy Brittain reports that financial disclosure forms and net-value statements filed by Kavanaugh "offer a glimpse into personal finances that have appeared shaky at times." At the Associated Press, Sudhin Thanawala reports that "Kavanaugh's approach to what conservatives call the 'administrative state' … [is] an area where, if he's confirmed, his presence on the court could mark a significant shift," noting that "[i]f Kavanaugh aligns with other conservative justices in cases dealing with regulatory agencies, their opinions could ultimately affect a wide swath of American life." Jimmy Hoover reports at Law360 (subscription required) that "[b]etween 2013 and 2015, … Kavanaugh appears to have shifted his views on a president's discretion to enforce certain laws, a change of heart that one prominent immigration attorney linked to former President Barack Obama's executive actions but that Judge Kavanaugh's supporters maintained has nothing to do with partisanship."
At ACS Blog, Peter Brann urges the Senate, "[i]n evaluating Judge Kavanaugh, … [not to] be satisfied with empty platitudes about respect for precedent." At Politico Magazine, Aziz Huq cautions senators "of both sides" against focusing on whether Kavanaugh is an "originalist," suggesting that instead they ask questions designed to determine whether Kavanaugh would be a justice "who respect the facts," would "be constrained by rules, whether they are formal laws or deeply entrenched practices of the judiciary," and would "be committed to enabling everyone to enforce the Constitution." In an op-ed for The Washington Post, Samuel Moyn argues that "[i]nstead of digging in over the Kavanaugh nomination, the proper course for liberals is to abandon rule through judges and to underscore the undemocratic nature of a process that allows a minority to choose a president." At his eponymous blog, Michael Dorf asserts that "Democrats who vote to confirm Kavanaugh in the hope of thereby restoring a reciprocal norm of bipartisan deference to the president are suckers."
For The Washington Post, Deanna Paul and Mark Berman report that "Tennessee executed Billy Ray Irick on Thursday night, after the U.S. Supreme Court denied a final request to stay his execution," and that Irick "is the first state inmate to be put to death since 2009" and "the first to receive Tennessee's new and controversial three-drug cocktail," which contains the sedative midazolam. Additional coverage comes from Jon Herskovitz at Reuters, who reports that Justice Sonia Sotomayor, "[c]asting the lone dissenting vote in the Supreme Court's decision denying Irick a reprieve," "said that if midazolam does not work, an inmate could suffer harm in violation of constitutional protections against cruel and unusual punishments."
Briefly:
At her eponymous blog, Amy Howe discusses a case on the justices' cert docket that asks whether Planned Parenthood can bring a suit "to enforce a provision of the Medicaid Act that allows Medicaid recipients to receive medical care from any provider who is willing and qualified to provide such services," after Kansas terminated the state's agreement with Planned Parenthood affiliates to provide healthcare services to low-income residents.
At ESPN, Chris Low reports that "[f]ormer Florida State Hall of Fame football coach Bobby Bowden reaffirmed his belief that the courts have gone too far in pushing prayer out of public schools and stands solidly behind former high school coach Joe Kennedy, who didn't have his contract renewed after kneeling in prayer on the field following football games" and who has asked the Supreme Court to review his challenge to that termination.
At NYR Daily, Cristian Farias looks at Solicitor General Noel Francisco's Supreme Court record, noting that "[a]s the Justice Department has shifted priorities under Attorney General Jeff Sessions, who has embraced Trump's hardline approach to immigration, religion, and criminal punishment, to name only a few areas of policy, the solicitor general has done his part to defend those priorities, working quietly behind the scenes to advance the administration's conception of the law" and that "for someone who was last in the pecking order, Francisco's wins have been remarkable."
We rely on our readers to send us links for our round-up.  If you have or know of a recent (published in the last two or three days) article, post, podcast, or op-ed relating to the Supreme Court that you'd like us to consider for inclusion in the round-up, please send it to roundup [at] scotusblog.com. Thank you!