Tuesday round-up

on Jan 16, 2018
at 7:18 am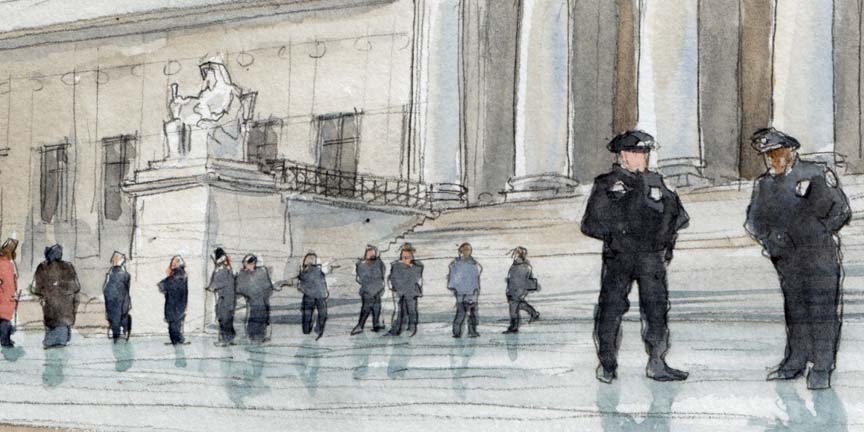 This morning the justices will hear oral argument in two cases. First up is civil procedure case Hall v. Hall, which asks when a judgment dismissing one action is final and appealable when multiple actions were consolidated for all purposes under Federal Rule of Civil Procedure 42. Howard Wasserman previewed the case for this blog. Kristina Hurley and Michael Iadevaia provide a preview at Cornell Law School's Legal Information Institute.
The second case this morning is Dalmazzi v. United States (consolidated with two other cases), in which the court will consider the effect of the dual-officeholder ban on military judges. Amy Howe had this blog's preview, which first appeared at Howe on the Court. Madelaine Horn and Conley Wouters preview the case for Cornell.
On Friday the Supreme Court added 12 cases to its merits docket, consolidating two, for a total of 11 hours of oral argument. Amy Howe covers the order list for this blog; her coverage was first published at Howe on the Court. Additional coverage of the grants comes from Robert Barnes for The Washington Post and Adam Liptak for The New York Times.
For USA Today, Richard Wolf reports that "[t]he justices agreed Friday to hear two cases challenging congressional and state legislative districts in Texas, adding them to ones already pending from Wisconsin and Maryland." Additional coverage comes from Greg Stohr at Bloomberg, Lawrence Hurley at Reuters, At the Election Law Blog, Rick Hasen is "surprised given the complexity and detailed factual record that the Court thought the cases could be consolidated for briefing and argument in one hour." Another look at the cases comes from Ruthann Robson at the Constitutional Law Prof Blog. At The Economist's Democracy in America blog, Steven Mazie observes that with the addition of these cases to the two partisan-gerrymandering disputes already on the court's docket this term, "the justices have their hands full clarifying the statutory and constitutional limits on electoral-map cartography."
At Bloomberg, Greg Stohr reports that in South Dakota v. Wayfair, "[t]he U.S. Supreme Court will consider freeing state and local governments to collect billions of dollars in sales taxes from online retailers, agreeing to revisit a 26-year-old ruling that has made much of the internet a tax-free zone." [Disclosure: Goldstein & Russell, P.C., whose attorneys contribute to this blog in various capacities, is among the counsel to the petitioner in this case.] Additional coverage of Wayfair comes from Mark Walsh at Education Week's School Law Blog, David Savage for the Los Angeles Times, Brent Kendall and Richard Rubin for The Wall Street Journal, Richard Wolf for USA Today, Lisa Soronen looks at the case for the National Conference of State Legislatures Blog.
Andrew Chung reports at Reuters that the justices "agreed to hear a challenge to a key Securities and Exchange Commission practice – its use of in-house judges to enforce investor protection laws" Additional coverage of the grant in Lucia v. Securities and Exchange Commission comes from Greg Stohr at Bloomberg,
For The Wall Street Journal, Brent Kendall reports that the court also "said it would hear an antitrust case involving price fixing by Chinese vitamin C makers, agreeing to decide whether U.S. judges must defer to legal submissions made by the Chinese government." And at his eponymous blog, Ross Runkel discusses another of Friday's grants, in a case that asks whether a railway has to pay a payroll tax on stock obtained by railway employees when they exercised their stock options, noting that "[y]ou would think this would be a no-brainer – that stock is not 'money,' so the stock options would not be taxable."
Subscript provides a graphic explainer for Encino Motorcars v. Navarro, which will be argued tomorrow and which asks whether service advisors at car dealerships are exempt from the Fair Labor Standards Act's overtime-pay requirements. Ross Runkel discusses the case in a video at his eponymous blog.
At Bloomberg Law's Cases and Controversies podcast, Jordan Rubin "explains the Supreme Court case where a defense attorney goes rogue, doing what he thinks best over his client's express objection," death-penalty case McCoy v. Louisiana. For The New York Times, Jeffery Mays talks to the defense attorney in the case. In an op-ed for the ACSblog, Lawrence Fox argues that in McCoy, which the court will consider tomorrow, "[t]he Supreme Court should reverse, ensuring Mr. McCoy a new trial in which his lawyer is his advocate, not an ally of the prosecution."
For the Miami Herald, Glenn Garvin profiles Fane Lozman, the Florida plaintiff at the center of Lozman v. City of Riviera Beach, Florida, in which the justices will decide whether the existence of probable cause defeats a retaliatory-arrest claim, remarking that "just getting his case before the justices is a remarkable achievement." At The Atlantic, Garrett Epps explains why Lozman's case "could make a profound difference to citizens … who want to talk back to local officials without a trip to jail."
Briefly:
We rely on our readers to send us links for our round-up.  If you have or know of a recent (published in the last two or three days) article, post, podcast, or op-ed relating to the Supreme Court that you'd like us to consider for inclusion in the round-up, please send it to roundup [at] scotusblog.com. Thank you!