SCOTUS Map: May and June 2017 (and OT2016 Review)
on Jul 10, 2017
at 12:43 pm
Justice Stephen Breyer delivered remarks at the Cambridge Public Library's Democracy Day activities on May 20, where he urged students to "work part of the time in something beyond yourself—in government, politics, library commission, art museum, school. Part of us is part of the community. I can't tell you to do it, but I can tell you, I've spent a lot of time with [the Constitution], and it foresees that you will participate in public life in some way or another. And Adams, and Hamilton, and Madison, and the others, I'm pretty sure, would have said, 'If you don't participate, it won't work.'" Video of Breyer's talk is online.
On May 22, Justice Ruth Bader Ginsburg received the Burton Award for the Book of the Year in Law for her work, "My Own Words."
The following day, Ginsburg spoke at the American Law Institute's 2017 Annual Dinner, where she explained the reasoning behind the justices' oral dissents. Reading a summary of a dissent from the bench means that "not only did the Court get it wrong, but it was an egregious error," Ginsburg said. "That's why I read the Lilly Ledbetter dissent from the bench. When one writes that kind of dissent, there is an immediate object in mind, and that is Congress." Asked which Supreme Court case she would turn into an opera, Ginsburg responded: "I can think of one—Anna Nicole Smith's case." As the audience burst into laughter, she added a caveat: "But there is an opera already. It played in London." ALI has posted video to Vimeo.
The topic of opera came up again in Ginsburg's Aspen Wye Fellows Discussion on May 24. Discussing her role in the Washington National Opera's "Daughter of the Regiment," Ginsburg recalled: "I was the Duchess of Krakenthorp for opening night. There was only one problem about that. It was the Saturday following the election, and I wrote my own lines, and they were all about valorous women." The justice recounted the discrimination she faced seeking employment after law school as a young mother. "Getting the first job was hard for women of my vintage, but once you got the first job, you did it at least as well as the men, and so the next step was not as hard." Her former colleague, the retired Justice Sandra Day O'Connor, had experienced similar difficulties, Ginsburg continued. "But life is strange. You never know—you may think that something not good has happened, like not being able to get a job. And it turns out to be remarkably lucky. Sandra said, 'Where would the two of us be if there had been no discrimination? Well, today we'd be retired partners from a large law firm.'" The Star Democrat has a summary of Ginsburg's remarks. Video of the talk is available online.
On June 2, Marshall alumni Breyer and Justice Neil Gorsuch appeared jointly at the 2017 Harvard Marshall Forum and Association of Marshall Scholars Annual Meeting, where they discussed the rule of law. Gorsuch called it a "blessing," noting how remarkable it is that the "government can lose, in its own courts, and accept the judgment of those courts without an army to back up the judgments." Gorsuch acknowledged that while "there is a lot of skepticism about the rule of law," his lived experience has shown him that it is alive and well in this country. "I see it day in and day out in the trenches – the adversarial process of lawyers coming to court and shaking hands before and after, the judges shaking hands as we do, before we ascend to the bench. That's how we resolve differences in this society." Breyer agreed, pointing to the aftermath of Bush v. Gore. "It was wrong in my opinion, OK, but people followed it. They did not go out and throw stones or shoot other people." According to Harvard Law Today, the two justices also reminisced about their time as Marshall scholars. Gorsuch recalled meeting his wife while studying at Oxford, to which Breyer added: "I, too, have married a British woman, and she's beautiful, but it's not the same one." The Boston Globe, New York Times, Washington Post, and the Associated Press also covered the event.
Chief Justice John Roberts delivered the 2017 commencement speech at the Cardigan Mountain School, a sixth- to ninth-grade New Hampshire boys' boarding school from which his son was graduating. Skipping the usual graduation-season platitudes, the chief justice told the young men:
From time to time in the years to come, I hope you will be treated unfairly, so that you will come to know the value of justice. I hope that you will suffer betrayal because that will teach you the importance of loyalty. Sorry to say, but I hope you will be lonely from time to time so that you don't take friends for granted. I wish you bad luck, again, from time to time so that you will be conscious of the role of chance in life and understand that your success is not completely deserved and that the failure of others is not completely deserved either. And when you lose, as you will from time to time, I hope every now and then, your opponent will gloat over your failure. It is a way for you to understand the importance of sportsmanship. I hope you'll be ignored so you know the importance of listening to others, and I hope you will have just enough pain to learn compassion.
Whether I wish these things or not, they're going to happen. And whether you benefit from them or not will depend upon your ability to see the message in your misfortunes.
Video of the full speech is available on the Cardigan Mountain School's YouTube page.
Breyer sat for a conversation on the first night of the American Constitution Society's 2017 National Convention. There, he explained the development of his views on the death penalty, despite not having encountered many such cases as a judge on the U.S. Court of Appeals for the 1st Circuit:
What happens after you're there for a while is, you begin to get—and I think it happened with [John Paul] Stevens, I think it happened with Lewis Powell, and I think it happened with Harry Blackmun—you get the feeling, like I said in the [Glossip v. Gross] opinion, that this is random. Now, it's one thing to say it, and it's another thing to sit there over a long period of time and begin to think, yes, it is. There is a problem here, there is really a problem.
So then I thought, OK, I can say that, but what do I add, really, to what other justices have already said? Arthur Goldberg wrote an opinion years ago and I thought, well, I could say I agree with him, and people would say, that's very interesting, that's nice and fine. Or I could try and do something that would in fact be useful to others. And therefore, we spent considerable time—I'd say a year and a half—and over a long period of time gathering the information, trying to organize it, trying to work out the thinking, and trying to say, look—I'm not going to say it's unconstitutional, either, but I'm going to say, we ought to consider it. Because that's what I think. And in my opinion, you don't decide a major thing without hearing argument, so I wanted to make that point, too. I said, well, look at the facts, look at the figures, look at the situation.
GWU Law News covered the ACS event, and video is posted online.
On June 9, Justice Sonia Sotomayor spoke to students and presided over arguments at the Thurgood Marshall Junior Mock Trial Program, now in its 20th year. The mock trial was held on the same day and in the same venue, the Bronx County Courthouse, as the Bronx County Women's Bar Annual Installation Reception, where Sotomayor was the honored guest. Coverage of the mock trial comes from the Bronx Free Press and Fox 5 NY.
Sotomayor received the 2017 Achievement Award at the American Association of University Women's National Convention Banquet in Washington on June 16. The AAUW has a short recap of the night's festivities.
Ginsburg and Breyer served on a panel of judges at The Shakespeare Theatre Company Bard Association's 2017 Annual Dinner and Mock Trial on June 19, hearing a fictitious case based on the Weird Sisters in Macbeth. According to Molly Runkle, who covered the proceedings for this blog, the advocates made many lighthearted references to current events, including lines about "drain[ing] the bog," "the greatest witch hunt," and the Sisters "appear[ing] out of nowhere, like Sean Spicer from the bushes."
Ginsburg participated in another Bard-based mock trial on June 21, presiding over the Justice for Shylock appeal that the Law Library of Congress held to commemorate the 500th anniversary of the Venice Ghetto. The role of Shylock was performed by Edward Gero, who also portrays Justice Antonin Scalia in "The Originalist." Coverage comes from DC Metro Theater Arts. The Library of Congress has posted video of the program on YouTube.
On June 26, Ginsburg discussed her book, "My Own Words," at the Cornell Club of Washington.
Closing out the month, Justice Elena Kagan spoke at the ABA Deans Workshop in Washington on June 30, where the topic was the future of legal education. On the same day, Roberts made headlines in Lancaster, Pennsylvania, when he told the audience at a District of Columbia Circuit judicial conference that pop-culture references can be an effective way of making a point. However, Roberts noted, this approach may not work in every situation — "[t]here is a real danger if you do it at oral argument, and that is that Justice Breyer may have no idea what you are talking about." (To be fair, this term Breyer became the first Supreme Court justice to make a Kim Kardashian reference at oral argument.) Coverage comes from Lancaster Online and the Associated Press.
This term, SCOTUS Map recorded 119 appearances by the nine active and three retired justices. The breakdown of events (by month and by justice) is set out in the chart below:

November 2016 and February 2017 were the busiest months for the justices: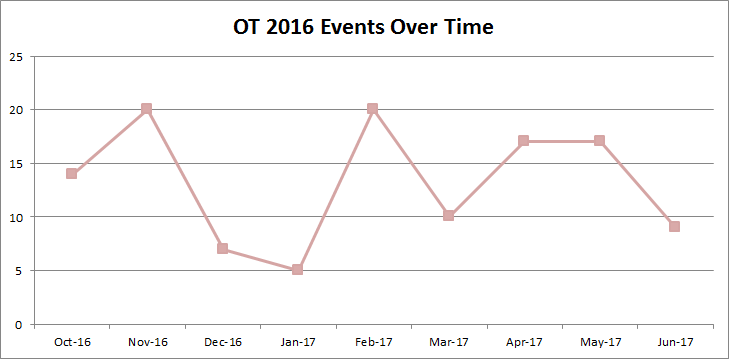 This term, Sotomayor dethroned Breyer as the most active justice, logging 33 appearances (ten more than she had recorded in OT2015). Sotomayor was also the only justice to participate in at least one event in every month of OT2016, notching seven appearances in April 2017 alone. Ginsburg was the second-most active justice of the term, with 24 events in total. Breyer was third with 19 appearances, followed closely by Alito with 17.