IN MEMORIAM
Tributes to Walter Dellinger, a scholar, Supreme Court advocate, and "luminary in law and in life"
on Feb 17, 2022
at 3:23 pm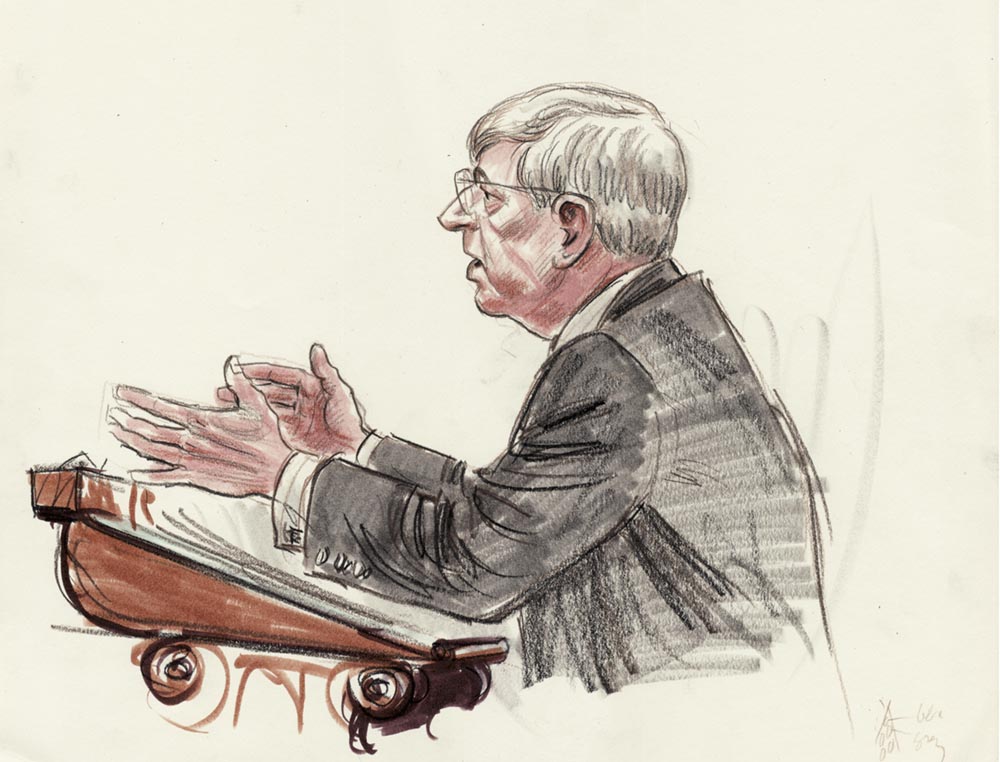 Walter Dellinger, a constitutional scholar and skilled advocate who argued 24 cases at the Supreme Court, died on Wednesday at his home in Chapel Hill, North Carolina. He was 80. Dellinger served as head of the Office of Legal Counsel and as acting solicitor general under President Bill Clinton. In 1997, he joined O'Melveny & Myers and founded the firm's appellate practice. He was a long-time member of the Duke Law School faculty, which he joined in 1969.
We asked some of Dellinger's friends, colleagues, and former students to write a few words about his life and his work. Here are their tributes.
James Boyle
William Neal Reynolds Professor of Law at Duke Law School
From picketing the Carolina Theatre, as a skinny college kid protesting segregation, to arguing in front of the Supreme Court, Walter exemplified the best of what we can be. But he was also a deeply humane, kind, funny, and humble man. He was a brilliant lawyer, an idealist, and a hilarious, gifted storyteller. All three qualities were intimately connected. Walter dreamed of a better world, and his deep insight into American law and history were then coupled with the storyteller's art in the service of making that dream a reality. Read his amicus brief in Lawrence v. Texas. It seizes the reader as only a great storyteller could and forces them to see the injustice of discrimination against gays and lesbians. Telling the story of the gay flight attendant on one of the hijacked planes during 9/11, it concludes, "There is nothing about gay men and women in America that justifies treating them as criminally deviant under laws like Texas' Homosexual Conduct Law. Gay men and lesbians are partners and parents, neighbors and co-workers, occasional heroes." The legal analysis was, as always, rock solid. But the ability to produce empathy in the hardest of hearts was all Walter.
He was a person who gave me hope — hope that the professional commitment to truth would not perish, even in the frenzied assault of the last few years. He gave me hope for the idea of the rule of law, which as he helped me to understand, is neither a rule, nor a law — both facts that emphasize its utter fragility. He did all this while proving, by his simple existence, the fact that one can be wildly successful, killer smart, and still the nicest guy in the room. Well, Walter could do it. I am not sure about the rest of us. I cannot put into words how deep a loss this is. He was one of a kind.
Bradley Butwin
Chair, O'Melveny & Myers, LLP
The world is a better place for having had Walter Dellinger in it, and we are heartbroken at his passing. To say he was a 'living legend' doesn't begin to capture the greatness of his intellect, heart, and spirit. In both government service and private practice, Walter's commitment to social justice and equality was unmatched. He was a giant in the law — as a practitioner, a scholar, a counselor, and a statesman — and his legal accomplishments will endure for generations. Walter was also enormously generous and caring; beyond his family, especially his soulmate of more than 50 years, Anne Dellinger, his greatest joy was helping others succeed. So many owe so much to him. There is a remarkably long list of lawyers in academia, in government, in business, at law firms, at nonprofits, and on the bench whom Walter helped to find their place. As he mentored scores of young lawyers — including many of America's great jurists — he also took the time to weigh in on many of the most pressing issues facing our society. We take comfort from knowing how much he loved our firm and the enduring impact he had on all of us. We are all better off for his wisdom, kindness, and contributions.
Roy Cooper
North Carolina Governor
Kristin and I mourn the passing of Walter Dellinger, a brilliant scholar, attorney, public servant, and friend. His Supreme Court arguments and strategies were masterful works of art. Both as North Carolina's attorney general and now as governor, I had the privilege of working with Walter on cases and policy, and he made a lasting difference in our state and country. He was a force for good, and our prayers go out to his family and friends. Many people who never knew him were helped by the actions he took and the life he led.
Nita Farahany
Robinson O. Everett Professor of Law and Professor of Philosophy and Duke Law School
Many moons ago now, I had the honor of being Walter Dellinger's research assistant while I was a law student. He was first my mentor, then years later my colleague at Duke Law School, and throughout those years, a trusted friend. He was a luminary in law and in life. I will miss him, and remember him, along with so many others.
Trina Jones
Jerome M. Culp Professor of Law at Duke Law School
My first meeting with Walter Dellinger was a lunch at which we discussed my offer to join the law faculty at Duke. Walter was serving in the Clinton administration at the time and was a legend on the faculty. But he was so authentically himself that I felt an instant kinship. We both grew up in the Carolinas — North Carolina for him and South Carolina for me. We talked about growing up in the South, about race, and about law. But mostly we discussed my anxiety — as a 28-year-old Black woman and fairly recent law school grad — about law teaching. Walter regaled me with hilarious stories of his mishaps in the classroom (and they were epic!). The stories and the shared laughter ended with Walter saying "you will be just fine." When someone like Walter expresses confidence in your ability, it means something. And it did.
My story is not unique. Great mentors — indeed great teachers — inspire us to press beyond what we think is possible for ourselves, and for the world. Walter did that over a lifetime with countless mentees and students. His vision and his commitments to justice and equity challenged us to imagine, and to strive for, a more just world. Two weeks ago, Walter penned a brilliant op-ed supporting President Joe Biden's decision to appoint a Black woman to the Supreme Court. The op-ed ended with Walter stating, "There are approximately 25,000 Black female attorneys in America. There is every reason to believe that President Biden's nomination process will benefit by focusing on that extraordinary group for the next justice of the United States Supreme Court."
Great leaders dedicate their intellect and talents in service to others. Two decades ago, Walter used his position of prominence to boost my confidence as a young law professor. By sharing his own mishaps as a teacher, he reminded me that none of us, not even Walter Dellinger, are perfect. He revealed a vulnerability that showcased real strength. Rather than remain silent (which Martin Luther King Jr. warned is the real danger), Walter continued to use his position as one of the most prominent lawyers in the country to press for the removal of structural barriers that have too long excluded women of color.
Walter Dellinger was a visionary teacher, mentor, and leader. Thank you, Walter. May we follow his remarkable example and use the power of our voices to achieve collective uplift.
Neil Siegel
David W. Ichel Professor of Law at Duke Law School
Walter Dellinger always made everyone around him feel special. He made me feel special, like I was the legal genius in the room, and he was just so fortunate to have the opportunity learn from me.
He did it when I was a summer associate at his law firm, and I gave him help he didn't need in an area of law I had just enthusiastically learned about in law school. "Where did we get this guy?," he asked his colleague Sri Srinivasan, a supremely gifted lawyer whose help he already had. He did it again the night before I interviewed at Duke Law School for an entry-level position. He hosted a dinner in my honor and treated me like a Supreme Court justice, not like the rookie job candidate I was. He did it yet again when I joined the Duke Law faculty and he hosted a dinner in honor of an actual Supreme Court justice, Ruth Bader Ginsburg, for whom I had recently clerked. When Walter wasn't making the justice laugh with his hilarious stories or slipping out of the room with me to check college basketball scores, he was telling her how wonderful I was.
Walter's final act of generosity towards me was to inspire a law review article I wrote and was to present at Duke Law on the day he died. He had been looking forward to attending the workshop. My colleagues and I instead gathered to express our love for him and our gratitude for the community he created.
What is so extraordinary about my experience of Walter Dellinger is how ordinary it is. He made everyone around him feel better about themselves. It was his way of bringing out the best in other people — inspiration through love, not fear.
Walter was, of course, the real legal genius in the room. He seemed effortlessly and endlessly to offer penetrating, big-picture insights on law and politics and the people who moved them. With a huge heart, deep compassion, unrivaled sense of humor, and uncommon ability to tell a great story, he became a giant of American law and a champion of a more inclusive legal profession and country. Both are better because he lived, and neither will be the same without him.
As Walter's army of friends and family mourn his passing, they might bear his optimism in mind. Walter was alive and kicking until the end, full of life and hope even as he fought to save the best parts of America, its Constitution, and its democracy. Those of us who are vulnerable to anger, frustration, and despair might follow Walter's example. We can fight for what we believe in and still laugh, smile, and try to tell a decent story — even if it won't be nearly as funny as the one Walter told.
Leonard Simon
Of Counsel, Robbins Geller Rudman & Dowd LLP
Walter Dellinger taught me civil procedure 50 years ago. He told us he didn't know the subject, but promised to stay one week ahead of us. He was brilliant, funny, supportive, and got us comfortable with being in law school, thinking like lawyers as they say. He remained available to us through the decades, providing advice and guidance to any who asked, which were many. When I had my first and only Supreme Court argument, he took time out of a very busy schedule to give me tips ranging from high-level intellectual points about reaching out to certain justices, to the name of the guy who could get us extra passes so that my whole family could attend, to how few notes I should have at the podium because they would just get in the way, to being sure to visit the men's room just moments before I entered the courtroom. He could talk law, politics, basketball, history, and life with anyone, with wisdom overflowing on each subject. All who knew him will miss him greatly.
Seth Waxman
Chair of Appellate and Supreme Court Litigation at WilmerHale and Former U.S. Solicitor General
Walter Dellinger lived a life transcendently well lived. Not simply because he enjoyed, and extracted, everything a life on earth can possibly give. But also because he created a world for so many, many others that was supportive, inspired, and informed in the very best sense of those words.
Walter had so many precious qualities that it will take time to appreciate and catalogue them all. He was curious about everything. He learned, and then opined, about the myriad topics that had captured his curiosity, whether it was the true meaning of a constitutional provision or the qualities of a soap opera. Walter had the rare ability to find and provide lightness even in the most serious circumstances. He was the model of enthusiasm for life and its joys and challenges. He was a quiet, kind, selfless, and effective mentor for thousands of people. And his life was an inspiration for countless others.
Walter Dellinger's life was a blessing to me. His memory, and the example he set, will surely be as well.