Symposium: The Supreme Court turns against novel or late-breaking execution challenges
on Jul 29, 2019
at 11:24 am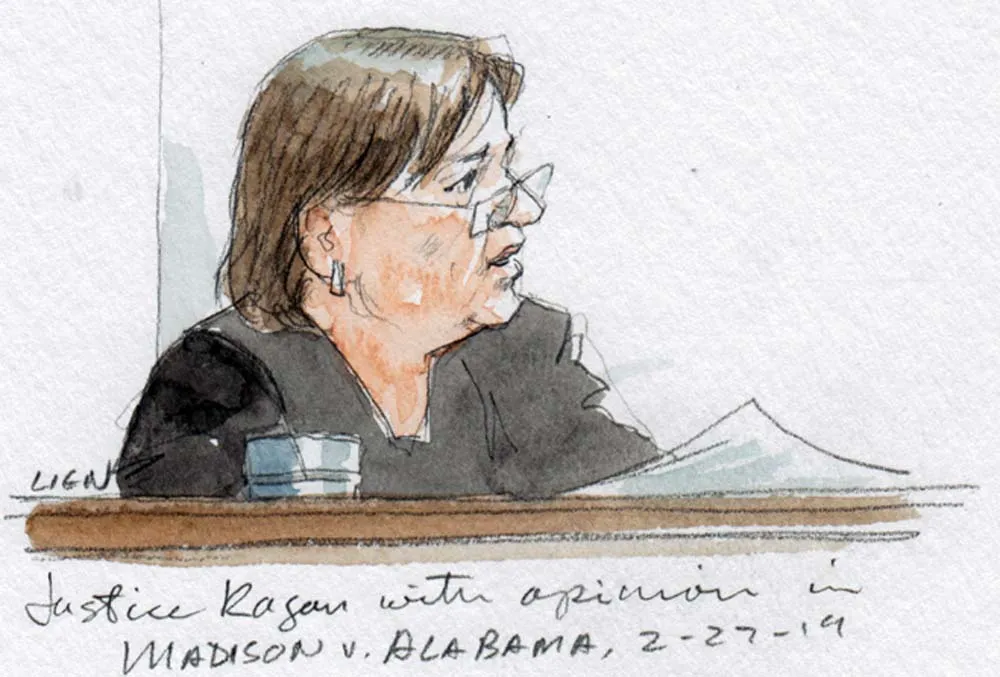 Edmund LaCour is the solicitor general of Alabama.
The Supreme Court's decisions in this term's death penalty cases suggest that the court is more willing than before to defer to the states' judgments about how the death penalty should be carried out and who should be subjected to it, and that inmates challenging their death sentences should bring their challenges without delay.
Justice Anthony Kennedy had been the crucial fifth vote on several of the Supreme Court's recent decisions to declare certain groups of defendants to be beyond the scope of certain punishments. For example, in the 2008 case Kennedy v. Louisiana, he wrote the opinion for a five-justice majority that held that the Eighth Amendment prohibited the death penalty for child rapists, and in the 2012 case Miller v. Alabama he joined another five-justice majority that held that mandatory sentences of life imprisonment without the possibility of parole could not be imposed on minors who committed murder. When Justice Brett Kavanaugh replaced Kennedy, some court-watchers predicted that this trend of broader Eighth Amendment readings would end, a prediction supported by the court's decision in Madison v. Alabama.
Vernon Madison suffers from dementia and episodic amnesia that he claims have erased his memory of the murder for which he was sentenced to death. In 2017, the U.S. Court of Appeals for the 11th Circuit granted Madison habeas relief on the theory that because his mental illness left him no memory of his capital offense, he cannot rationally understand the connection between his crime and his execution. The Supreme Court summarily reversed, concluding that the state court's contrary judgment should not have been vacated under the deferential standards of the Antiterrorism and Effective Death Penalty Act of 1996. But Justice Ruth Bader Ginsburg (joined by Justices Stephen Breyer and Sonia Sotomayor) filed a concurrence stating that the issue should be reviewed when presented outside the AEDPA context.
Madison returned to state court, lost again and then filed a petition that was granted in February 2018. But at oral argument, Madison's counsel largely conceded that the state could execute a defendant if his disability caused him only to lose the memory of committing his capital offense. Madison instead argued that the state court had misapplied precedent that bars states from executing inmates who cannot rationally comprehend why they are being punished.
The Supreme Court, in a 5-3 decision authored by Justice Elena Kagan (and joined by Chief Justice John Roberts and Ginsburg, Breyer and Sotomayor) ruled for Madison on that narrow ground. Though three justices had earlier expressed interest in Madison's broader question, the court now unanimously agreed that memory loss alone is not enough to render someone incompetent to be executed. The court, however, was "at least unsure" whether the state court had applied precedent correctly and it therefore remanded the case. As Justice Samuel Alito noted in dissent, the court does not usually grant certiorari to decide such fact-bound questions. Thus, it is possible that after Kennedy retired, Madison lacked a path to a broader victory, and a majority coalesced around the court's case-specific ruling.
Bucklew v. Precythe was this term's other argued Eighth Amendment challenge to the death penalty, and it too suggests that the Supreme Court is unlikely to give that amendment a broader reading in the coming years. In two earlier cases, 2008's Baze v. Rees and 2015's Glossip v. Gross, the court set forth a two-step test for inmates challenging their method of execution as cruel and unusual. They need to show both (1) that the proposed method entails a substantial risk of severe pain and (2) that there is a known and available alternative method of execution that entails a reduced risk of pain. Russell Bucklew argued that this analysis should apply only to facial challenges, not to his as-applied challenge. Justice Neil Gorsuch's opinion for the 5-4 majority rejected that argument, holding that the Baze-Glossip test applies to as-applied challenges, even when an inmate's unique circumstances mean that he is likely to suffer significant pain.
The Supreme Court also decided two cases without argument, both of which involved the court's 2017 decision in Moore v. Texas, a 5-3 decision in which Kennedy joined the court's four more liberal justices to reverse a Texas court over how it assessed whether an inmate had intellectual disabilities that made him ineligible for the death penalty. In Shoop v. Hill, a unanimous court reversed the U.S. Court of Appeals for the 6th Circuit for relying on Moore to vacate a state court decision that was issued years before Moore had been decided. And in Moore v. Texas II, Roberts and Kavanaugh joined the four more liberal justices to summarily reverse a Texas court. Though Roberts had dissented in Moore I, he agreed that the lower court failed to apply Moore I, a sign that he is not eager to pare back Eighth Amendment holdings, even if he is not eager to expand them.
Beyond merits cases, the Supreme Court drew attention for its handling of several last-minute attempts to stay impending executions. First was Dunn v. Ray. Less than two weeks before his scheduled execution, Domineque Ray, who was Muslim, sued Alabama arguing that it violated the establishment clause by including a state-employed chaplain, who is Christian, as part of the execution team in the chamber during executions. Ray also raised a Religious Land Use and Institutionalized Persons Act claim arguing that he should be allowed an imam in the chamber. The state agreed to exclude the chaplain from the chamber, and the district court denied Ray's stay request. But the day of Ray's execution, the 11th Circuit entered a stay. Late that night, the Supreme Court, by a 5-4 vote, vacated that stay, holding that Ray had waited too late to seek relief. Kagan's dissent decried the majority's decision as "profoundly wrong," arguing that Ray had not unduly delayed presenting a strong establishment clause claim.
The justices continued to spar over last-minute stay requests. In Bucklew, Gorsuch's majority opinion and Sotomayor's dissent debated both Ray's case and the broader issue of how the court should approach late-filed challenges. The majority's position was clear: "Last-minute stays should be the extreme exception, not the norm."
The Supreme Court dealt with these issues again in two stay requests related to Christopher Price's challenge to Alabama's lethal-injection protocol. In 2018, the state passed a law that authorized nitrogen hypoxia as a method of execution and gave inmates until June 30, 2018, to elect it as their method of execution. While many inmates elected nitrogen, Price did not. In January 2019, two weeks after the state moved to set an execution date, Price challenged Alabama's lethal injection protocol, proposed nitrogen hypoxia as an alternative and sought a stay.
The district court concluded that Price had failed to show that nitrogen hypoxia was practically available because Alabama has not yet determined how to use that method safely. The 11th Circuit affirmed, but on alternative grounds, declaring hypoxia to be practically available because the state had statutorily authorized it, but finding Price's evidence that hypoxia would be less painful insufficient because he cited a draft report. The next day, just hours before his execution, Price filed a new stay request that included the report's final version. The district court issued a stay, and the 11th Circuit affirmed. The Supreme Court, by a 5-4 vote, vacated the stay, holding that Price's request was untimely. Because the court's order did not issue until 2:30 a.m., the state's execution warrant expired, meaning the execution did not go forward. Breyer argued in dissent that the justices should have waited to discuss such an important issue, even if that delay would halt Price's execution. The next month, Justice Clarence Thomas (joined by Alito and Gorsuch) used the court's denial of a different cert petition filed by Price as an avenue for responding to Breyer's dissent, indicating a strongly felt need to "set the record straight." Alabama later obtained a new execution warrant for Price, no court issued a stay, Breyer again dissented and Price was executed.
There was one notable exception to the Supreme Court's general unwillingness to grant last-minute stays. Texas, like Alabama, has state-employed chaplains who have been present in the execution chamber for executions. None of the chaplains, however, was Buddhist, and Patrick Murphy requested that Texas allow a Buddhist priest in the chamber for Murphy's execution. About a month after deciding Ray's challenge, the court granted a stay in Murphy's case over a dissent from Alito (joined by Thomas and Gorsuch). Kavanaugh (joined by Roberts) later issued an opinion explaining his view that Murphy had raised a strong equal-treatment claim that Ray had failed to raise, and that Murphy made his request of Texas earlier than Ray had of Alabama. Alito, however, would have denied the stay request as dilatory.
Looking to next term, the Supreme Court has docketed a few cases that will have some effect on death penalty litigation, including McKinney v. Arizona, which concerns (1) whether courts that are correcting a defendant's sentence must apply current law, and (2) whether resentencing must be performed in the trial court. But the court is unlikely to take cases that seek to expand its Eighth Amendment precedents and will likely remain skeptical of last-minute attempts to halt executions.