Empirical SCOTUS: Supreme Court all-stars 2013-2017 (Corrected)
on Sep 13, 2018
at 4:01 pm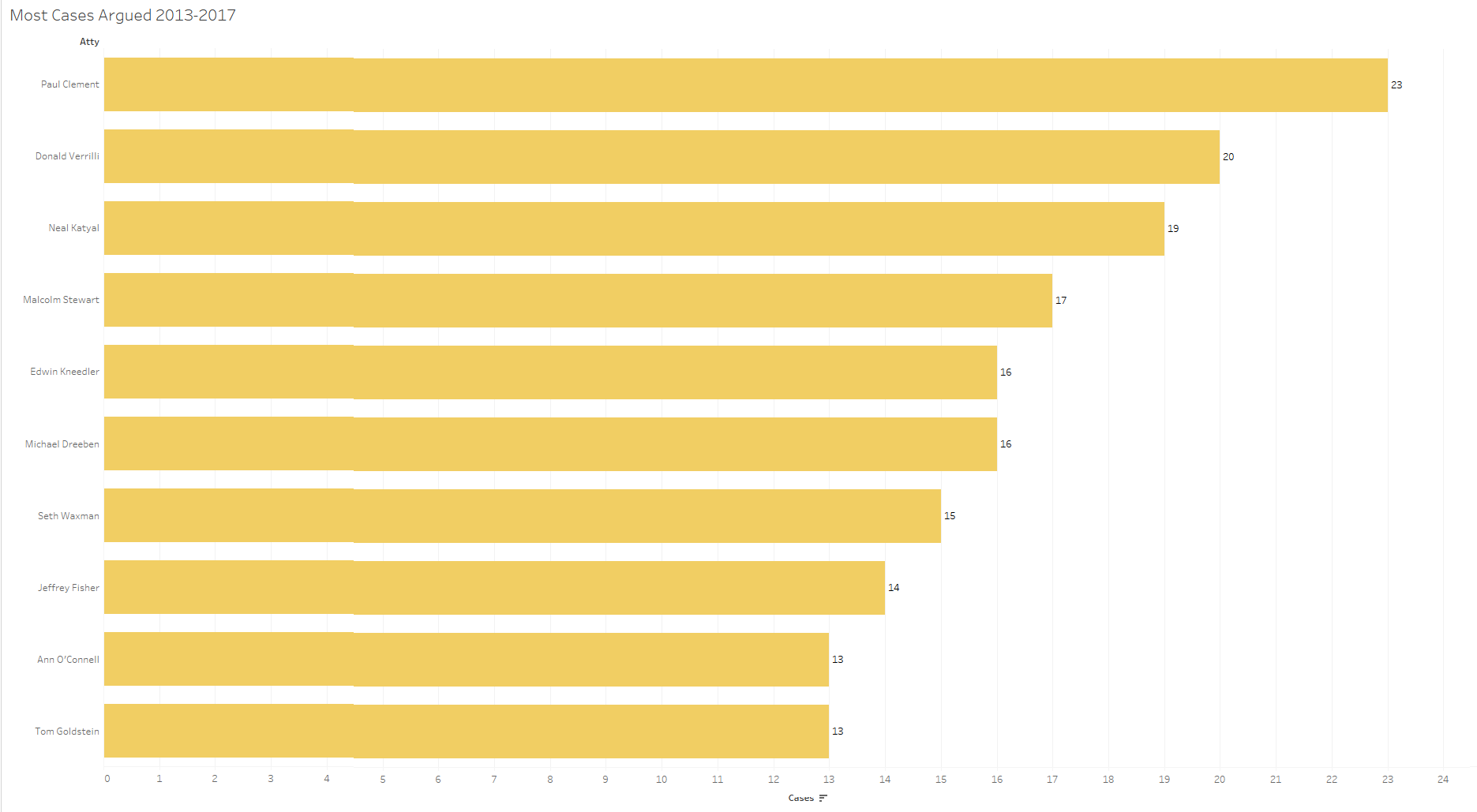 Success in the Supreme Court is hard to define because it can be viewed in a variety of ways. Few attorneys have the opportunity to try cases there, and even fewer argue multiple cases. Part of success therefore is simply getting a case or cases to the court. Once the court agrees to hear a case, the case's history comes with it; that is to say, attorneys do not all start with an equal likelihood of winning because often one side's position is stronger than the other's at the outset. With this caveat in mind, attorneys often view case outcomes dichotomously – as wins or losses. This post looks at attorneys who have argued cases across the last five Supreme Court terms, from 2013 through 2017. It uses a dataset of attorneys and firms that was merged with the Supreme Court Database and focuses on regular players who have been most successful in terms of case wins.
Participation
To get the lay of the land, the first chart takes a look at the most active attorneys before the Supreme Court in terms of oral arguments between the 2013 and 2017 terms.
This figure includes attorneys from the U.S. Office of the Solicitor General. Because OSG is involved in more cases than any other player before the court each term, attorneys from OSG make up half of the attorneys in the figure, with the most arguments going to former solicitor general Donald Verrilli. Paul Clement argued the most cases during this period, with Neal Katyal coming right behind Donald Verrilli. Along with the OSG attorneys, including veterans Edwin Kneedler and Michael Dreeben, three other elite Supreme Court attorneys make the list – Jeff Fisher, Seth Waxman and Tom Goldstein.
When we shrink the timeline to the last two terms, there are some similarities but many differences. This shorter, more recent time frame also helps show who we might expect to argue multiple cases in the terms to come. For this reason, OSG attorneys are removed from this figure.
The three top attorneys were also in the list for the previous figure, with Neal Katyal now tied with Paul Clement atop the rest. Along with the other attorneys from the previous figure are five new attorneys. Of these five, former Texas solicitor general Scott Keller is ahead of this pack, with Adam Unikowsky and Kannon Shanmugam close behind. Following Seth Waxman are Colorado solicitor general Frederick Yarger, as well as Josh Rosenkranz and Shay Dvoretzky.
In terms of gender equity in Supreme Court arguments, a topic previously covered in Empirical SCOTUS, these two figures are somewhat alarming. The only female attorney on either figure for most arguments is Ann O'Connell, who argued on behalf of OSG. No female attorneys in private practice had enough oral arguments to make the threshold for these figures. Even with stellar Supreme Court advocates like Lisa Blatt, Kathleen Sullivan and Allyson Ho, the vast majority of argument slots are still filled by male attorneys.
On the law-firm side of things there are strong correlates with the arguing attorneys, but the ordering shifts around because of firms with multiple attorneys who argued cases between the 2013 and 2017 terms. OSG was removed from this figure.
Attorneys from WilmerHale argued the most cases during this period, with arguments from Seth Waxman, Danielle Spinelli, Catherine M.A. Carroll, Mark Fleming, Thomas Saunders and Craig Goldblatt. Along with Neal Katyal's many oral arguments for Hogan Lovells, Catherine Stetson, Dominic Perella and Frederick Liu (now at OSG) also argued cases for that firm. Both Bancroft PLLC and Kirkland & Ellis can attribute multiple arguments to Paul Clement.
Focusing on the last two terms, the impact of Paul Clement's move to Kirkland is more acute.
Clement's new home made Kirkland the most active firm at oral argument these past two terms, with Hogan Lovells and Stanford's Supreme Court Litigation Clinic coming in the second and third spots. All firms on this list had at least one attorney in the figures for most active attorneys.
Parsing wins
Based on the previous figures, it should be clear that some attorneys are much more active before the Supreme Court than others. With this in mind it seems unfair to focus on aggregate wins as a feature of interest. Instead, this post focuses on wins in certain types of cases, which helps further distinguish particular attorneys and firms from the rest of the pack. To avoid confusion on the winning party in a case, I used the coding from the Supreme Court Database.
One way to separate out attorneys is to look at those who have been successful in cases that came down to close votes. This is also a way to gauge some of the most proficient Supreme Court attorneys. The following figure tracks attorneys who won two or more cases decided by a five-vote majority between the 2013 and 2017 terms.
Paul Clement had the most wins in five-vote majority cases with four. Neal Katyal and Scott Keller each had three wins in closely decided cases. Several other attorneys had two wins in this category, including Elaine Goldenberg and Malcolm Stewart from OSG.
The firms with multiple five-vote majority wins are shown below.
Neal Katyal's firm, Hogan Lovells, and Paul Clement's firm, Kirkland & Ellis, are atop this figure with four such wins, followed by Gibson Dunn, Texas' S.G.'s office and WilmerHale. Other entities in this figure not yet mentioned in this post are California's S.G.'s office, the Office of the Federal Defender, Jenner & Block and the National Right to Work Legal Defense Foundation.
Along with justices' votes, another way to compare attorneys and firms is by the issues involved in the cases they try (The coding for issue is also through the Supreme Court Database.). Because some of the court's most salient recent decisions, such as Janus v. American Federation of State, County, and Municipal Employees, Council 31 and Masterpiece Cakeshop, Ltd. v. Colorado Civil Rights Commission, have been in the area of First Amendment rights, this seemed an appropriate place to start.
First, a look at attorneys with the most wins in this area between the 2013 and 2017 terms.
Only three attorneys have multiple wins in this area across this time period. None of these three – David Cortman, Noel Francisco (who argued cases for Jones Day and as the U.S. solicitor general) or William Messenger – was mentioned in previous figures. Many of the other attorneys who won cases in this area specialize in this type of law, while others, like Deepak Gupta, Erin Murphy and David Frederick, among others, are generally well known for their Supreme Court practices.
The firms with multiple wins in this area track closely to the attorneys at the top.
The leader in this area, Alliance Defending Freedom, with four wins, had David Cortman as the lead attorney in two of these cases. Next come OSG, Stanford's Supreme Court Litigation Clinic and the National Right to Work Legal Defense Foundation (where William Messenger works).
Moving to another area with multiple cases before the Supreme Court each term, the next two figures look at attorneys and firms that tried Fourth Amendment cases between the 2013 and 2017 terms.
Although several attorneys won a single case in this area, none won multiple cases. The list of attorneys includes oral-argument veterans like Charles Rothfeld, Ian Gershengorn and Tom Goldstein, and well as newcomers to the oral argument circuit like Orrick's Bob Loeb.
Firms that were successful in this area predominantly did not have multiple wins.
California's S.G.'s office is the only firm or group with two Fourth Amendment wins across this period, as all other players in these cases, including the United States, amassed a single win apiece. The non-private-law-firm presence in this figure and in the First Amendment firm figure are both in fairly stark contrast to the most frequent attorneys and firms before the court over this time period generally. This hints at the diversity of lawyers trying cases (or defending rulings, in the case of state and federal governmental entities) in these areas.
One other area of interest during the last few terms has been intellectual-property law. With cases ranging from copyright protection in Star Athletica, LLC v. Varsity Brands to patent review in Oil States Energy Services v. Greene's Energy, the Supreme Court decided many consequential issues in this area over the past five terms, with at least 22 decisions.
A wide group of attorneys were successful in these cases but only two had multiple wins.
Goodwin Procter's William Jay won the most such cases since 2013 with three wins, followed by Paul Clement with two. The list of attorneys with one win in this area includes many other prominent Supreme Court attorneys.
The successful firms in this area, not surprisingly, track closely to the successful attorneys.
William Jay's firm, Goodwin Procter, was the most successful thanks to Jay's three argument victories. Aside from OSG and WilmerHale, which each had two wins, all the other firms in this area had one.
Winning percentages
Although winning percentages before the Supreme Court should be taken with a grain of salt, normalizing wins in cases argued provides a way to level the playing field a bit between attorneys with greater and fewer argument opportunities. A threshold was still set of at least four arguments and at least a 50-percent winning percentage in order to focus on a select group of attorneys and firms with notable performances over this five-year period. One caveat to keep in mind is that not all wins are necessarily losses for the opposing party. In many cases in which the court vacates the lower court's decision, the opposing party is equally satisfied to have the case retried by a lower court with directions from the Supreme Court.
Only one attorney with at least four arguments over the past five terms had a perfect record. That attorney was Jenner & Block's Adam Unikowsky, with six wins in six cases: Sveen v. Melin, Artis v. District of Columbia, Kokesh v. Securities and Exchange Commission, Honeycutt v. U.S., Howell v. Howell and Puerto Rico v. Sanchez Valle. William Jay was successful in four of five decisions over this period, while Andrew Pincus, Eric Schnapper and Stephen McAllister were each successful in three of four. Two attorneys also made the list who should be recognized due to the size of their operations. Both John Bursch, who previously served as Michigan's solicitor general, and Dan Geyser, who worked for the firm Stris & Maher, have also seen success in their small operations since splitting off from somewhat larger entities. Bursch was successful in three of five decisions across both roles and Geyser in two of four.
The top firms and groups before the Supreme Court for this period are somewhat telling of the direction the court is moving.
The top-performing firm was the Alliance Defending Freedom, which argues in favor of religious freedom, including in last term's case Masterpiece Cakeshop, Ltd. v. Colorado Civil Rights Commission. The alliance won all four of its cases before the court during the five-year period. Rounding out the five top-performing firms in terms of winning percentages are Goodwin Procter, Jenner & Block, Perkins Coie and Orrick Herrington. Of those firms, attorneys from Jenner & Block argued the most cases with 18. The firm with the next most among those five is Orrick, with 10 arguments. The firm in this figure with the most arguments, however, is, as previously mentioned, WilmerHale, with 27 – the most for firms in this period.
These statistics provide a way of gauging the most formidable attorneys and firms before the Supreme Court between the 2013 and 2017 terms. The rich data behind these statistics can and likely will be examined along various other dimensions in the near future. As discussed, gauging wins at the Supreme Court is an imperfect art, but it helps distinguish among players in ways that the number of arguments alone cannot. These numbers not only showcase the effectiveness of veteran Supreme Court counsel like Paul Clement and Seth Waxman, but also point to those who may become much more prominent before the Supreme Court in coming years.
This post was originally published at Empirical SCOTUS.
This post was corrected with updated charts and explanatory text for "Most Cases Argued 2013-2017," "Attorneys with at Least Two Wins in 5-Vote Majority Decisions (2013-2017)," "Firms with at Least Two Wins in 5-Vote Majority Decisions (2013-2017)" and "Attorneys with at Least 50% Winning Percentage and 4 Arguments (2013-2017)."