Friday round-up

on Mar 23, 2018
at 7:16 am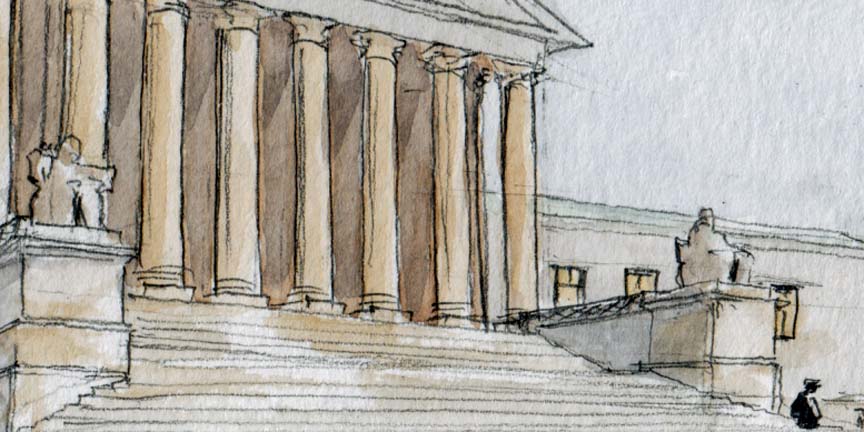 As the first week of the March argument session winds down, Susan Morse has this blog's opinion analysis in Marinello v. United States, in which the court held on Wednesday that to convict a defendant of impeding the administration of the tax code, the government must prove that the defendant knew of or could have foreseen a tax-related proceeding. At Law360 (subscription required), Vidya Kauri reports that a "commanding majority on the U.S. Supreme Court bench refused to grant federal prosecutors a wider berth in trying allegedly criminal tax behavior, but the court's interpretation of a tax felony statute may still be vague enough to lead to convictions for lesser violations."
Looking ahead to next week, Thomas Wolf at the Brennan Center for Justice offers "five things to get you up to speed" on Benisek v. Lamone, a partisan-gerrymandering challenge by Republican voters to a congressional district in Maryland that will be argued on Wednesday. In the fourth of a series of essays discussing the case at the Election Law Blog, Edward Foley argues that "extreme gerrymandering of the kind that systematically frustrates the ability of changing voter preferences to unseat incumbents does contravene this fundamental principle of popular sovereignty (and statistics can distinguish these extreme gerrymanders from districts based on valid geographical considerations)."
At the Harvard Law Review Blog, Richard Hasen suggests that by answering "no, with no explanation," to "Pennsylvania Republicans' calls to put on hold the Pennsylvania Supreme Court's order redrawing the state's congressional district lines to cure a partisan gerrymander," "the Court dodged a question it has refused to wade into since the disputed 2000 presidential election culminating in the Court's controversial Bush v. Gore case." In an op-ed for the Los Angeles Times, Noah Berlatsky calls the Supreme Court's refusal of the Republicans' request "a victory for small-d democracy."
For The Wall Street Journal, Jess Bravin reports that "[t]he Supreme Court's complicated, often unpredictable approach to the death penalty was evident this week when a three-day period produced decisions where different combinations of justices alternately upheld, halted and questioned executions on an array of grounds." EJI focuses on this week's cert denial in Hidalgo v. Arizona, a cert petition challenging Arizona's death-penalty scheme and the death penalty nationwide, noting that in a statement respecting denial, four justices suggested "that the state's capital sentencing scheme may be unconstitutional because it does not adequately restrict who is eligible for the death penalty."
At Mother Jones, Inae Oh notes that Steven Colbert's recent televised exercise session with Justice Ruth Bader Ginsburg "revealed a number of insights into the 85-year-old justice, including her fondness for opera during workout routines." At The National Law Journal (subscription or registration required), Marcia Coyle asks members of the Supreme Court bar to weigh in on a meaty question Colbert posed to Ginsburg about  "'one of the most divisive issues facing our country": "'Is a hot dog a sandwich?'"
Briefly:
At The Daily Caller, Kevin Daley reports that the spending bill passed by Congress early this morning "includes legislation requiring U.S. tech companies to surrender electronic communications stored in foreign countries to law enforcement when they obtain a warrant, effectively deciding a case currently before the Supreme Court," United States v. Microsoft Corp. [Disclosure: Goldstein & Russell, P.C., whose attorneys contribute to this blog in various capacities, is among the counsel on an amicus brief in support of the respondent in this case.]
At the Associated Press, Mark Sherman and Jessica Gresko report that although Justice Sonia Sotomayor was chastised by her colleague Justice Anthony Kennedy during oral argument on Wednesday for consulting a website related to the case, "sticking to the record in Supreme Court cases can sometimes be more of a notion than a hard-and-fast rule."
At National Review, Mark Rienzi maintains that at the oral argument this week in National Institute of Family and Life Advocates v. Becerra, a First Amendment challenge by crisis-pregnancy centers to a California law that requires licensed centers to post notices to inform patients about the availability of publicly funded family-planning services, including contraception and abortion, and unlicensed centers to disclose that they do not provide medical services, "Justice Ginsburg seemed keenly aware of the difference between merely complaining about an ideological opponent and actually having proof of a real problem that needs to be solved by restricting speech."
At The WLF Legal Pulse, Richard Samp posits that in China Agritech v. Resh, in which "the U.S. Supreme Court ostensibly will be considering a technical issue regarding statutes of limitations" about "when … the doctrine of 'equitable tolling' [should] be applied to extend the deadline for filing a class action lawsuit," "[t]he evidence suggests that the Court is far less enamored with class actions than it once was and will use China Agritech to cut back on their use." [Disclosure: Goldstein & Russell, P.C., whose attorneys contribute to this blog in various capacities, is among the counsel on an amicus brief in support of the respondents in this case.]
In an op-ed for The Wall Street Journal, Ted Frank discusses the cert petition in Frank v. Gaos, in which he and his colleagues "are asking the Supreme Court to put an end to the abuse of a trust-law doctrine known as cy pres,under which class-action lawyers have funneled millions of dollars of settlement money to select charities."
In the Heritage Foundation's SCOTUS 101 podcast, Elizabeth Slattery and Tiffany Bates "talk about snow days at SCOTUS and oral arguments in cases dealing with free speech and the long-lost Contract Clause," and they "chat with 11th Circuit Judge Bill Pryor about prosecuting Roy Moore [and] why Thomas More is a model for all lawyers."
Counting to 5 (podcast) features a discussion of this week's orders and opinions and previews of next week's cases.
We rely on our readers to send us links for our round-up.  If you have or know of a recent (published in the last two or three days) article, post, podcast, or op-ed relating to the Supreme Court that you'd like us to consider for inclusion in the round-up, please send it to roundup [at] scotusblog.com. Thank you!