SCOTUS Map: September 2015
on Sep 18, 2015
at 11:46 am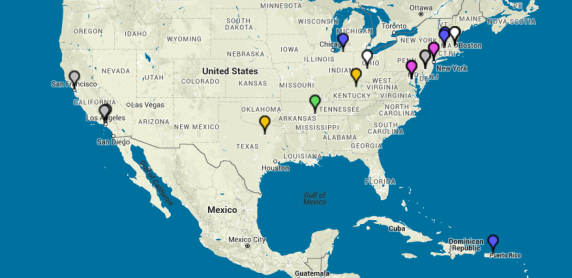 September is a traditionally busy month for the Justices' speaking engagements, as they return from vacation and gear up for a new Term.
On September 2, Justice Elena Kagan participated in a panel of Supreme Court Justices at the Hebrew University of Jerusalem alongside former president and Justice of the Israeli Supreme Court Dorit Beinisch and Supreme Court of Canada Justice Rosalie Abella.
On the same day, Justice Sonia Sotomayor appeared at the University of Notre Dame, where she made headlines by answering "no" to a question about whether she feels that she belongs on the Supreme Court. "I am different and yet I'm not because we're all engaged in the same enterprise," The Observer reported Sotomayor as saying. "To that extent, I belong. But will I ever quite feel that I have their same background, their same understanding of the world that I operate on? Not really." Dahlia Lithwick weighed in on that moment for Slate. WNDU also covered the event.
Kagan and Sotomayor's travels took them both to Massachusetts in the first half of September. Kagan returned to her alma mater Harvard Law School on September 8; video is available at HLS's YouTube page. In addition to encouraging 1Ls to "soak in" the law school experience, Kagan regaled the crowd with behind-the-scenes stories about the Court, including an anecdote about how she and Justice Stephen Breyer played a violent video game for research purposes ahead of the Court's 2011 ruling in Brown v. Entertainment Merchants Association. A few days later, on September 11, Kagan gave remarks at Boston College Law School, where she told students that police brutality is "a critically important issue in our society right now." According to the Boston Herald, Kagan went on to say that the "only way that I can think about this issue—or do anything with respect to this issue—will be to see how it appears in cases" that come before the Court in the future. Boston College posted the full video of the event.
Meanwhile, Sotomayor took part in a September 8 Q&A session at Amherst College, where she advised undergraduate students to register to vote and learn about a religion other than their own, according to a report from the college. The following day, Sotomayor was interviewed at MassMutual Center for a Springfield Public Forum event. Recounting the support that she received from multiple colleagues during her earliest days on the Supreme Court, Sotomayor called the court "a wonderful place to work because the people who work there love working there." MassLive.com covered the event. Sotomayor later left the contiguous United States for Puerto Rico, where she spoke to judges from eight Latin American countries on September 17 as part of a training program organized by the State Department's Judicial Studies Institute.
Breyer is spending much of September promoting his new book, The Court and The World: American Law and the New Global Realities. On September 15, he spoke at the New York Historical Society. He then appeared at the Sixth & I Historic Synagogue in Washington, D.C. for a conversation with NPR reporter Nina Totenberg on September 16; Andrew Hamm covered this event for this website.  That appearance was followed by back-to-back events at the National Constitution Center and the World Affairs Council in Philadelphia on September 17. The National Constitution Center has posted video of Breyer's talk.
For the West Coast portion of his book tour, Breyer will speak with Jeffrey Toobin at the Wallis Annenberg Center for the Performing Arts in Los Angeles on September 21. He is also set to appear at the Huntington Library on September 23 before traveling north to participate in a conversation with National Law Journal reporter Marcia Coyle for the City Arts & Lectures program in San Francisco on September 25.
As for other upcoming events in September: