TRIBUTE TO JUSTICE BREYER
Life lessons from Justice Breyer
on Jan 27, 2022
at 3:23 pm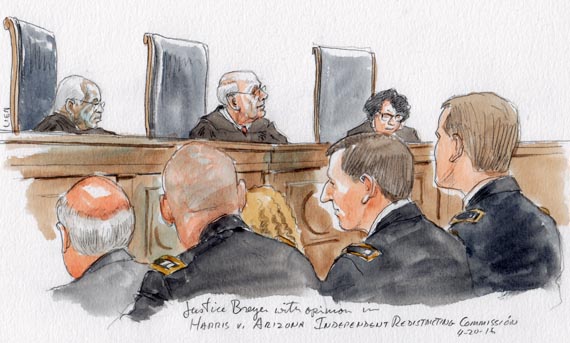 This article is part of a series of tributes on the career of Justice Stephen Breyer.
Pratik Shah is head of the Supreme Court and appellate practice at Akin Gump Strauss Hauer & Feld and a former assistant to the solicitor general. He clerked for Breyer during the 2003-04 term.
Clerking for Justice Breyer taught me many important lessons — lessons applicable not only to the law but also to life more broadly. He didn't just preach those lessons, but practiced them in a way that left a lasting impression. Three of those lessons seem more relevant now than ever.
1. Engage in our democratic system
Justice Breyer is the ultimate "small-d" democrat — a true believer in our democratic system. It isn't just a theory to him; he promotes democracy in action. I recall him talking often (publicly and in chambers) about law "bubbling up" from grassroots activism and ground-level policy engagement. And he encourages his clerks to "get involved" through public service as part of their post-clerkship careers.
Justice Breyer's belief in our democracy dovetails with his deference to the legislative process — an approach stemming from his own experiences. Before he was a judge, Justice Breyer worked for the Senate Judiciary Committee. He witnessed the work that went into passing laws, and respects the data and expertise behind them.
That same faith in our democratic system informs Justice Breyer's mode of constitutional interpretation. He does not espouse pragmatism for its own sake, but deploys it with an eye to making our constitutionally prescribed democratic processes more inclusive and work better to solve the changing problems facing our country.
2. Learn from different perspectives
I view Justice Breyer as a "world citizen" — someone with a thirst to learn from others with different perspectives, including those from different nations and systems of government.
Justice Breyer never hesitated to study how other countries, including their courts, dealt with problems like those we face in the United States. Of course, Justice Breyer never lost sight of the meaningful constitutional differences between the United States and other countries. But his view was an eminently sensible one: Why not at least see what we can learn through the experience of other nations?
That global perspective informed his method of statutory interpretation as well. A relatively obscure opinion from my clerkship term, F. Hoffman-LaRoche v. Empagran S.A., is quintessential Justice Breyer: In interpreting the Foreign Trade Antitrust Improvements Act, he emphasized principles of comity as an interpretive tool that furthers "harmony" with foreign countries — an approach "particularly needed" in our increasingly "interdependent commercial world."
But Justice Breyer's interest in other countries is not just part of his legal methodology; it is part of his lived experience. He travels broadly, learns foreign languages (coveting French-speaking clerks unlike myself!), and immerses himself in other cultures. As clerks, we often saw foreign jurists or dignitaries in chambers meeting the boss for lunch or conversation. Sometimes it was a member of another high court — whether from Israel, India, France, or elsewhere. Once it was the Dalai Lama!
3. Disagree without being disagreeable
In some ways, Justice Breyer was a foil to Justice Antonin Scalia. Nobody can deny the status of both as brilliant, engaging, and entertaining legal giants. Yet they parted ways in both substance and style. Justice Scalia spoke in absolutes when it came to his interpretive philosophy, whereas Justice Breyer embraces the nuance of his more pragmatic but no-less-principled approach. And while Justice Scalia sometimes employed biting attacks in his writing, Justice Breyer avoids them. I learned that firsthand, as the justice unfailingly edited out any zingers that we overzealous clerks might have tried to sneak in.
Justice Breyer simply isn't interested in debater points. And he put a premium on relationships, often speaking about how nine people with very different views managed to remain so collegial. He returned from every conference, no matter the outcome, with the same optimism and warm relationship with his colleagues as when it started. I've tried to emulate his collegial and disciplined approach in my own work as an oral advocate and brief-writer today.
Justice Breyer's judicial manner speaks to his fundamental decency, fair-mindedness, and optimistic outlook — qualities we could all stand to mirror these days.