Empirical SCOTUS: Justice Ginsburg leaves a lasting legacy on the court
on Sep 25, 2020
at 4:42 pm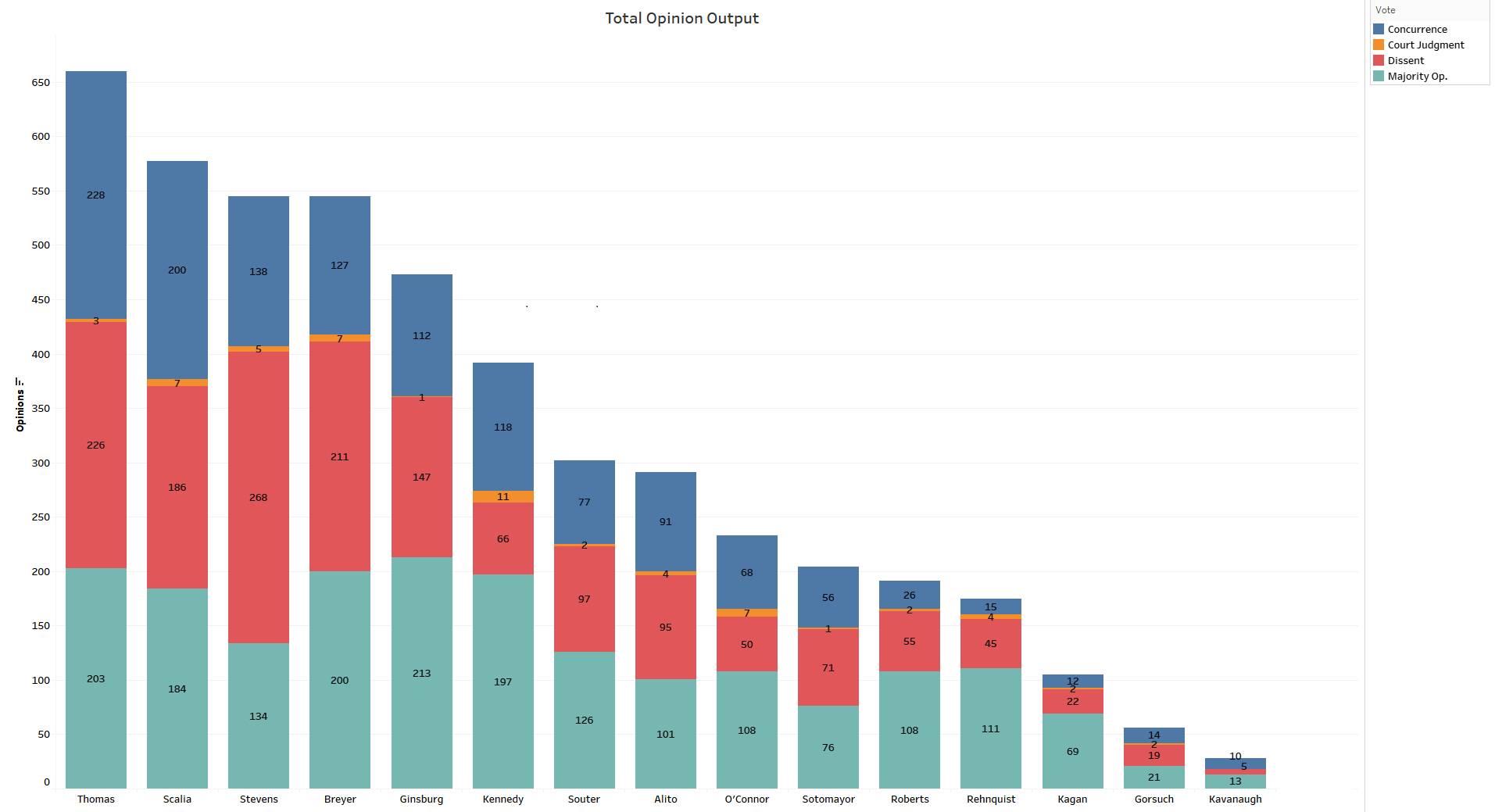 In the week since the death of Justice Ruth Bader Ginsburg, the legal community has simultaneously honored her legacy with heartfelt eulogies and prepared for the upcoming battle over her vacant seat. If President Trump is able to appoint a successor to Ginsburg, we could see the court's greatest shift to the right in modern history. This article sheds a statistical light on some of Ginsburg's work on the court as well as what to expect now that she has died.
Ginsburg kept herself busy on the court, even by the other justices' standards. Since her confirmation in 1993, she authored 213 majority opinions, the most of any justice during that time.
Though known for her powerful dissents, Ginsburg wrote far fewer dissents over this period than Justices Clarence Thomas, Antonin Scalia, John Paul Stevens and Stephen Breyer. She authored fewer concurrences than these justices as well.
Ginsburg was also the quickest-authoring justice, measured by the average time between oral arguments and signed decisions. The graph below looks at average authorship time by justice from the 1993-94 through 2018-19 terms. The 2019-20 term was excluded due to the remote arguments held in May 2020 because of the coronavirus pandemic.
Illustrative of her quick authorship, Ginsburg took the shortest amount time from argument to decision in a case last term: She needed just 36 days to write her opinion for a unanimous court in Shular v. United States.
Among the major opinions Ginsburg authored during her career are majority opinions in United States v. Virginia, Daimler AG v. Bauman and Ring v. Arizona. [Disclosure: Goldstein & Russell P.C., whose attorneys contribute to SCOTUSblog, was counsel to the respondents in Daimler. The author of this article is not affiliated with the firm.] The following graph charts Ginsburg's top cited cases on Westlaw. U.S. v. Virginia, in which the court ended the Virginia Military Institute's policy of excluding female students, was not on the top cited list but is included as a reference point, given the case's notoriety.
Her most cited opinion came in Porter v. Nussle, a statutory interpretation decision regarding remedies under the Prison Litigation Reform Act of 1995.
While Ginsburg never reached frequencies in the majority like Chief Justice John Roberts' frequency last term at 97%, as a consistent member of the liberal minority on the court, Ginsburg's percentage generally hovered around 80% and ranged from 70% in 2011 to 88% in 2015. The graph below shows Ginsburg's majority frequencies on top and her number of votes in the majority and in dissent below.
Now that Ginsburg is no longer on the court, many question whether Republicans will successfully confirm a Trump-appointed replacement by the November election. Although not many justices have died in office recently, resulting in a lack of relevant data points, history suggests that this is possible. The following graph shows the time from nomination to confirmation for the 10 most recent justices who succeeded members of the court who died in office.
Note that Scalia and Chief Justice William Rehnquist were the only two justices to die while in office since 2000, and the last death in office before Rehnquist occurred prior to 1960. Although not recent, several of the justices in the graph above were confirmed within a month of nomination.
Still, the proximity to the election creates a different situation than any of the above instances. Since the Senate has a Republican majority and both Trump and Senate Majority Leader Mitch McConnell are pushing for a nomination and vote as soon as possible, we are sure to see a showdown during the lead-up to the election. Might we still see a nomination for Judge Amy Coney Barrett, as I speculated over a year ago when I wrote about what might happen if Ginsburg's seat were to become vacant under Trump? We are sure to find out soon.
This post was originally published at Empircal SCOTUS.