Wednesday round-up

on Jun 10, 2020
at 6:44 am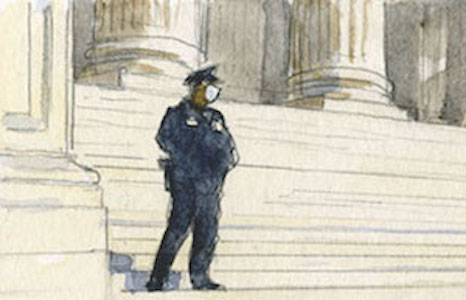 Briefly:
Jordan Rubin reports at Bloomberg Law that "[t]he U.S. Justice Department's determination to resume federal executions after a decade-plus hiatus is back in Supreme Court justices' hands, with the filing of a petition from death row prisoners challenging the way the government wants to execute them."
For The Wall Street Journal (subscription required), Jess Bravin and Brent Kendall report that the "raft of long-pending appeals asking [the justices] to review a legal doctrine that makes it difficult for many victims of abusive policing to sue the perpetrators … underscores the power of qualified immunity, a rule the Supreme Court recognized in 1967, and later strengthened, to protect officials from the threat of litigation for most law-enforcement actions."
Tony Mauro reports at The National Law Journal that the "Supreme Court will soon consider a petition that pits police against a leader of the Black Lives Matter movement in a dispute over the First Amendment rights of assembly, petition and speech"; "the case, Mckesson v. Doe, does not arise from the nationwide protests of recent weeks[:] Instead, it dates back to a 2016 protest in Baton Rouge, Louisiana, triggered by the death of Alton Sterling, an African-American man shot and killed at close range by police responding to an anonymous 911 call."
For The New York Times, Neil Vigdor reports that Bobby Moore, "[a] Texas inmate who spent nearly 40 years on death row and was at the center of a U.S. Supreme Court ruling that exempts people with intellectual disabilities from being executed[,] was granted parole on Monday."
At The Originalism Blog, Michael Ramsey highlights an amicus brief in Fulton v. Philadelphia, a challenge to Philadelphia's exclusion of Catholic Social Services from the city's foster care system because the group will not place children with same-sex couples; the brief urges the court to overrule a key free exercise precedent, Employment Division v. Smith, because "the Free Exercise Clause was originally understood to protect the unqualified right to exercise religion, free from government interference."
We rely on our readers to send us links for our round-up. If you have or know of a recent (published in the last two or three days) article, post, podcast or op-ed relating to the Supreme Court that you'd like us to consider for inclusion in the round-up, please send it to roundup [at] scotusblog.com. Thank you!