Wednesday round-up

on May 20, 2020
at 6:58 am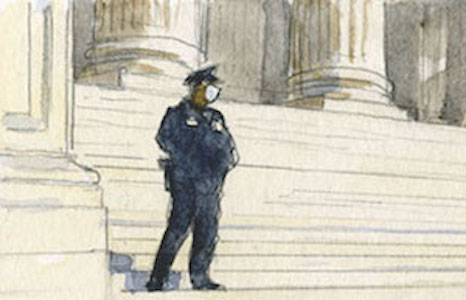 For The Washington Post (subscription required), Mark Berman reports that "Missouri on Tuesday carried out the country's first execution amid the coronavirus pandemic, not long after the U.S. Supreme Court rejected a request to stop the lethal injection." Katie Bart reports on the justices' order denying Walter Barton's request for a stay of execution for this blog. At Fox News, Shannon Bream and Bill Mears report that "[o]ther states, including Ohio, Tennessee and Texas, have postponed executions after attorneys argued that pandemic-related closures prevented them from securing records or conducting interviews for clemency petitions and court appeals."
For this blog, Adam Feldman uses data from "the first week of the Supreme Court's telephonic oral arguments … to compare old-style oral arguments with the new framework"; he concludes that "[t]he change in argument format offers an interesting lens into potential improvements for oral arguments moving forward." In an article accessible at SSRN, Leah Litman analyzes speaking time during the recent telephonic Supreme Court arguments, noting that "[s]eventy-five percent of the twelve longest questioning periods were from male Justices (who make up 67% of the Court), all of them conservative."
Briefly:
For The Wall Street Journal (subscription required), Jess Bravin and Jessica Donati report that "[t]he Trump administration is nearing a deal with Sudan to resolve claims over al Qaeda's 1998 bombings of U.S. embassies in Africa, helping clear the way to remove Khartoum's designation as a state sponsor of terrorism"; "[o]n Monday, the Supreme Court unanimously rejected Sudan's bid to delete $4.3 billion in punitive damages from a $10.2 billion verdict victims won against Khartoum in federal court," but "the odds of collecting on that judgment are steep, making a U.S.-negotiated settlement the most plausible way that victims would see any compensation."
For this blog, Steve Wermeil looks at some of the COVID-19-related cases on the Supreme Court's docket, which "have covered a broad array of important rights and liberties, from voting practices to abortion services to immigration issues to prison conditions."
At The Employment Law Group, R. Scott Oswald suggests that "[a] reasonable compromise" in Our Lady of Guadalupe School v. Morrissey-Berru, which involves the scope of the "ministerial exception" to federal employment discrimination laws, "might limit the categorical exception of Hosanna-Tabor to cases involving spiritual leaders, while applying Justice Alito's narrower, doctrine-based exception to certain other employees within a religious organization."
We rely on our readers to send us links for our round-up. If you have or know of a recent (published in the last two or three days) article, post, podcast or op-ed relating to the Supreme Court that you'd like us to consider for inclusion in the round-up, please send it to roundup [at] scotusblog.com. Thank you!