Justices refuse to block Texas' execution of Robert Sparks

on Sep 25, 2019
at 6:28 pm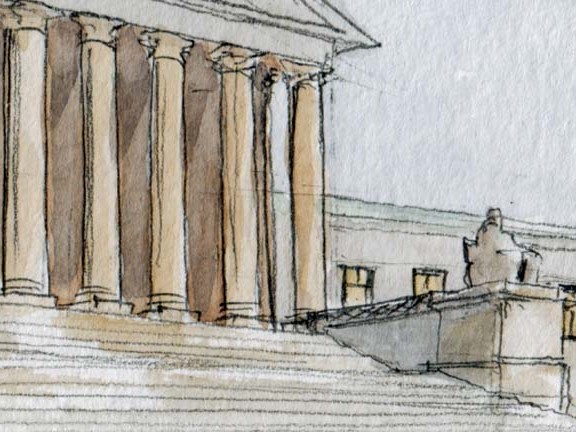 The Supreme Court cleared the way for the execution of Robert Sparks, who has been sentenced to die by lethal injection in Texas for the brutal triple murder of his wife and two stepsons. There were no recorded dissents from tonight's order, which denied both Sparks' petition for review of the lower court's ruling against him and his request to stay his execution.
Sparks was suffering from mental illness in 2007 when he stabbed his wife, Chare Agnew, and her two sons, Reaqwon and Harold Sublet, to death; Sparks also sexually assaulted his two stepdaughters. Sparks later confessed to the crime, telling police that he believed that Agnew and his stepchildren were poisoning him. He was convicted by a jury and sentenced to death.
Sparks had asked the justices to consider legal questions arising from two aspects of the penalty phase of his trial. First, one factor for the jury to consider in deciding whether to sentence Sparks to death was whether he would be a threat to society while serving a life sentence. A prosecution witness, A.P. Merillat, testified wrongly that if Sparks were sentenced to life in prison, he would be held in less restrictive housing that would allow him to mingle with other inmates – and therefore be violent again. Merillat's testimony, Sparks told the justices, was significant: Jurors asked to review it again during their deliberations.
Second, on the day that the jury began its deliberations on Sparks' punishment, a bailiff wore a black tie embroidered with a large white hypodermic needle to court; he later admitted that he had worn the tie specifically to show his support for the death penalty. The bailiff's actions, Sparks contended, denied his right to a fair and impartial jury.
Justice Sonia Sotomayor filed a statement regarding the court's decision to deny review of Sparks' case. Sotomayor described the bailiff's decision to wear the tie as "deeply troubling," because "such 'distinctive, identifiable attire may affect a juror's judgment.'" But in this case, she continued, she did "not disagree with" the court's decision to deny review because a state court concluded after a hearing that there was not enough evidence to believe that the jury actually saw the tie. However, she added, "I nevertheless hope that presiding judges aware of this kind of behavior would see fit to intervene in future cases by completely removing the offending item or court officer from the jury's presence."
This post was originally published at Howe on the Court.