Friday round-up

on Aug 16, 2019
at 7:13 am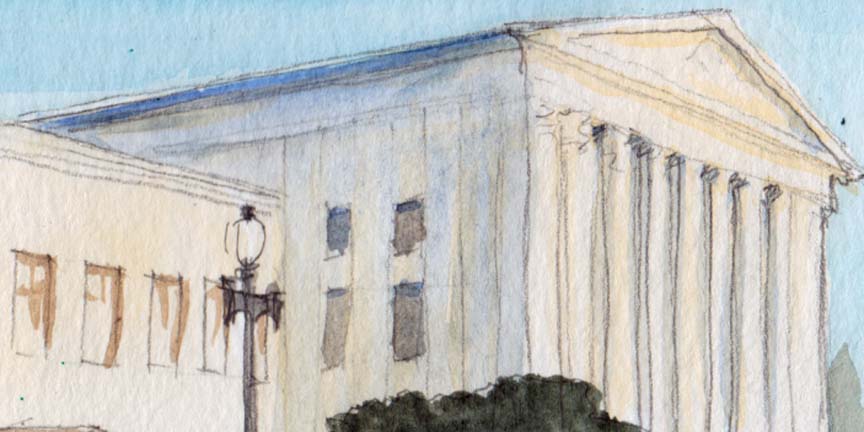 The editorial board of The Wall Street Journal takes issue with "a remarkable and threatening amicus brief" in which five Democratic senators "all but tell the Justices that they'll retaliate politically if the Court doesn't do what they say in a Second Amendment case," New York State Rifle & Pistol Association Inc. v. City of New York, New York. At The New Republic (via How Appealing), Matt Ford explains that although the case "could be a major ruling on how far cities and states can go to restrict handguns in their jurisdictions," "it stands to reveal much more about how the court's newly-bolstered conservative majority will handle gun-control measures in the age of mass shootings, and how bold they are willing to be after many years of shying away from handing down rulings on the matter."
Briefly:
At Empirical SCOTUS, Adam Feldman "looks at when issues relating to Constitutional Amendments have been raised in recent Supreme Court litigation by examining the questions presented … in cert petitions in each case in the Supreme Court's online archive."
At People, Adam Carlson and others report that Justice Ruth Bader Ginsburg "ran into Saturday Night Live's Kate McKinnon — who famously plays Ginsburg as a feisty sprite with a stand-up's spirit, no larger than a flea and sharper than a razor blade — when the two attended an off-Broadway performance of Fiddler on the Roof on Tuesday night."
At Law360 (subscription required), Bradley Ennis and Susan Scaggs discuss County of Maui, Hawaii v. Hawaii Wildlife Fund, a Clean Water Act case the justices will hear next term in which the "citizen suit plaintiffs [argue] that discharges that travel through groundwater and eventually end up in a water of the United States fall within the CWA's jurisdiction."
We rely on our readers to send us links for our round-up. If you have or know of a recent (published in the last two or three days) article, post, podcast or op-ed relating to the Supreme Court that you'd like us to consider for inclusion in the round-up, please send it to roundup [at] scotusblog.com. Thank you!