Friday round-up

on Dec 14, 2018
at 6:58 am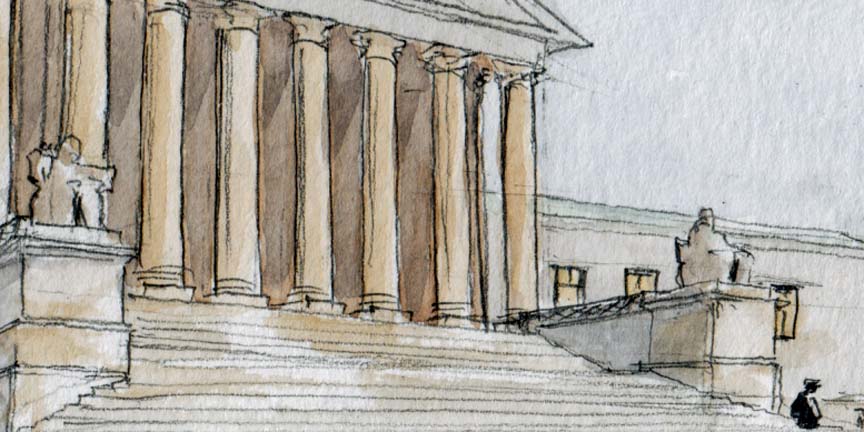 Amy Howe reports for this blog, in a post that first appeared at Howe on the Court, that the federal government yesterday asked the Supreme Court to allow it to enforce the Trump administration's ban on service in the military by transgender people while its appeals of adverse decisions in three cases play out in the lower courts. At CNN, Ariane de Vogue and Devan Cole report that "[t]he administration already has a pending request for the Supreme Court to bypass the lower courts and take up a case concerning the ban, which has been blocked by lower courts," and that "[n]ow the Department of Justice is taking it a step further" by seeking permission to implement the ban if the Supreme Court does not take up the cases this term. Additional coverage comes from Kimberly Robinson at Bloomberg Law.
At The New England Law Review, Lawrence Friedman writes that Justice Clarence Thomas' dissent from the denial of review in two cases in which the lower courts had allowed challenges to state efforts to strip Planned Parenthood of its Medicaid funding to go forward shows that "Thomas and the majority, likely led by Chief Justice John Roberts, have different ideas" about what the court's "constitutional responsibility" "entails—and these differing views say a great deal about the internal struggles the Chief Justice is likely to face in the coming years." At The Economist's Democracy in America blog, Steven Mazie considers Justice Brett Kavanaugh's decision not to join Thomas in voting to hear the cases, suggesting that "it is no particular surprise that Justice Kavanaugh is cultivating a low profile, heading off conflicts involving poor women's access to reproductive health services so early in his tenure," and cautioning that "[t]t would be a mistake to read too much into a single vote not to take a case that does not, after all, concern the justification or scope of abortion rights." The editorial board of The Wall Street Journal calls the court's refusal to hear the cases "disappointing whatever the reasons," maintaining that "[i]f the Justices duck every case remotely implicating gender politics, substantive constitutional issues will go unresolved and individual rights may be impaired."
Briefly:
In the latest episode of the Heritage Foundation's SCOTUS 101 podcast, "Josh Blackman joins Elizabeth Slattery to talk about the news that the justices will hear a big case involving administrative agencies but not one dealing with Planned Parenthood."
At Political Analysis, Bryce Dietrich and others present the results of an empirical study showing that, through their "emotional responses," "Justices implicitly reveal their leanings during oral arguments, even before arguments and deliberations have concluded."
We rely on our readers to send us links for our round-up. If you have or know of a recent (published in the last two or three days) article, post, podcast, or op-ed relating to the Supreme Court that you'd like us to consider for inclusion in the round-up, please send it to roundup [at] scotusblog.com. Thank you!