Friday round-up

on Nov 9, 2018
at 7:01 am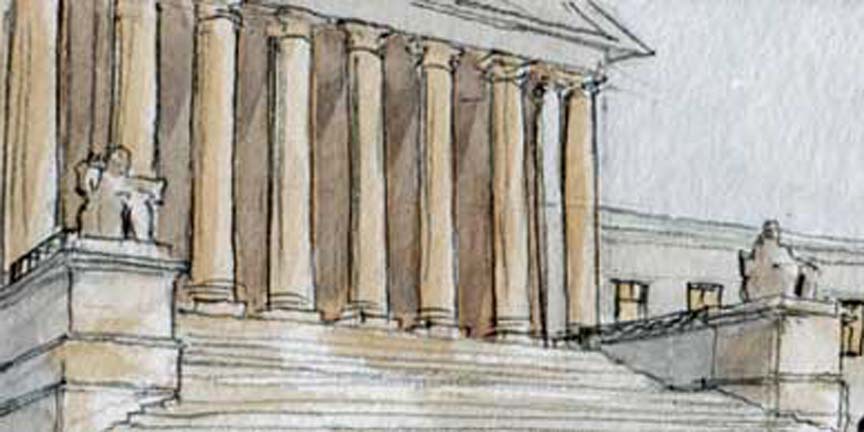 Yesterday the court held a formal investiture ceremony for the newest justice, Brett Kavanaugh. Amy Howe offers a firsthand account of the event for this blog, in a post that first appeared at Howe on the Court. For The Wall Street Journal, Jess Bravin and Brent Kendall report that "[a]lthough it followed an age-old ceremonial script, Thursday's investiture couldn't avoid implicit references to the political struggles surrounding the court." Additional coverage comes from Jennifer Jacobs and Greg Stohr at Bloomberg, Tony Mauro for The National Law Journal (subscription or registration required), Ariane de Vogue at CNN, and Robert Barnes for The Washington Post.
The court announced yesterday that Justice Ruth Bader Ginsburg fell in her office on Wednesday evening, breaking three ribs, and was admitted to the hospital yesterday morning for observation and treatment. Coverage comes from William Cummings and Richard Wolf for USA Today, John Wagner for The Washington Post, Tucker Higgins at CNBC, Lydia Wheeler at The Hill, Pete Williams at NBC News, Jesus Rodriguez at Politico, and Eileen Sullivan for The New York Times, who reports that "[t]he next sitting of the Supreme Court begins Nov. 26, and Justice Ginsburg's history suggests the injuries are not likely to keep her away." At Vox, Aja Romano writes that news of Ginsburg's hospitalization "has created a stir on social media."
At NPR, Tim Mak reports that "Christine Blasey Ford is still being harassed after leveling sexual assault allegations against Supreme Court Justice Brett Kavanaugh, her lawyers say." Anna North discusses this story at Vox.
Briefly:
We rely on our readers to send us links for our round-up.  If you have or know of a recent (published in the last two or three days) article, post, podcast, or op-ed relating to the Supreme Court that you'd like us to consider for inclusion in the round-up, please send it to roundup [at] scotusblog.com. Thank you!