Thursday round-up

on Oct 11, 2018
at 7:16 am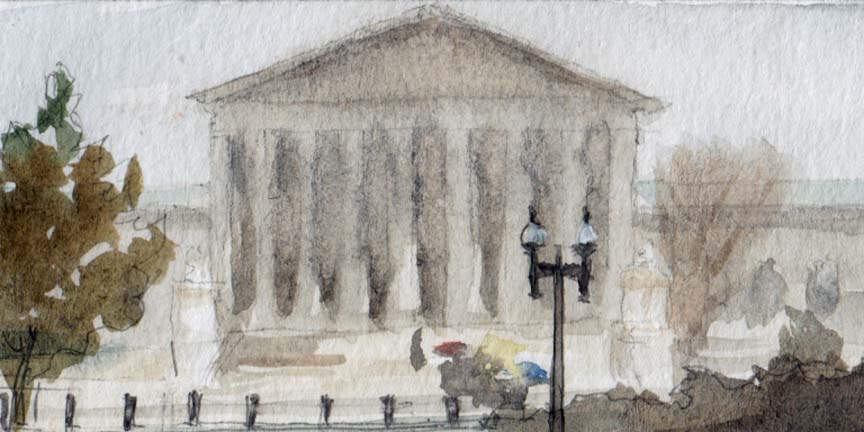 Yesterday the court heard argument in Nielsen v. Preap, which involves the immigration law's mandatory detention provision. Robert Barnes reports for The Washington Post that "President Trump's two nominees to the Supreme Court might play key roles in deciding the rights of some immigrants to challenge their detention during deportation hearings," "[b]ut it wasn't clear that they would arrive at the same conclusion." For The New York Times, Adam Liptak reports that "[t]he question in the case was whether federal authorities must detain immigrants who had committed crimes, often minor ones, no matter how long ago they were released from criminal custody," and that Justice Brett "Kavanaugh said a 1996 federal law required detention even years later, without an opportunity for a bail hearing." Lawrence Hurley reports for Reuters that "[a] majority of justices, including [Justice Neil] Gorsuch, appeared concerned about immigrants being detained without a hearing years after they committed criminal offenses," but "the sticking point appeared to be how to define what would be a reasonable period of time for immigration agents to detain a person whose criminal sentence is completed." Additional coverage comes from Kevin Daley at The Daily Caller, Jess Bravin for The Wall Street Journal, David Savage for the Los Angeles Times, and Richard Wolf at USA Today. Commentary comes from Liz Martinez in an op-ed for The Hill.
Amy Howe reports for this blog, in a post originally published at Howe on the Court, that on Tuesday the Supreme Court "declined to intervene in a challenge to a North Dakota law that requires voters to present identification that includes a current residential street address." For The Wall Street Journal, Jess Bravin reports that the challengers had argued "that the measure would harm Native Americans who are less likely to live at standardized addresses or possess the identification cards required by the statute."
At CNN, Ariane de Vogue reports that "Chief Justice John Roberts said in a letter on Wednesday that he had transferred judicial misconduct complaints related to Supreme Court Justice Brett Kavanaugh to the Judicial Council of the 10th US Circuit Court of Appeals for further review." Additional coverage comes from Ann Marimow and Tom Hamburger for The Washington Post, who report that "[t]he judiciary's rules on misconduct do not apply to Supreme Court justices, and the 10th Circuit could decide to dismiss the complaints as moot now that Kavanaugh has joined the high court."
At Empirical SCOTUS, Adam Feldman looks for empirical indications about what kind of justice Kavanaugh will be, noting that "[w]hile much about Kavanaugh's behavior as a justice on the Supreme Court will take years to process, we should start seeing inklings of his judicial behavior early this term." For The Economist, Steven Mazie explains that "[i]n the short run, the 114th justice's impact will not be earth-shaking," because a "docket of smaller-stakes cases this year … limits the potential impact of Justice Kavanaugh's ascent to the Supreme Court," but that "the newly entrenched right-leaning majority will eventually find an appetite for cases with openings to push American law in their direction." Commentary comes from Linda Greenhouse in an op-ed for The New York Times and from Hans von Spakovsky in an op-ed for Fox News.
Briefly:
We rely on our readers to send us links for our round-up.  If you have or know of a recent (published in the last two or three days) article, post, podcast, or op-ed relating to the Supreme Court that you'd like us to consider for inclusion in the round-up, please send it to roundup [at] scotusblog.com. Thank you!