Wednesday round-up

on Sep 5, 2018
at 5:32 am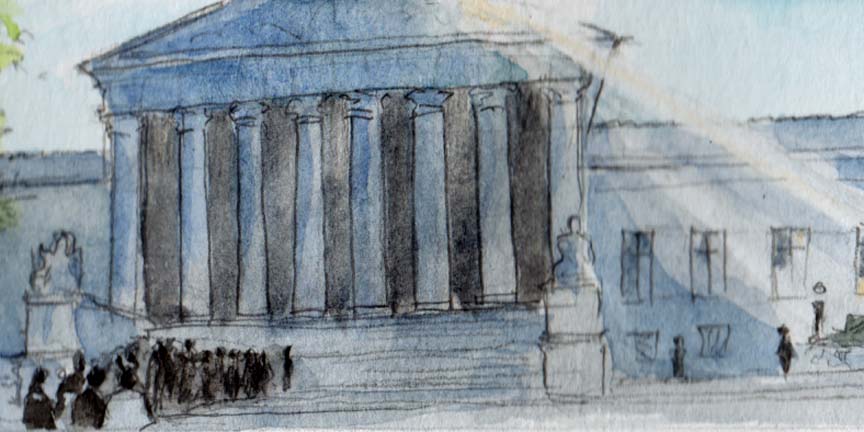 Yesterday, the Senate Judiciary Committee began its hearing on the nomination of Judge Brett Kavanaugh to the Supreme Court. We live-blogged the hearing, and Jon Levitan rounded up early coverage. For the Associated Press, Jessica Gresko reports that "[q]uarreling and confusion marked the … hearing …, with politically charged arguments about White House documents and process getting as much attention as the role the conservative judge would likely play in shaping rulings on abortion, executive power and other national issues." At The Daily Caller, Kevin Daley reports that "[j]ust as the hearing opened, Democratic senators repeatedly motioned to adjourn the hearing, pending review of some 42,000 documents relating to Kavanaugh's White House service that were submitted to the Committee on Monday night," and that "[n]early every Democrat on the panel went on to deliver remarks pressing for a postponement, while demonstrators heckled from the gallery." Additional coverage comes from Mark Walsh at Education Week's School Law Blog, Marc Fisher for The Washington Post, and Jess Bravin and Byron Tau for The Wall Street Journal.
At The Atlantic, David Kaplan argues that Democrats on the committee might be better equipped to "establish[] a principled case against Kavanaugh" if they hired their own counsel to question the nominee. At InsideSources, Ashley Baker argues that "[t]he confirmation hearing … provides an excellent opportunity to examine both the role of the judiciary in our constitutional scheme and the problem of an expanding administrative state." Rewire.News' Boom! Lawyered podcast features a recap of "the highlights from day one," and a podcast at The Daily Journal unpacks the day's events.
For The Wall Street Journal, Jess Bravin reports that "[t]hroughout Judge Kavanaugh's career, people close to him say he has lamented the systemic disabilities racism has inflicted upon African-Americans, yet has been dubious that the Constitution permits aggressive government intervention in response."
For The National Law Journal (subscription or registration required), Tony Mauro reports on "a new book reminiscent of 'The Brethren,'" in which "veteran legal affairs writer David Kaplan is telling behind-the-scenes stories about U.S. Supreme Court justices, including assertions that both Chief Justice John Roberts Jr. and Justice Neil Gorsuch expressed anger about President Donald Trump's comments about them." In an op-ed for The New York Times, Kaplan writes that "[u]nder … Roberts …, we have a court of blue chambers and red chambers." An excerpt from Kaplan's book, "The Most Dangerous Branch: Inside the Supreme Court's Assault on the Constitution," appears in Newsweek.
Briefly:
For Capitol Media Services (via Payson Roundup), Howard Fischer reports that Arizona governor "Doug Ducey tapped former U.S. Sen. Jon Kyl on Tuesday to replace John McCain — and become a guaranteed Republican vote to confirm Brett Kavanaugh to the U.S. Supreme Court."
We rely on our readers to send us links for our round-up.  If you have or know of a recent (published in the last two or three days) article, post, podcast, or op-ed relating to the Supreme Court that you'd like us to consider for inclusion in the round-up, please send it to roundup [at] scotusblog.com. Thank you!