Monday round-up

on Sep 24, 2018
at 7:01 am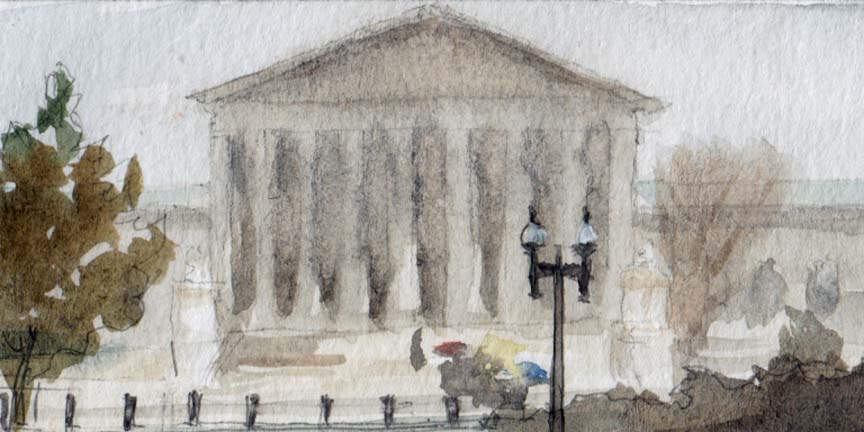 For The Wall Street Journal, Kristina Peterson and others report that "[t]he stage was set for a dramatic public hearing Thursday over sexual-assault allegations against Judge Brett Kavanaugh, with Democrats planning to delve broadly into the Supreme Court nominee's past and Republicans aiming to keep a narrow focus on the substance of the accusations." Sheryl Gay Stolberg and Nicholas Fandos report for The New York Times that "[a]fter days of intense and closely watched legal wrangling, lawyers for the woman [who has made the allegations], Christine Blasey Ford, reached final agreement with committee representatives on Sunday for Dr. Blasey to testify." For The Washington Post, Karoun Demirjian and others report that "Sen. Dianne Feinstein, the ranking Democrat on the Senate Judiciary Committee, called late Sunday for a delay in further consideration of … Kavanaugh after a second woman accused him of sexual misconduct." Burgess Everett and others report for Politico that "Kavanaugh flatly denied the allegation, calling it a last-minute smear." Commentary comes from Kenneth Jost at Jost on Justice, the editorial board of National Review, Ryan Lockman at Lock Law Blog, and Andrea Bottner at Fox News.
Briefly:
For The Washington Post, Ann Marimow and Michael Ruane tell the story behind the Peace Cross, a "40-foot-tall monument of rose-colored granite and concrete shaped like a cross" whose placement in a Maryland traffic circle has been challenged by a group of atheists in a case the justices will consider at their "long conference" today.
At Medium, Katy Naples-Mitchell urges the justices to review Johnson v. United States, a cert petition that asks whether "a parking violation create[s] enough suspicion of criminal conduct to surround the car, detain its passengers, and begin a prolonged police encounter that could result in your arrest or even land you in prison."
In an op-ed for The Wall Street Journal, Michael Mukasey and Mary McCord suggest that Chandler v. Mississippi, another pending cert petition, "would provide an opportunity for the court to make clear that a finding of 'such irretrievable depravity that rehabilitation is impossible,' based on factors meaningfully considered by the sentencing court, is a prerequisite to imposing life without parole for murder committed by a juvenile."
The Washington Legal Foundation's On the Merits blog features a debate on the issues in New Prime Inc. v. Oliveira, a case to be argued next month that involves an exemption in the Federal Arbitration Act for transportation workers involved in interstate commerce.
At Bloomberg Law, Patrick Gregory writes that "[w]omen judges may become front-runners to fill the vacancy on the U.S. Supreme Court if Brett Kavanaugh isn't confirmed" and looks at six of the most likely candidates.
Good Judgment has launched its SCOTUS Challenge, "which invites probabilistic thinking about court decisions," for the October 2018 term.
We rely on our readers to send us links for our round-up.  If you have or know of a recent (published in the last two or three days) article, post, podcast, or op-ed relating to the Supreme Court that you'd like us to consider for inclusion in the round-up, please send it to roundup [at] scotusblog.com. Thank you!