Tribute: Formidable teacher, friend and still "somewhat of an enigma"
on Jun 28, 2018
at 1:25 pm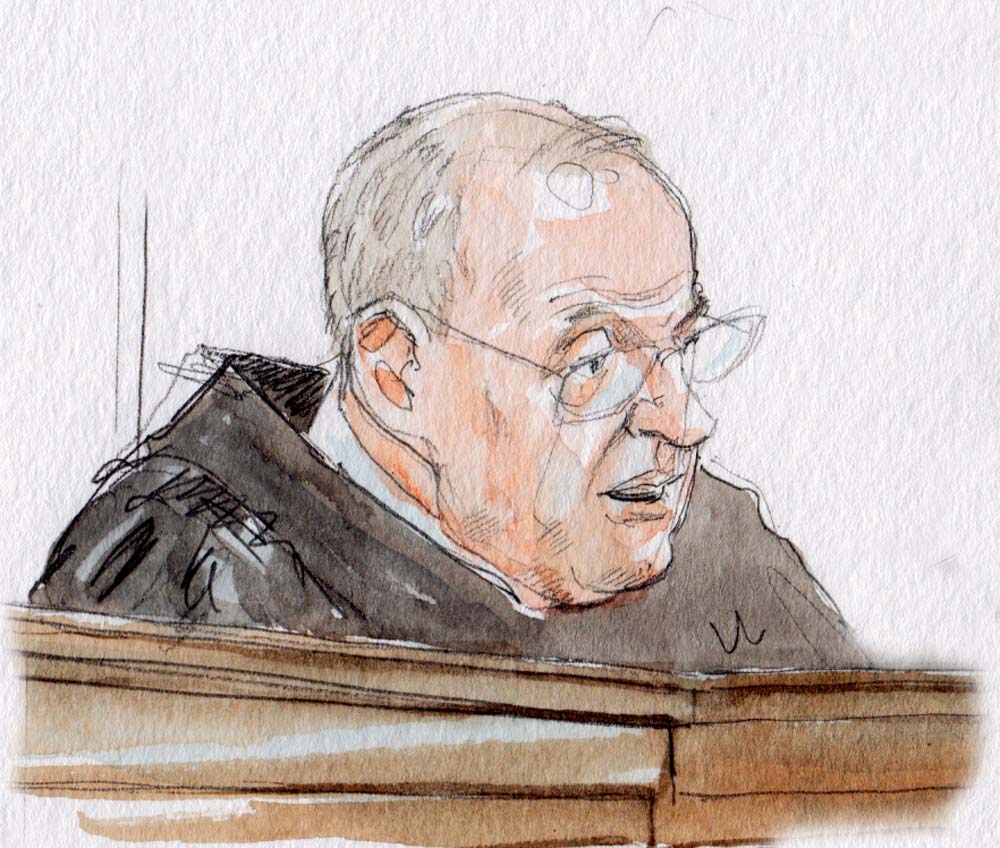 Sionaidh Douglas-Scott is the Anniversary Chair in Law at Queen Mary University of London and an honorary research fellow at Lady Margaret Hall, University of Oxford.
It seems, and of course is, a long time ago that I first met Justice Anthony Kennedy in Salzburg, Austria, in July 1993. I had been invited to co-teach a course on fundamental rights in the United States and Europe with him, to take over the European part from an older, eminent U.K. academic who had just returned to the bar and was no longer available. I was a young academic, teaching in the law school of King's College London, a law school well-known for its focus on European law. I was nervous, somewhat overawed at the prospect of co-teaching with a U.S. Supreme Court justice, and I wondered if my connection with this course would outlast the summer. It seems to have done so, because I am still teaching that same course, with Anthony Kennedy, in 2018.
The course is run by the University of the Pacific McGeorge School of Law, with which Justice Kennedy has a long-standing connection, having taught in their night program when he was still in Sacramento. The McGeorge course has been frequently confused with the famous Salzburg seminar, which was founded in 1947 to encourage the revival of intellectual dialogue in postwar Europe (although Kennedy also interacted with the Salzburg seminar). Nonetheless, McGeorge was well ahead of the curve, running one of the oldest U.S. international programs in Salzburg, with innovative internships and trips to Eastern Europe, well before other U.S. universities became interested. Kennedy has been teaching in this program since the 1980s. The location in Europe indicated a desire to broaden the outlook of U.S. law students – a generation back, far fewer had traveled overseas than is the case today. Law students from elsewhere in Europe – e.g., Russia, Spain, Denmark and Turkey – also joined the program, adding to its diversity. A large network of "alumni" of McGeorge's Salzburg programs has grown up, now numbering many influential U.S. and European lawyers and judges.
When I arrived, back in 1993, to co-teach that first time, Salzburg, and Europe, was a different place. Austria had not yet joined the European Union. The Berlin wall had recently come down, and new democracies, fresh from the Soviet bloc, had either just joined, or were in the process of becoming members of the European Convention on European Rights (It now has 47 members, but back then, it numbered about half of that.). Kennedy certainly took great interest in that phenomenon, making frequent trips to advise and be consulted by those fledgling democracies.
The McGeorge summer program has been lucky enough to teach its courses in the law school of Salzburg University, surely one of the most beautiful law schools in the world. Sited immediately below Salzburg's striking hilltop medieval Festung (Fortress), the law school is housed in the 17th-century Prince Archbishops' (former rulers of Salzburg) palace, in palatial buildings set around courtyards. Many classrooms are lavishly frescoed (although usually not air conditioned, which can be a problem in Salzburg's often blistering summer heat). It is a wonderful environment for American law students to be taught personally by a Supreme Court justice and to encounter other systems of law (often) for the first time. We structured our fundamental-rights course around selected case extracts, and teaching was interactive – usually Socratic method, with frequent joint sessions or dialogues between Kennedy and myself. Kennedy loves teaching and takes a real interest in students. He was more than happy to spend time with them on social evenings in Salzburg, where students could talk with him and his wife Mary, along with other professors on the course. I was interested by the huge status of Supreme Court justices in the U.S. – many of them household names for lawyers and nonlawyers alike. This "veneration" contrasts with the position in Europe, where the senior judiciary are often far more distant figures, and books about Supreme Courts and particular judicial philosophies much rarer.
Salzburg is a very beautiful city, rightly world-famous for its summer festival encompassing music and the arts, but that part of Austria, so close to Bavaria and the German border, was also the Nazi heartland, and a formidable place to be focusing on human rights. Justice Kennedy and I co-taught cases on arrest, search and seizure, torture, the death penalty, privacy and freedom of expression, and in so doing, we touched on all of the crucial issues of the day. The course's subject matter – fundamental rights in Europe and the U.S. – clearly emphasized the continuing importance of human rights, but also introduced students to new legal systems and ways of thinking. And this exposure to "foreign" law, as it turned out, seemed to be a matter of considerable interest to Justice Kennedy.
In the course of his career, Justice Kennedy became a leading exponent of employing international law to assist in interpreting the United States Constitution. This marks his approach as cosmopolitan but also contentious. Did Kennedy's 30-odd years teaching in Salzburg have any impact on his approach? It is hard to say – Supreme Court justices make many judicial visits to other countries' courts, providing ample opportunity for judicial mind-broadening, and of course, education plays its part – in Kennedy's case, a spell at the London School of Economics, studying for the LLM degree. Yet, I would think that all of those summers in Salzburg, co-teaching a course that necessitated reading and discussion of so many cases from the European Court of Human Rights, must have played their part.
Some of the most interesting classes we co-taught were those that revealed a significant difference in U.S. and European approaches. An early point of comparison was the contrasting approaches taken by the U.S. Supreme Court and European Court of Human Rights to the criminalizing of male homosexual acts. In 1981, the European Court had decided Dudgeon v U.K., ruling that laws against gay sexual activity violated the European Convention on Human Rights. Yet when the Supreme Court heard Bowers v. Hardwick, in 1986 (on similar facts), Dudgeon was not even argued by lawyers before the court. Twenty-five years into teaching in Salzburg, I am still teaching Dudgeon, but Bowers is no longer on the course syllabus. In 2003, in Lawrence v. Texas, the U.S. Supreme Court ruled that states could not criminalize sex between consenting adult homosexuals. In his majority opinion in Lawrence, Kennedy cited Dudgeon: "[T]he decision [in Dudgeon] is at odds with the premise in Bowers that the claim put forward was insubstantial in our Western civilization." And of course, in 2015, the Supreme Court, with Justice Kennedy writing for the majority, ruled in Obergefell v. Hodges that the Constitution guarantees a right to same-sex marriage.
In these (and other) decisions, Justice Kennedy appeared to adopt a vision of a living Constitution, one evolving with societal changes, a view very much in contrast to those of originalists such as the late Justice Antonin Scalia. But an evolving approach very much accords with the approach taken by the European Court of Human Rights, which stresses that the Convention is a "dynamic" instrument that changes with the times.
A comparative approach accepts that judges throughout the world encounter cases based on similar facts, and have many values in common. However, one area in which Europe and the U.S. seem to have diverged concerns proscribing hate speech. Kennedy is well-known as an enthusiastic supporter of the First Amendment. But supporting the First Amendment sometimes requires difficult decisions, such as Snyder v. Phelps, the Westboro Baptist church case, in which the U.S. Supreme Court held that public, virulent, highly offensive protests conducted outside military funerals are protected by the First Amendment. This decision contrasts with some European cases, such as Vedjeland, in which the European Court upheld a ban on anti-gay hate speech, and U.K. cases in which "poppy burning" (The poppy is a long-time symbol of remembrance of the war dead in the U.K.) at military parades has brought convictions for incitement and public-disorder offenses. These decisions illustrate a greater willingness in Europe to take into account the hurt and offense of those confronted with this conduct. Kennedy and I long debated the difference between our two jurisdictions, but neither was able to persuade the other of the rightness of their own jurisdiction's approach (although I found it intriguing that Kennedy could recite word-perfectly the poem that begins, "In Flanders fields the poppies blow, Between the crosses, row on row")
Reciting a poem on poppies was only a small part of Kennedy's literary achievement. For several years, Kennedy taught two courses in the McGeorge Salzburg Program, the second being Law and Literature (an interest elsewhere reflected in "The Trial of Hamlet" mock trials over which Kennedy has presided for years in the U.S.) which could lead to open-air Greek drama recitals in the palace courtyards. This course followed immediately after Fundamental Rights, giving Kennedy a very busy morning indeed. And yet, to be sure, this was only part of his work. Much of the rest of his day would be taken up with cert petitions, and then, of course, there were numerous work-related trips across Europe, which Kennedy also had to fit in during his time in Salzburg.  How did Kennedy find the time – and the energy – for all of this? Work, of course, was not the whole of it. Friends and family were important as well. He was accompanied every year by his wife, Mary, and frequently by children, and then grandchildren, family being central to him. Over the years, too, other judicial figures joined us, if only briefly, in teaching this course – memorable to me are Justices John Paul Stevens, Antonin Scalia and Elena Kagan, as well as Richard Goldstone and Navi Pillay.
I suspect it's rare for an American judge to spend as many summers teaching in Europe as has Kennedy. In July 2017, as a consequence of this longstanding connection, he was awarded the freedom of the city of Salzburg. On the other hand, one should maybe not overstretch the "European" or cosmopolitan approach. Perhaps it would be more accurate to say that Kennedy sees his role as one of promoting the rule of law, and American ideals, drawing on foreign approaches where beneficial.  Last summer in Salzburg, his good friend, the Salzburg lawyer Wolfgang Berger, had arranged an evening of discussions over Brexit between Kennedy, myself and Gina Miller (the litigant in the famous "Brexit" case that determined the U.K. government must seek the U.K. Parliament's permission to instigate Brexit). Gina Miller is a fervent opponent of Brexit, and for me, Brexit represents a rejection of both Europe and the European approach to law that I have spent a lifetime studying. And to Kennedy, the judge who has shown such an interest in foreign, and particularly European law, what does Brexit represent? I do not know. I sensed a certain ambivalence there, and agreement that "taking back control" could be a thing of value.
I have learned so much from 25 years of co-teaching with Justice Kennedy in Salzburg. Kennedy is a formidable teacher, and I could not have had a better introduction to the study of the U.S. Constitution. However, in the end, even after 25 years of friendship, Kennedy is still, to me, somewhat of an enigma.