SCOTUS for law students: Supreme Court celebrity
on May 31, 2018
at 11:40 am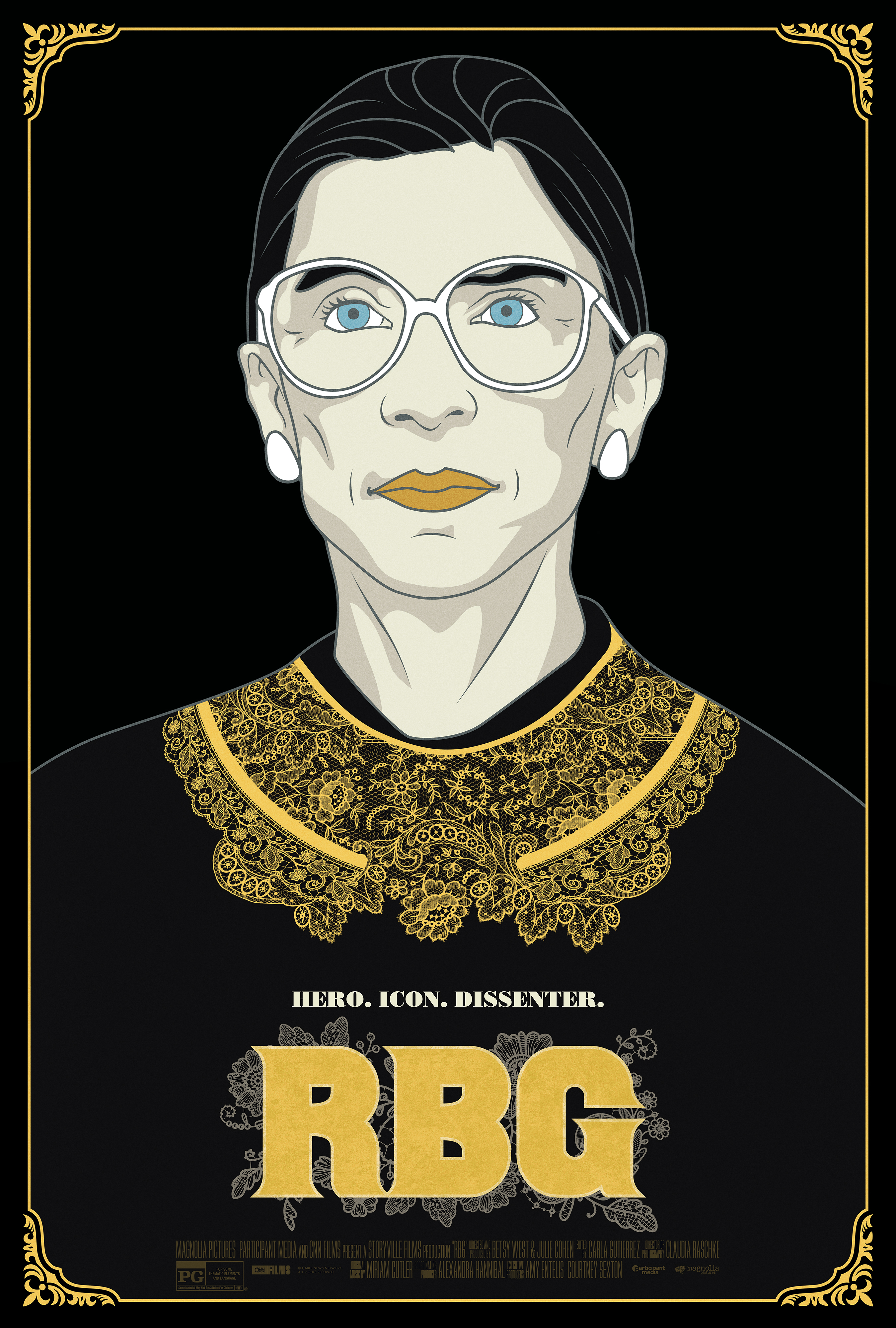 Justice Ruth Bader Ginsburg may be the most "notorious" Supreme Court justice, but she is not the first to achieve some media celebrity while a sitting justice.
To be sure, no other justice has been the focus of a box office hit the way Ginsburg is featured in the documentary "RBG." According to film industry reports, the movie was recently showing at more than 400 theaters nationwide and topped $5 million in gross sales. "RBG, a Documentary about Ruth Bader Ginsburg, Has Become an Unlikely Box-Office Hit," Vanity Fair recently declared.
Who came before Ginsburg? The first answer is Justice William O. Douglas. During his Supreme Court tenure from 1939 to 1975, still the longest in history, Douglas wrote more than 30 books. Among his "firsts" was what most identify as the first television interview of a sitting justice. Aired on ABC on May 11, 1958, "The Mike Wallace Interview" featured a 30-minute discussion with Douglas, primarily focused on a book the justice had just published, "The Right of the People." The interview focused on threats to American freedom and liberty and was not about the Supreme Court or Douglas as a justice.
Douglas would later publish what is considered by many to be the first memoir written by a sitting Supreme Court justice. (Justice Felix Frankfurter recorded a series of oral histories, which were edited in 1960 into "Felix Frankfurter Reminisces," covering the period before his Supreme Court appointment in 1939.) "Go East, Young Man," by Douglas was published in April 1974 and spent several weeks on best-seller lists. The book centered on Douglas' life before the Supreme Court but still was unusual at the time. A second volume, "The Court Years," was published posthumously in 1980.
Justice Hugo Black, the Alabaman former senator who served on the Supreme Court from 1937 to 1971, is credited with giving the first television interview in which a sitting justice discussed the court and his own judicial philosophy and views. On December 3, 1968, CBS aired a 32-minute prime-time interview with Black, conducted by correspondents Martin Agronsky and Eric Sevareid, and entitled "Justice Black and the Bill of Rights." Black discussed his views of the First Amendment and freedom of speech. He defended his view that he did not need to examine the books, magazines and films that were at the center of controversial obscenity prosecutions at the time; because he believed obscene material was protected speech, there was no reason for him to view the evidence, he said.
Black's interview did not afford him the celebrity that Ginsburg enjoys today, but it was highly unusual for the moment. Already approaching his twilight on the bench, Black reclaimed the limelight occasionally. On February 27, 1971, celebrating his 85th birthday, Black held an unusual press conference, asserting among other things that he had no plans to retire; ill health forced him to leave the court about seven months later.
The second Supreme Court memoir did not bring celebrity with it because it was released posthumously. "The Memoirs of Earl Warren" was published in 1977 after the chief justice's death in 1974.
Perhaps the next Supreme Court celebrity was in the public eye by virtue of being the first woman appointed to the Supreme Court. Justice Sandra Day O'Connor was nominated to the court by President Ronald Reagan in 1981 and became a prominent figure in the Washington social scene and a much-sought-after speaker among women's groups of lawyers, judges and other professionals. As the court's first woman justice, O'Connor drew attention throughout the 1980s, well before she added to her image by publishing her autobiography in early 2002, "Lazy B: Growing Up on a Cattle Ranch in the American Southwest," co-authored with her brother. To burnish her celebrity status even more, later in 2002, O'Connor published "The Majesty of the Law: Reflections of a Supreme Court Justice." O'Connor served from 1981 to 2006 and remained a visible figure throughout her tenure.
Rivaling O'Connor's celebrity, even exceeding it in some circles in the second half of the 1980s, was Justice William J. Brennan. For much of his tenure from 1956 to 1990, Brennan kept a low profile and was little known outside legal circles. Initially this was because he believed it was the proper role for justices to speak largely through their opinions or sometimes through speeches to bar groups, law schools and universities. Then from 1969 to 1982, while his wife, Marjorie, was suffering from cancer and until her death in December 1982, Brennan was rarely seen in public other than on the Supreme Court bench. In March of 1983, Brennan married his secretary, Mary Fowler, and he began a new era as a much more public and visible individual.
It was the confluence of two events that brought a celebrity status to Brennan. In 1986, he celebrated his 80th birthday on April 25 and his 30th anniversary on the Supreme Court in September, and he seemed to decide that it was time to enjoy some recognition for his years of writing important decisions. Suddenly Brennan was everywhere on television and in newspapers and magazines. He granted interviews to most major news organizations, both newspapers and television networks. He was featured in the New York Times Magazine on Sunday, October 5, 1986, portrayed in an iconic cover photo wearing his robe and looking defiant, with his arm stretched against one of the Supreme Court's columns, as if at age 80 he was just reaching his prime and wanted Reagan to know that he had no plans to give up his seat. The article included a question-and-answer session about the court with Brennan's former law clerk, Jeffrey Leeds.
In 1986, Brennan agreed to cooperate with this author on a biography that was eventually published in 2010, "Justice Brennan: Liberal Champion." He also began cooperating with two different public television documentaries on his life.
Between Brennan's celebrations of 1986 and the bicentennial of the Constitution in 1987, Brennan went from relative obscurity to high-profile celebrity. In May 1987, he appeared in a lengthy PBS interview with Bill Moyers as part of a series, "In Search of the Constitution," in which some other justices also gave separate interviews, among them O'Connor and Justices Harry Blackmun and Lewis Powell.
Brennan undoubtedly would have liked to enjoy his celebrity for many years, but his health deteriorated, and he was forced to resign from the court in 1990.
The public exposure of justices, if not actual celebrity, has continued to increase in different ways. Chief Justice William Rehnquist published a book about the court in 1987, "The Supreme Court: How It Was, How It Is." Later editions dropped the subtitle, and Rehnquist went on to write two other books. Justices Clarence Thomas and Sonia Sotomayor have published well-received autobiographies, telling of their lives before they reached the Supreme Court. Justice John Paul Stevens has written two books since he retired in 2010.
And the CBS program "60 Minutes" has become almost a must-stop for justices, with appearances in recent years by the late Justice Antonin Scalia, also the author or co-author of three books, as well as Stevens, Sotomayor and Thomas. And Justice Stephen Breyer, who has written two books while on the court, has made appearances on "The Late Show with Stephen Colbert" and "Charlie Rose."
Although no other justice has been the focal point of a first-run film (The movie "Marshall" focuses on Thurgood Marshall more than two decades before he joined the Supreme Court.), Scalia was the topic of a well-reviewed play, "The Originalist," which debuted in Washington in 2015, a year before Scalia died. The one-man Broadway production of "Thurgood" in 2008 focused on Marshall's life but premiered some 15 years after his death.
Ginsburg's celebrity was also marked by the creation of an opera, "Scalia/Ginsburg," which debuted in 2015 and celebrated the friendship of the two justices, who had different ideological viewpoints.
Despite this history of growing visibility and even occasional celebrity for Supreme Court justices, there is little doubt that Ginsburg sits atop the pop chart – an opera, a movie, a fan-created website, t-shirts. No other Supreme Court justice in history has had a box-office hit to show as part of her celebrity, and it seems unlikely that movie theaters will suddenly fill with sequels telling the life stories of other justices. At the moment, and for whatever reason, there is only one Notorious RBG.