Thursday round-up

on Nov 2, 2017
at 6:50 am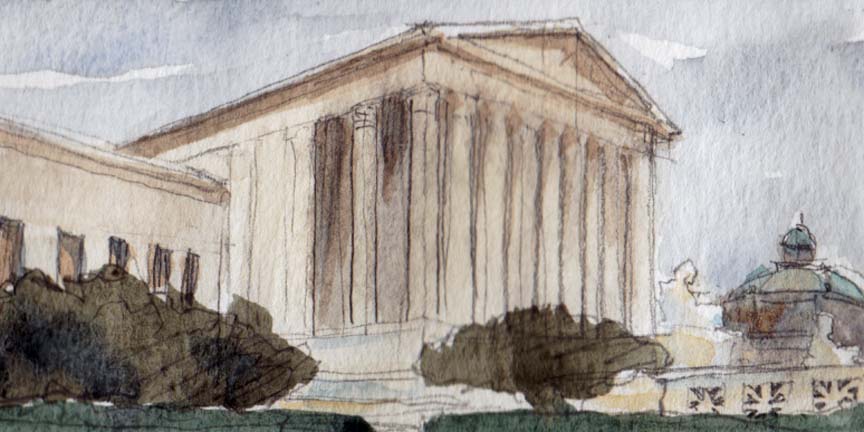 At Supreme Court Brief (subscription required), Marcia Coyle reports that "[t]he Colorado man who refused to bake a wedding cake for a gay couple—a dispute now at the heart of a U.S. Supreme Court case—isn't the only party to his challenge[:] His company, Masterpiece Cakeshop, is also a party, and a decision in favor of the baker could have wider implications for corporations and shareholders," as an amicus brief filed on behalf of 34 corporate-law professors points out. At Keen News Service, Lisa Keen looks at the case, Masterpiece Cakeshop v. Colorado Civil Rights Commission, suggesting that for same-sex couples, "on so many levels, the Supreme Court's review … on December 5 will feel like déjà vu all over again." At the Council of State Governments' Knowledge Center, Lisa Soronen discusses an amicus brief filed by the State and Local Legal Center that points out that "[o]ver 100 local governments in 38 states have adopted ordinances protecting citizens from sexual-orientation discrimination in public accommodations," and argues that "[e]xceptions for wedding businesses would weaken and undermine the democratic choices of these cities and states."
Briefly:
In an op-ed at Forbes, George Leef weighs in on Janus v. American Federation of State, County, and Municipal Employees, Council 31, in which the court will consider whether an Illinois law allowing public-sector unions to charge nonmembers for collective-bargaining activities violates the First Amendment, maintaining that "[i]t will be a shock if the Court upholds the status quo and allows public unions to continue pocketing millions taken from the earnings of public employees who disagree with them."
In an op-ed for The Washington Post, Mark Kaplan and Adam Winkler argue that "[p]artisan gerrymandering is one of the main reasons Congress has not enacted any significant new gun laws in recent years," and that "if the Supreme Court rules [in Gill v. Whitford] that partisan gerrymandering violates the Constitution, we may see less extreme candidates elected to Congress — and maybe we will finally break the logjam on guns."
At Take Care, Leah Litman and Lark Turner note that the U.S. Court of Appeals for the 5th Circuit "has recently refused to hold or to stay cases pending a decision from the Supreme Court in Sessions v. Dimaya," which asks whether a criminal-removal provision of the immigration laws is unconstitutionally vague; they warn that "[s]ome of the cases in which a prisoner was convicted or sentenced under an unconstitutionally vague provision (if Dimaya holds section 16(b) unconstitutionally vague) may get lost in the fray because of the realities of indigent defense and the restrictions on post-conviction review," so "[t]hese prisoners may never receive a remedy for their unlawful convictions and sentences."
At the Council of State Governments' Knowledge Center, Lisa Soronen looks at Ohio v. American Express Co., which involves the application of antitrust law to credit-card-network anti-steering rules.
For The New York Times, Alan Dershowitz reviews "Scalia Speaks," a compilation of speeches by the late Justice Antonin Scalia, observing that Scalia's "words, even when read, are provocations to argue, disagree, and think."
In an op-ed for Politico Magazine, Sen. Elizabeth Warren, D-Ma., asserts that "[i]t is time to begin rebuilding American[s'] confidence in the [Supreme C]ourt by establishing a formal code of conduct."
We rely on our readers to send us links for our round-up.  If you have or know of a recent (published in the last two or three days) article, post, podcast, or op-ed relating to the Supreme Court that you'd like us to consider for inclusion in the round-up, please send it to roundup [at] scotusblog.com. Thank you!