Potential nominee profile: William Pryor (Expanded)
on Jan 10, 2017
at 3:35 pm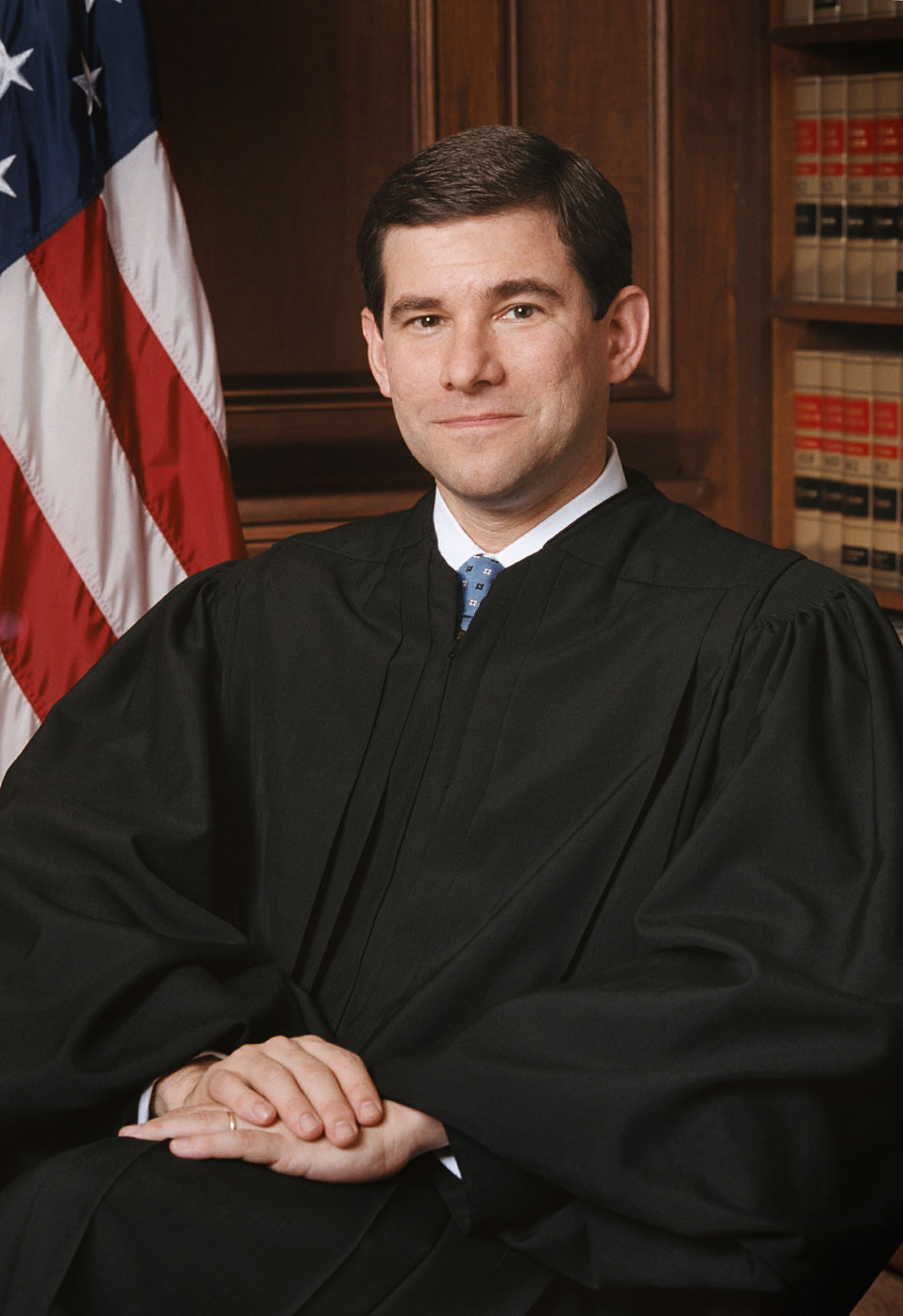 Update at 12:19 p.m., January 11: This post has been expanded to include discussion of Alabama Democratic Conference v. Alabama.
Judge William H. Pryor Jr. of the U.S. Court of Appeals for the 11th Circuit is widely considered, along with Judge Diane Sykes, to be the front-runner to replace the late Justice Antonin Scalia. President-elect Donald Trump mentioned both judges by name during a primary debate shortly after Scalia's death, and both have the conservative bona fides necessary to allay concerns about, as Pryor himself has put it, adding "more Souters" to the court.
Pryor, 54, earned his B.A. from Northeast Louisiana University in 1984 and his J.D. from Tulane University Law School 1987. Pryor clerked for Judge John Minor Wisdom on the U.S. Court of Appeals for the 5th Circuit and then worked as a private attorney until 1995. He served for two years as deputy attorney general of Alabama before becoming attorney general in 1997. As attorney general, he became known for his removal of Alabama Chief Justice Roy Moore for Moore's refusal to follow a federal court order to remove a Ten Commandments monument from the state Supreme Court building.
President George W. Bush nominated Pryor to the 11th Circuit in 2003, but the nomination stalled after Senate Democrats criticized Pryor for several incidents. While serving as attorney general, Pryor wrote a brief in defense of the Texas law banning sodomy that was later struck down in Lawrence v. Texas. Additionally, Pryor has called Roe v. Wade the "worst abomination in the history of constitutional law." Bush eventually appointed Pryor to the appeals court during a congressional recess in 2004, and he was later confirmed by the Senate by a vote of 53-45.
Criminal Law
Judge Pryor is no friend of criminal defendants. He very consistently sides with the government in criminal cases on issues both big and small. And he has almost never ruled in favor of a capital defendant.
General Criminal Cases. For example, in In re Morgan, Pryor wrote an opinion holding that the Supreme Court's decision in Miller v. Alabama – which held that the Eighth Amendment prohibits imposing mandatory life sentences without parole on those who were under the age of 18 when they committed their crimes – did not apply retroactively to inmates whose sentences were final before the Supreme Court announced its decision. The Supreme Court subsequently reached the contrary conclusion in Montgomery v. Louisiana, over the dissents of Justices Antonin Scalia, Samuel Alito, and Clarence Thomas.
In United States v. Jayyousi, Pryor joined a decision that, over Judge Rosemary Barkett's dissent, upheld the convictions of a number of individuals charged with forming a support cell to provide money, recruits and equipment to overseas terrorist groups, including al-Qaida. Among other things, the panel rejected the defendants' objections to admission of testimony from an FBI agent who testified that seemingly innocuous statements in intercepted phone calls were actually using code words, and then provided interpretations of what the code words and conversations meant. The panel also reversed the district court's decision to give one of the defendants a 208-month-below-guidelines sentence.
In United States v. Bautista-Silva, Pryor wrote a majority decision rejecting a Fourth Amendment challenge to a traffic stop leading to an arrest for human trafficking. The court concluded that the veteran border patrol agent "reasonably suspected that a sport-utility-vehicle with California license plates containing six adult males of apparently Hispanic descent was transporting illegal aliens when the driver changed speeds erratically on a slippery road and the passengers appeared nervous and refused to acknowledge the agent's attempts to gain their attention." Judge Barkett dissented, concluding that the evidence, "even when viewed together, supports nothing more than impermissible racial profiling that should never be used under our Constitution as an excuse for randomly stopping any of the many Hispanic motorists that travel the highways of Florida in SUV's."
Capital Cases. Pryor has participated in many decisions associated with death penalty petitioners (writing 28 reported decisions by our estimation), far too many for us to describe here in any detail. A few statistics, however, are worth noting:
Of the 28 reported decisions Pryor has written on the death penalty, all were resolved in favor of the state (including two vacating district court decisions granting habeas relief).
In at least five cases in which Pryor voted in a capital defendant's favor:

On three occasions, the panel vacated a district court decision denying habeas. These are Thomas v. Att'y Gen., Fla. (remanding for full hearing on equitable tolling); Cooper v. Sec'y, Dep't of Corr. (reversing habeas denial on ineffective assistance of counsel claim and granting relief from death sentence); and Zakrzewski v. McDonough (reversing district court judgment that motion for relief from judgment was a second and successive habeas petition).
The other two occasions involved either a short per curiam opinion on remand from the Supreme Court, Ford v. Sec'y, Dep't of Corr., or a panel decision bound by circuit precedent that was unanimously reversed en banc, Zack v. Tucker.

Of Pryor's 28 reported opinions we identified, 17 were unanimous with no separate opinions. A few, however, did lead to vigorous dissents from Judges Beverly Martin and Charles Wilson. These include Melton v. Sec'y, Fla. Dep't of Corr. (with dissent by Martin); Henry v. Warden (with dissent by Wilson); Muhammad v. Sec'y, Fla. Dep't of Corr. (with dissent-in-part by Wilson); Mann v. Palmer (with dissent by Martin); and Ponticelli v. Sec'y, Fla. Dep't of Corr. (with dissent by Martin). Other Pryor decisions with separate opinions include Howell v. Sec'y, Fla. Dep't of Corr. (with two concurrences, neither of which disagreed with Pryor's analysis); Reese v. Sec'y, Fla. Dep't of Corr. (with one concurrence by Martin disagreeing with majority's decision to perform de novo review of merits after finding petition did not meet requirements of AEDPA); and McClain v. Hall (with one concurrence that did not disagree with Pryor's analysis).
The Supreme Court has never reviewed any of the capital decisions Pryor wrote himself (although a cert petition in one case, discussed below, is currently pending). Of the other opinions Pryor joined, at least two were reversed by the Supreme Court — Porter v. Att'y Gen., reversed under the name of Porter v. McCollum, and Holland v. Florida. Both are discussed below.
Pryor has written two en banc decisions in capital cases. These are Evans v. Sec'y, Dep't of Corr., in which Pryor, writing for eight judges, over two dissents, affirmed the district court's conclusion that there was no Strickland violation due to counsel's decision not to present mitigating evidence that would have been more harmful than helpful, and Wilson v. Warden, which is discussed below.
The vast majority of Pryor's death penalty cases involved federal habeas review under the Antiterrorism and Effective Death Penalty Act of 1996. Those opinions have touched on a range of issues, including ineffective assistance of both trial and appellate counsel (Morton v. Sec'y, Fla. Dep't of Corr.; Darling v. Sec'y, Dep't of Corr.; McClaim v. Hall; and Diaz v. Sec'y for the Dep't of Corr.); Brady challenges (Sochor v. Sec'y Dep't of Corr.); Batson challenges (Greene v. Upton); ex post facto clause challenges ( Trotter v. Sec'y, Dep't of Corr.); and procedural defaults (Muhammad v. Sec'y, Dep't of Corr. and Crowe v. Hall). One hallmark of these decisions has been Pryor's willingness to describe the intricate and often gory details of the crimes themselves, even if not directly relevant to the appeal. Examples of this practice include Greene v. Upton; Doorbal v. Dep't of Corr.; and Trotter v. Sec'y, Dep't of Corr.
Pryor's most controversial death penalty decision was probably Wilson v. Warden. Writing for the panel, Pryor explained that a state supreme court's summary denial of a certificate of probable cause to appeal was an adjudication on the merits, such that the federal habeas court should not "look through" that summary denial to the underlying lower court merits decision. The 11th Circuit voted to vacate that decision and rehear the case en banc. En banc, however, in Wilson v. Warden, Pryor wrote for the court, over the dissent of five judges, affirming the approach set forth in his panel decision. A petition for certiorari remains pending.
As noted earlier, the Supreme Court has reversed two cases in which Pryor joined the majority decision in favor of the state. In Porter v. McCollum, the district court granted habeas after finding that Porter's penalty-phase counsel was ineffective for failing to perform an adequate investigation of mitigating evidence, and that this deficient performance was prejudicial. The 11th Circuit reversed, finding that the district court failed to defer to the state court's factual findings regarding Porter's prior alcohol abuse and mental health, and concluding that it was not unreasonable for the state court to discount all of the categories of mental health evidence. The Supreme Court reversed. First, the court concluded that Porter's counsel was clearly deficient because he failed to perform almost any investigation into Porter's background for mitigating evidence. Further, the court found that the Florida Supreme Court unreasonably applied Strickland in holding that the deficiency was not prejudicial. The court explained that, due to this deficiency, the judge and jury heard essentially no evidence that would humanize Porter or allow the judge or jury to assess his moral culpability. Thus, the court found the failure to investigate his background clearly prejudicial.
In Holland v. Florida, the Supreme Court held that the one-year statute of limitations for filing a federal petition seeking a writ of habeas corpus under AEDPA is subject to equitable tolling. The 11th Circuit had agreed that equitable tolling could apply, but only in situations involving bad faith, dishonesty, divided loyalty, mental impairment or the like, and that negligent attorney misconduct was insufficient. The Supreme Court reversed, finding the 11th Circuit's test too rigid, and holding that a more flexible equitable test was necessary for determining if tolling was appropriate. The court then remanded for further proceedings to determine whether tolling would be appropriate for Holland's petition.
Finally, Pryor has written decisions on three occasions denying stays of execution on the eve of an execution. In Mann v. Palmer, over a dissent by Judge Martin, the panel upheld the district court's denial of a stay in light of a challenge to Florida's substitution of two drugs in its three-drug execution cocktail. The opinion rested on both res judicata and statute of limitations grounds, but nevertheless went on to explain that the majority would have, under de novo review, found no Eighth Amendment violation. In Muhammad v. Secretary, Florida. Department of Corrections, Pryor wrote a short opinion for the panel finding that res judicata barred petitioner's claim that Florida's use of midazolam in its execution cocktail violates the Eighth Amendment's ban on cruel and unusual punishment. Finally, in Crowe v. Donald, the panel affirmed the district court's denial of a stay of execution on the ground that the section 1983 complaint was untimely. Thus, in all three opinions reviewing a stay of execution, Pryor upheld the denial of the stay on procedural grounds.
Immigration
Pryor also generally votes in the government's favor in immigration cases, but with regular and notable exceptions. He has voted both for (Ayala v. U.S. Att'y. Gen.) and against (Malu v. U.S. Att'y. Gen.) asylum-seekers alleging fear of persecution based on sexual orientation. He has repeatedly voted in favor of immigrants seeking asylum based on fears of religious persecution. Examples include Mezvrishvili v. U.S. Att'y. Gen. (Jehovah's Witness from Republic of Georgia); Mingkid v. U.S. Att'y. Gen. (Indonesian Christians); Kazemzadeh v. U.S. Att'y. Gen. (Christian from Iran); as well as Tan v. U.S. Atty. Gen. (vacating denial of asylum to Indonesian of Chinese descent, alleging racial persecution). Pryor has also voted for and against asylum-seekers asserting abortion-related grounds for persecution at home in, for example, Jiang v. U.S. Att'y. Gen. (Chinese applicant entitled to reopen case to present new evidence of forced sterilization in China); Li v. U.S. Att'y. Gen.(same); Yu v. U.S. Att'y. Gen. (spouse failed to prove persecution based on wife's forced sterilization); and Lin v. U.S. Att'y. Gen. (same for boyfriend).
Civil Rights
Unlike his record in criminal cases, Judge Pryor's record in civil rights cases is less susceptible to generalization. Pryor has been a strong proponent of religious freedom, has been perhaps surprisingly receptive to claims of discrimination by LGBTQ plaintiffs, and has voted to reject voting rights challenges in the small number of such cases he has confronted.
Religion. Pryor has consistently – although not uniformly – ruled in favor of parties raising religious liberty claims. For example, the day after the Supreme Court released its decision regarding the Obamacare birth control mandate, an 11th Circuit panel issued an order enjoining enforcement of the mandate pending appeal in a related case, but expressly stating that the order did not prejudge the merits of the appeal. Pryor, however, issued a lengthy concurrence in Eternal Word Television Network, Inc. v. Sec'y, U.S. Dep't of Health & Human Servs. (almost certainly written long before the Supreme Court decision came down), explaining why he believed that the plaintiff would prevail in demonstrating that the mandate violated the Religious Freedom Restoration Act. In particular, he concluded that the plaintiff's exercise of religion was substantially burdened by the requirement that it fill out a form in order to opt out of the contraceptive mandate, and he characterized the government's opposition as impermissibly second-guessing the content of the plaintiff's religious beliefs.
Pryor also joined an opinion in Covenant Christian Ministries, Inc. v. City of Marietta, Ga., finding a municipal zoning ordinance violated RLUIPA by discriminating against churches in permitting a variety of uses in residential zones (such as private parks and playgrounds) but not the building of churches. But the court held that the violation should not have been remedied by allowing the church to build in the zone; instead, it held that the district court should have struck down the ordinance allowing other non-residential uses in residential zones.
In Pelphrey v. Cobb County, Ga., Pryor wrote a lengthy opinion upholding a county's practice of opening its meetings with a prayer, even though the prayers frequently included sectarian (overwhelmingly Christian) references. Over a dissent, Pryor concluded that the establishment clause permits legislative prayers that include sectarian references so long as the prayer is not exploited to advance or disparage particular religions. At the same time, however, the court found that the district court did not clearly err in finding that the county violated the establishment clause during a certain period by categorically excluding clergy of certain faiths from giving the prayer.
In Selman v. Cobb County School District, Pryor and two of his colleagues heard an appeal from a decision striking down a school board's decision to include a sticker in biology textbooks stressing that evolution is "a theory, not a fact" and urging that the issue be "approached with an open mind, studied carefully, and critically considered." The district court had ruled the sticker violated the establishment clause, but the panel concluded that the case record was too much of a mess to permit appellate review (It was missing, for example, evidence referred to in the district court opinion.). The case was remanded with instruction to clean up the record and address a number of factual issues regarding the context in which the sticker was proposed and adopted by the school board.
Pryor has written opinions coming out both ways in cases alleging infringement of prison inmates' religious rights. In United States v. Secretary, Florida Department of Corrections, for example, he ruled in favor of the federal government in a civil rights suit brought on behalf of inmates whose religions required kosher meals, rejecting the state's arguments that it cost too much. But in Lake v. Skelton, Pryor wrote that sheriffs in Georgia (who run county jails) are entitled to sovereign immunity as arms of the state and therefore are immune from private damages suits (in this case, alleging violations of RLUIPA and the First Amendment for failure to provide religiously required vegetarian meals).
Pryor also voted against religious freedom claims in an employment case, Morrissette-Brown v. Mobile Infirmary Med. Ctr., finding that the employer adequately accommodated an employee's religious objection to working on Fridays.
LGBTQ Rights. In the context of LGBTQ rights, Pryor's most significant decision is probably one that he did not write, but simply joined. In Glenn v. Brumby, Pryor joined an opinion written by Judge Barkett (one of the 11th Circuit's most liberal judges) holding that Georgia officials violated the equal protection clause when they fired an employee for being transgender. The plaintiff was born a biological male and was hired by the Georgia General Assembly's Office of Legislative Counsel as an editor. While working there, the plaintiff began to transition from male to female. When she informed her supervisor that she would begin coming to work as a woman, she was fired. Her supervisor stated that the "intended gender transition was inappropriate, that it would be disruptive, that some people would view it as a moral issue, and that it would make [her] coworkers uncomfortable." The district court granted summary judgment in the plaintiff's favor on the equal protection claim and the 11th Circuit affirmed. First, the court held that discrimination on the basis of transgender status constitutes sex-based discrimination and is therefore subject to heightened scrutiny under the equal protection clause. The panel relied on the Supreme Court's decision in Price Waterhouse v. Hopkins, which held that discrimination on the basis of gender stereotypes is sex-based discrimination. The panel reasoned that discrimination against transsexuals is sex-based discrimination under that rule because a "person is defined as transgender precisely because of the perception that his or her behavior transgresses gender stereotypes." The panel further held that the only justification proffered for the firing – a concern that "other women might object to [the plaintiff's] restroom use" – was unsupported by any evidence in the record (The court noted, for example, that the office in which the plaintiff worked had only single-occupancy restrooms.) The court therefore concluded that the employer had "advanced no other reason that could qualify as a governmental purpose, much less an 'important' governmental purpose, and even less than that, a 'sufficiently important governmental purpose' that was achieved by firing Glenn because of her gender non-conformity."
In Keeton v. Anderson-Wiley, Pryor joined another decision written by Barkett, rejecting a religious freedom claim by a graduate student in a counseling program. During her classes, the student expressed the belief that homosexuality is a disorder and that she intended to attempt to convert students from being homosexual to heterosexual. School officials believed that this approach was contrary to the American Counseling Association's code of ethics (which the school was required to adopt and teach to retain accreditation) and required the student to undertake a remediation plan before being allowed to participate in one-on-one counseling as part of the school's clinical practicum. The 11th Circuit rejected the student's First Amendment claim, concluding that the school was not discriminating against her on the basis of her viewpoint, but rather because she expressed an intent to impose her own personal religious views on her clients, in violation of the code of ethics. The panel also held that because the rule was neutral with respect to religion and generally applicable, it did not violate the establishment clause.
Pryor concurred separately. Among other things, he noted that although the 11th Circuit had held that universities can enforce such codes of ethics with respect to school-sponsored activities (like a clinical practicum), "we have never ruled that a public university can discriminate against student speech based on the concern that the student might, in a variety of other circumstances, express views at odds with the preferred viewpoints of the university." At the same time, he emphasized that "[a]lthough federal courts owe no deference to universities when considering whether a public university has exceeded constitutional constraints, … we may not act as 'ersatz deans or educators' by second-guessing regular academic methods of a public university."
Pryor also discussed the evolving view of homosexuality in the psychiatric profession and its relationship to the First Amendment:
A few decades ago, the prevailing view of the psychiatric profession maintained that homosexuality was a treatable mental disorder. See American Psychiatric Association, Diagnostic and Statistical Manual of Mental Disorders (2d ed. 1968). As this record makes plain, the prevailing view changed. This shift in psychiatric orthodoxy occurred largely because professionals who had been taught that homosexuality was a disease of the mind, but who rejected that view, argued successfully that the psychiatric diagnostic criteria should be amended. See Herb Kutchins & Stuart A. Kirk, Making Us Crazy 55–77 (1997) (describing professional efforts to remove homosexuality as a mental disorder from the DSM–II). This change in opinion would have taken much longer if public universities had been able to expel students who rejected the prevailing view and intended to argue that homosexuality was not a mental disease. As the First Amendment protected the professionals who successfully advocated against the then-prevailing view of the psychiatric profession, so too does it protect Keeton should she decide to advocate that those professionals got it wrong.
In another First Amendment case touching on LGBTQ issues, Carver Middle School Gay-Straight Alliance, v. School Board Of Lake County, Florida, Pryor wrote a decision reviving a lawsuit by a middle school gay-straight alliance group under the Equal Access Act. Pryor explained that under the EAA, "if a public school 'provides secondary education as determined by State law,' the school must give extracurricular clubs equal access to school resources. 20 U.S.C. §§ 4071–72." A group of Florida middle-school students and a teacher had applied to form a gay-straight alliance student club, but were denied on the ground that the club had no "allowed purpose." The district court dismissed the suit as both unripe and moot, and held in the alternative that the Act did not apply to the school. In an unpublished decision, Pryor wrote that the controversy was in fact ripe, was not moot, and that the statute applied to the school.
Voting Rights. Pryor has had two voting rights decisions of note. First, in Common Cause/Georgia v. Billups, he wrote a decision rejecting a challenge to Georgia's voter identification statute. He began by characterizing the case as addressing "whether the legitimate interest of the government of safeguarding the exercise of a civil right is outweighed by a corresponding burden of that right." Pryor and his colleagues concluded that the Supreme Court's decision in Crawford v. Marion County Election Board, which had upheld Indiana's voter identification law, compelled the same result in the case from Georgia. Pryor specifically rejected the plaintiff's claim that Georgia was required to substantiate a real risk of voter fraud or prove that the identification requirement was an effective remedy. At the same time, he concluded that the plaintiffs were "unable to direct this Court to any admissible and reliable evidence that quantifies the extent and scope of the burden imposed by the Georgia statute." Accordingly, the court held that the district court did not abuse its discretion in denying an injunction.
Pryor's other main voting rights decision came in Alabama Democratic Conference v. Alabama, in which he sat on a three-judge panel at the district court level. After the 2000 census, the Alabama state legislature passed new redistricting plans that created twenty-seven (out of 105) house districts and eight (out of 35) senate districts with a majority minority population. In redistricting after the 2010 Census, the legislature set a goal of no more than 2% population deviation between districts (as opposed to 10% for the 2001 redistricting plan) and instructed a consultant to keep the percentage of minorities in each district roughly the same as in the 2001 plan. The legislature largely preserved the same number of majority-minority districts, but the choice of a 2% deviation limit and an instruction to keep the minority percentage roughly the same in these districts led to an expansion of the minority population in the majority-minority districts, creating "super-majorities." The plan was challenged as segregating minority voting power into a select few districts, thus harming the ability of minority voters to affect elections at-large and violating Section 2 of the Voting Rights Act and the 14th and 15th Amendments.
By a 2-1 margin, the district court upheld the redistricting plan, with Pryor drafting the opinion. Pryor explained that the 2001 redistricting plan led to districts that became malapportioned in light of population changes in the 2010 Census, and that the adoption of the 2% deviation threshold required significant population shuffling to cure the malapportionment. The court found that the tighter deviation percentage and subsequent minority packing did not violate the Voting Rights Act or Constitution as vote dilution or racial discrimination. The court also dismissed the claims of some of the plaintiffs for lack of standing.
The Supreme Court reviewed the racial gerrymandering claims, reversing the district court and remanding for a rehearing before the three-judge district court. Writing in 2015 for a 5-4 majority, Justice Stephen Breyer explained that the district court erred by analyzing the redistricting plan as a whole on the state level instead of analyzing the racial gerrymandering claims on a district-by-district basis. The court also rejected Alabama's argument that Section 5 of the Voting Rights Act required it to maintain the percentage of minority voters in majority-minority districts, and its claim that its goal of having equally-populated districts could be considered in determining if race was a predominant motivating factor in redistricting. The court also reversed the district court's dismissals for lack of standing.
Free Speech
In the free speech context, Pryor has steered a middle course. Consistent with his concurrence in Keeton v. Anderson-Wiley discussed above, Pryor has written of the importance of First Amendment rights, while also regularly upholding government restrictions on speech in particular contexts.
In Jane Doe I v. Valencia College Board of Trustees, female students studying sonography at a Florida public college were pressured by school officials to allow fellow students to conduct transvaginal ultrasounds on them. When the students complained (and one refused to cooperate), school officials retaliated against them (failing the student who refused to submit and threatening to blacklist the students from a local hospital). Pryor, writing for a unanimous panel, reinstated the students' First and Fourth Amendment claims after they were dismissed by a district court. He rejected the district court's view that the students' complaints constituted "school sponsored speech" subject to very limited First Amendment protection under Hazelwood School District v. Kuhlmeier. Instead, the panel held the speech was subject to the more protective rule of Tinker v. Des Moines Independent Community School District, under which it could be banned or punished only if the school could reasonably forecast that it would lead to substantial disruption at the school. Pryor further ruled that the exams constituted a search under the Fourth Amendment, rejecting the law of other circuits that hold that the Fourth Amendment is inapplicable unless the alleged search was undertaken for an investigative or administrative purpose. Although the court did not rule that the defendants violated the First or Fourth Amendments, it revived both claims and sent the case back to the district court for further proceedings.
In Mech v. School Board of Palm Beach County, Florida, Pryor wrote an opinion for the 11th Circuit rejecting a First Amendment challenge to a school's removal of banners promoting a tutoring business from its fences after the school discovered the owner of the business was a retired porn star whose pornography production business used the same mailing address as his "Happy/Fun Math Tutor" company. Although he found it a close question, Pryor, along with his colleagues, ultimately concluded that the tutoring banners – having been placed on the school's fences and proclaiming the business to be a "partner" of the school – constituted government speech enjoying no First Amendment protection.
In First Vagabonds Church of God v. City of Orlando, Fla., Pryor upheld against First Amendment challenge a city ordinance requiring a permit to conduct "a large group feeding" (i.e., feeding large groups of homeless people) within a downtown park and limiting the number of permits available. The court held that even assuming the feeding constituted expressive conduct, the regulation was a valid time, place and manner restriction.
Powers of Congress/Federalism
Pryor's record on federalism issues is relatively sparse. But in the handful of cases implicating the issue, he has regularly upheld federal statutes as falling within Congress' constitutional powers, often in the context of challenges to criminal statutes.
Commerce Clause. Judge Pryor has rejected commerce clause challenges to several federal criminal statutes. For example, in United States v. Baston, the government challenged the district court's failure to award restitution under 18 U.S.C. § 1596(a)(2) to a victim of sex trafficking for acts that occurred in Australia. Pryor, writing for the panel, explained that Congress approved of extraterritorial jurisdiction over sex trafficking in the Wilberforce Trafficking Victims Protection Reauthorization Act of 2008, and that Congress had the power to enact extraterritorial laws under the foreign commerce clause. In particular, the panel found that Congress' powers under the foreign commerce clause were analogous to its plenary powers under the Indian commerce clause, but nevertheless concluded that the extraterritorial scope of the Trafficking Act would be justified even under the more restricted powers of the interstate commerce clause.
Pryor similarly joined opinions upholding two criminal provisions, 18 U.S.C. § 2251(b) (prohibiting parents from allowing a minor child to engage in sexually explicit conduct for purpose of producing child pornography) and 18 U.S.C. § 922(g) (prohibiting convicted felons from possessing a firearm), against attacks that the statutes violated the commerce clause by regulating purely intrastate conduct. These cases are United States v. Wright (upholding § 922(g) and including a concurrence by Judge Pryor on an unrelated matter – that the rule of lenity should not apply to interpretation of the advisory U.S. Sentencing Guidelines) and United States v. Paige (upholding § 2251(b)).
In the non-criminal context, in 907 Whitehead Street, Inc. v. Sec'y of U.S. Dep't of Agric., Pryor similarly rejected a Commerce Clause challenge to the USDA's regulation (under the Animal Welfare Act) of the Hemingway Museum (and the Hemingway cats) because the museum used the cats in advertising to out-of-state visitors.
On the other hand, in Tundidor v. Miami-Dade County, Pryor joined a decision finding that a canal with an artificial obstruction that prevents travel is not navigable water sufficient to justify federal admiralty jurisdiction.
Spending Clause. In Benning v. Georgia, Pryor wrote a decision upholding RLUIPA as a valid exercise of Congress's spending clause authority. Among other reasons, he explained that "the United States has a substantial interest in ensuring that state prisons that receive federal funds protect the federal civil rights of prisoners." In the same decision, the court rejected the argument that RLUIPA violates the establishment clause. (The Supreme Court subsequently agreed with the establishment clause ruling in Cutter v. Wilkinson. Justice Thomas, concurring in Cutter, however, stated that "RLUIPA may well exceed the spending power.")
Molly Runkle contributed extensively to this post, identifying, reviewing and analyzing the cases summarized above and writing the biographical summary.