BREYER RETIREMENT
At Thursday's White House announcement, echoes of a ceremony 28 years prior

on Jan 27, 2022
at 7:35 pm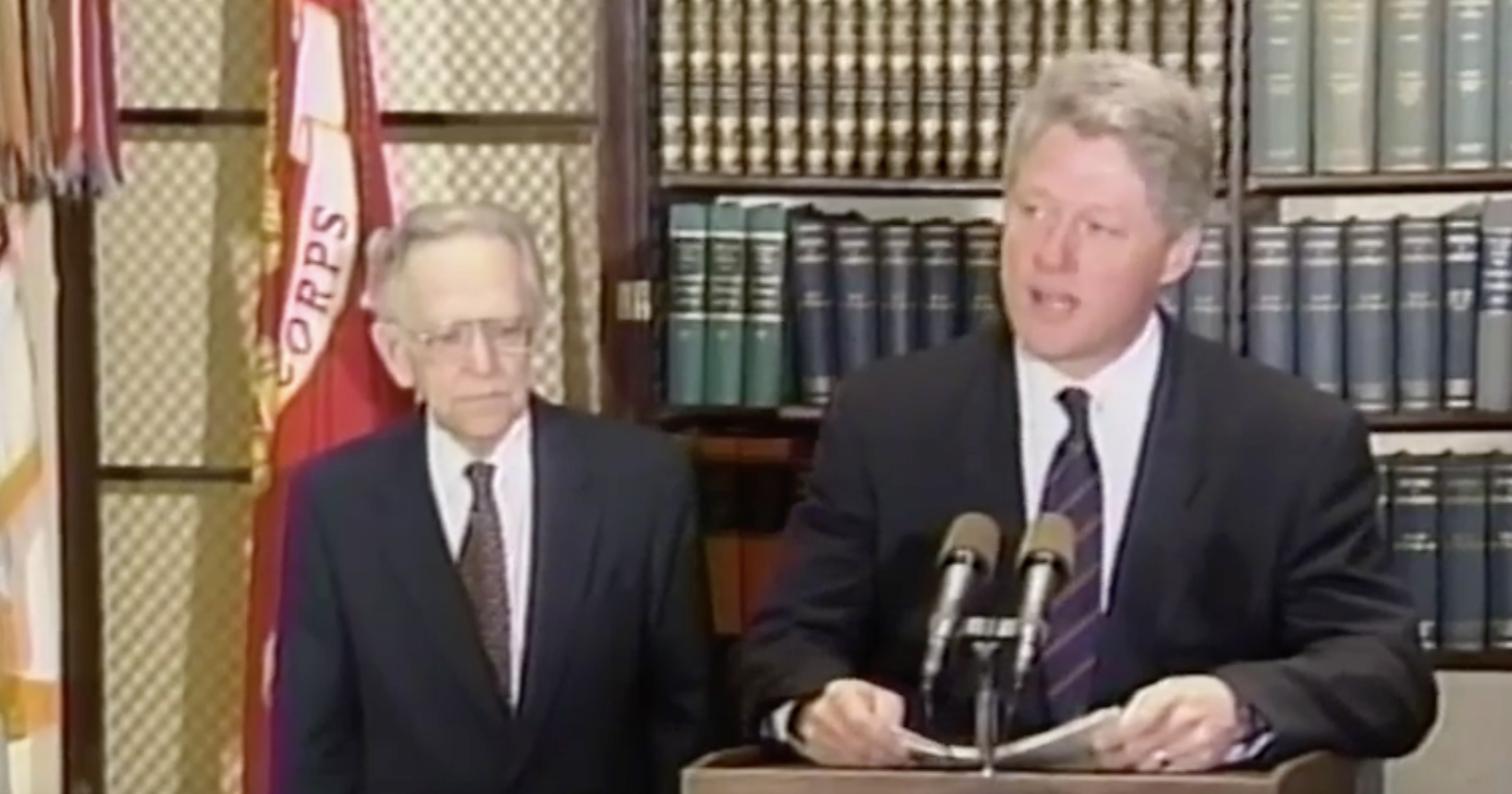 The justice, in his 80s, had served on the Supreme Court for well over two decades, becoming a liberal stalwart on such issues as abortion rights, affirmative action, and opposition to the death penalty. The Democratic president was in his second year in office and facing political headwinds as the midterm elections approached. Word of the justice's intent to retire had already seeped out.
Soon, the justice would accompany the president into the Roosevelt Room of the White House to confirm that he would retire at the end of the court's term in June.
"Good morning," President Bill Clinton said on April 6, 1994. "It is my duty and my honor on behalf of the people of the United States of America to thank Justice Blackmun for his lifetime of service to our nation."
Justice Harry Blackmun, 86, looked bemused and slightly out of place participating in a White House event, but he went with the flow.
"It's not easy to step aside, but I know what the numbers are, and it's time," he said.
Six weeks later, Clinton nominated a federal appeals court judge from Boston — Stephen Breyer — to fill the vacancy. Breyer had been a finalist one year earlier, when Clinton chose Ruth Bader Ginsburg to succeed Justice Byron White.
On Thursday, a day after word leaked that Breyer intends to retire after nearly 28 years on the court, the justice joined President Joe Biden in the Roosevelt Room for an event with several parallels to the one in 1994. It was unlikely to be a matter of coincidence, though neither Biden nor Breyer mentioned the similar event involving Clinton and Blackmun.
"Everyone knows that Stephen Breyer has been an exemplary justice, fair to the party before him, courteous to his colleagues, careful in his reasoning," Biden said. "His opinions are practical, sensible, and nuanced."
Biden reiterated his intention to nominate the first Black woman to the court, and he offered a nugget of news by saying he will make his choice by the end of February.
Breyer appeared genuinely touched by Biden's words of praise. The justice said that in speaking to students of all ages, he has often been asked what made his job meaningful.
"What gives you a thrill?" Breyer said. "That is not such a tough question for me to answer." Then it was vintage Breyer as he meandered a bit from his pocket Constitution, to the Gettysburg Address, to the idea of American democracy as "an experiment."
"You know who will see whether that experiment works?" he continued. "It's you, my friend. It's you, Mr. High School Student. It's you, Mr. College Student. It's you, Mr. Law School Students. It's us, but it's you. It's that next generation and the one after that."
It is hardly the norm for an outgoing Supreme Court justice to participate in such an event. In March 1993, White had called on a former law clerk of his, Ron Klain, to deliver his retirement letter to Clinton. Klain was an associate counsel to the president at that time. He is now the chief of staff to Biden. Some other recent retirees have dispatched the marshal of the court to deliver their letters to the White House.
The last justice to step down, Anthony Kennedy, waited until after opinions had been issued on the last formal day of the term in June 2018 before slipping off to the White House to personally inform President Donald Trump of his retirement. There was no public event, and Kennedy managed to elude notice from the press before the Supreme Court released his retirement letter later that afternoon.
While there were parallels between the Blackmun event in 1994 and Thursday's announcement in the Roosevelt Room, there were several differences. Then-Vice President Al Gore was present for the Blackmun event. Vice President Kamala Harris departed early Thursday morning for Honduras, where she attended the inauguration of that nation's new president, Xiomara Castro.
Of course, no one wore a mask at the 1994 event. On Thursday, even Biden and Breyer wore them, except when each spoke from the lectern.
Biden said he would not answer questions from the press pool in the Roosevelt Room, calling it Breyer's day. In 1994, Clinton entertained a few press queries, including one about whether he would pick a politician such as then-Sen. George Mitchell of Maine, then the majority leader.
"I will attempt to appoint someone of genuine stature and largeness of ability and spirit to the court," Clinton said.
Rita Braver of CBS News referenced Blackmun's support for abortion rights and Roe v. Wade. Braver asked whether the justice might comment on it.
"Well, I didn't come in here to indulge in a question-and-answer session, but I'll try to answer that," said the author of the decision. "Roe against Wade hit me early in my tenure on the Supreme Court, and people forget that it was a 7-to-2 decision. They always typify it as a Blackmun opinion, but I'll say what I've said many times publicly: I think it was right in 1973, and I think it was right today. It's a step that had to be taken as we go down the road toward the full emancipation of women."
Blackmun and Clinton joked about their deluge of hate mail.
"I think the president and I have a lot to share on those hate mail things, but we'll see," Blackmun said, to mild laughter in the room. "We'll let the future take care of itself. And I'm advised there is a vacancy on the 8th Circuit. I think I'll apply for it. I'll be turned down, I know, but …"
Clinton decided it was time to leave. As he reached the door, Blackmun stood in place, as if he were just getting warmed up. The president reached back and helped usher the retiring justice off the stage. He knew what the numbers were, and it was time.