How a veteran sketch artist offers a peek into oral arguments in the work-from-home era
on Dec 30, 2020
at 12:00 pm

Few people get the chance to watch an oral argument at the Supreme Court. Art Lien is one of them. As an artist who has been sketching the court for more than four decades, Lien has attended – and studied – hundreds of arguments. In a courtroom devoid of cameras, Lien uses little more than a pencil and paper (and afterward, a bit of watercolor) to capture the court's work for everyone to see. At least he used to. As with everything in 2020, that has changed. The world closed in to keep the virus out, and so did the court.
The justices have not held an in-person session since early March. Starting in May, they began holding remote oral arguments via telephone. Aside from a few bungles, the transition has been relatively smooth. The court now allows live-audio streaming of its arguments — a step forward in transparency and access. But still, no one could see what was happening.
Lien changed that. Unlike when the court is open, he could not observe and draw the lawyers arguing cases in real time. So he did the next best thing. In October, at the start of the 2020-21 term, he began asking oral advocates to send photos documenting their remote arguments. He has used those photos to create illustrations in the same distinctive style that defines his live work: soft, penciled edges; a pop of color here and there; and a knack for capturing human idiosyncrasy, like a trademark gesture or a sly smile.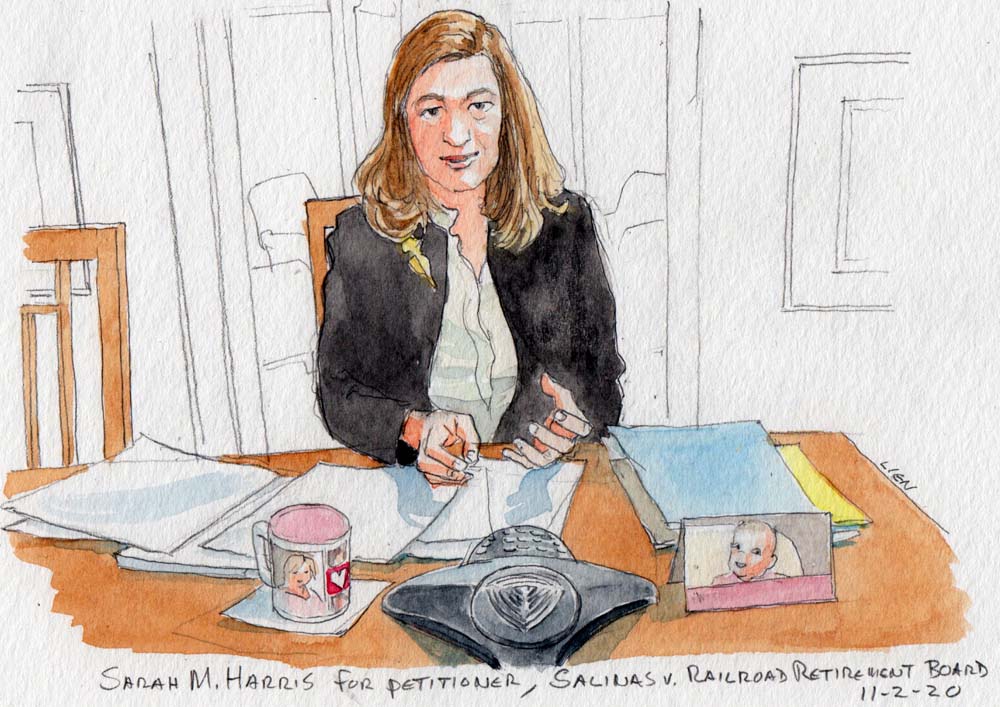 The resulting sketches, which SCOTUSblog has been publishing throughout the term (and all of which are reproduced below), provide a behind-the-scenes glimpse at how some of the nation's top appellate advocates have adapted to the new normal. Perhaps they also stand as a microcosm of the diversity of work-from-home environments in which so many members of the legal community have found themselves this year.
Lien was initially skeptical that the remotely created sketches would shed new light, but he quickly changed his mind.
"I think it gives a little more insight, really, into the whole process," he said. "You know, it's not covered up with the decorum of the courtroom."
Lien's work shows the panoply of approaches that advocates adopt for arguments by telephone. Some stand at a lectern. Others sit at a desk. Some wear suits. Others dress for comfort. Most use a speaker phone. A few use headsets. At least one held the receiver directly to his ear.
André Bélanger, who argued in Edwards v. Vannoy earlier this month, set up the closest simulation of a live argument: He stood in a suit and tie with large pictures of all nine justices propped up in front of his lectern.
On the other end of the formality spectrum, Ramzi Kassem argued in October in Tanzin v. Tanvir over a paper-scattered desk in a hoodie sweatshirt. The casual atmosphere seemed to help him: On Dec. 10, the court ruled unanimously in favor his clients.
"I want more hoodies," Lien said.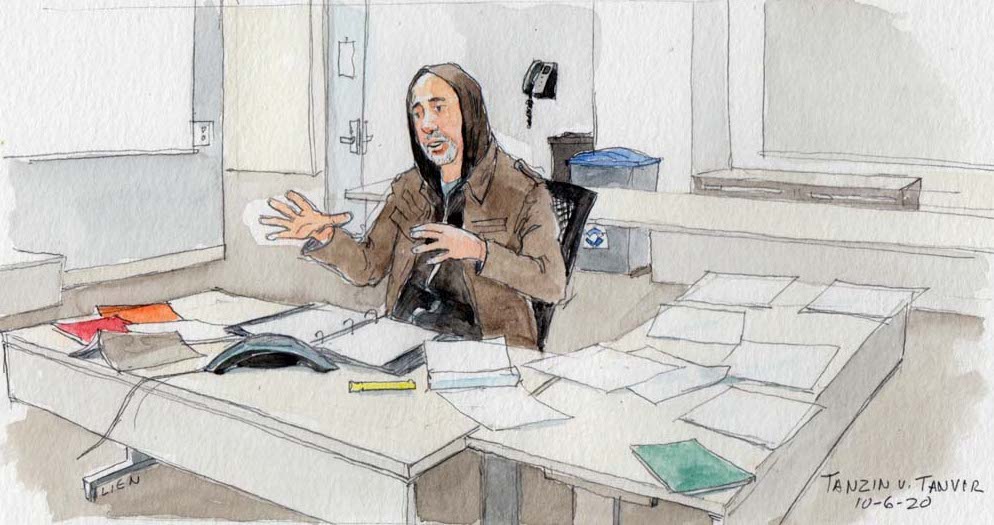 "One thing I really love is all the little details," he continued, referring to the knick-knacks and family photos that personalize many of the advocates' work-from-home setups. He's always looking for quirks that tell a story.
"I'm looking at Professor Garner. That's an interesting one," Lien said, referring to Bryan Garner, the influential scholar and lexicographer who argued his first Supreme Court case in Facebook v. Duguid on Dec. 8. "It just says it all. It just says professor, right? He's at the desk. He's actually on an old corded phone, you know, a landline. And he's got a box of markers and Black's Law Dictionary there."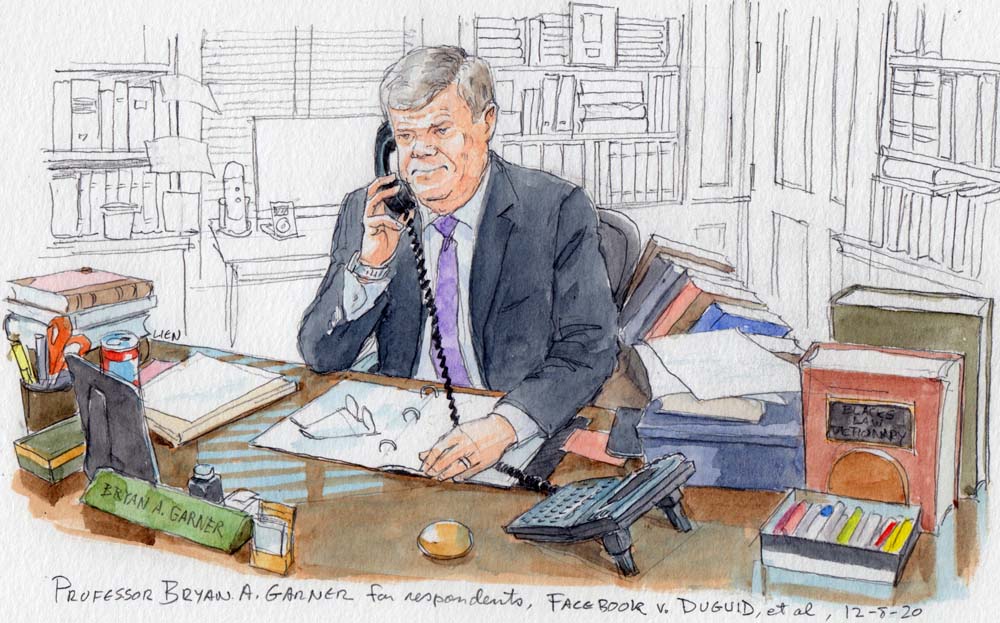 The sketches also depict an ever-present reminder of the times we are in. "One thing I'm looking for in a lot of these is the mask that they're not wearing, but it's sitting on the desk," he said. Lien sketched Louisiana Solicitor General Elizabeth Murrill, who faced off against Bélanger in Edwards v. Vannoy, sitting at her desk next to a man wearing a blue medical mask.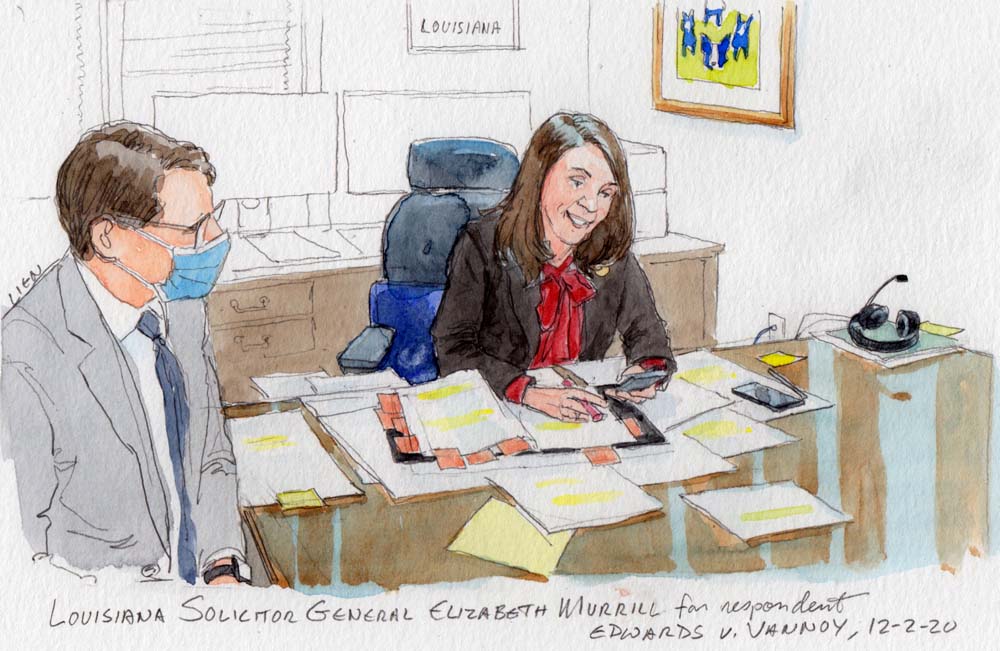 Will we ever see a work-from-home sketch of one of the justices? "I don't think you will," Lien said. "It sounds like the policy is that they are not going to send any photographs." Until that policy changes, sketches of the advocates will have to suffice.
Here is the full collection of Lien's sketches for the term so far:
October arguments
November arguments
December arguments