ARGUMENT ANALYSIS
Court explores continued private enforcement of spending clause enactments
on Nov 11, 2022
at 12:22 pm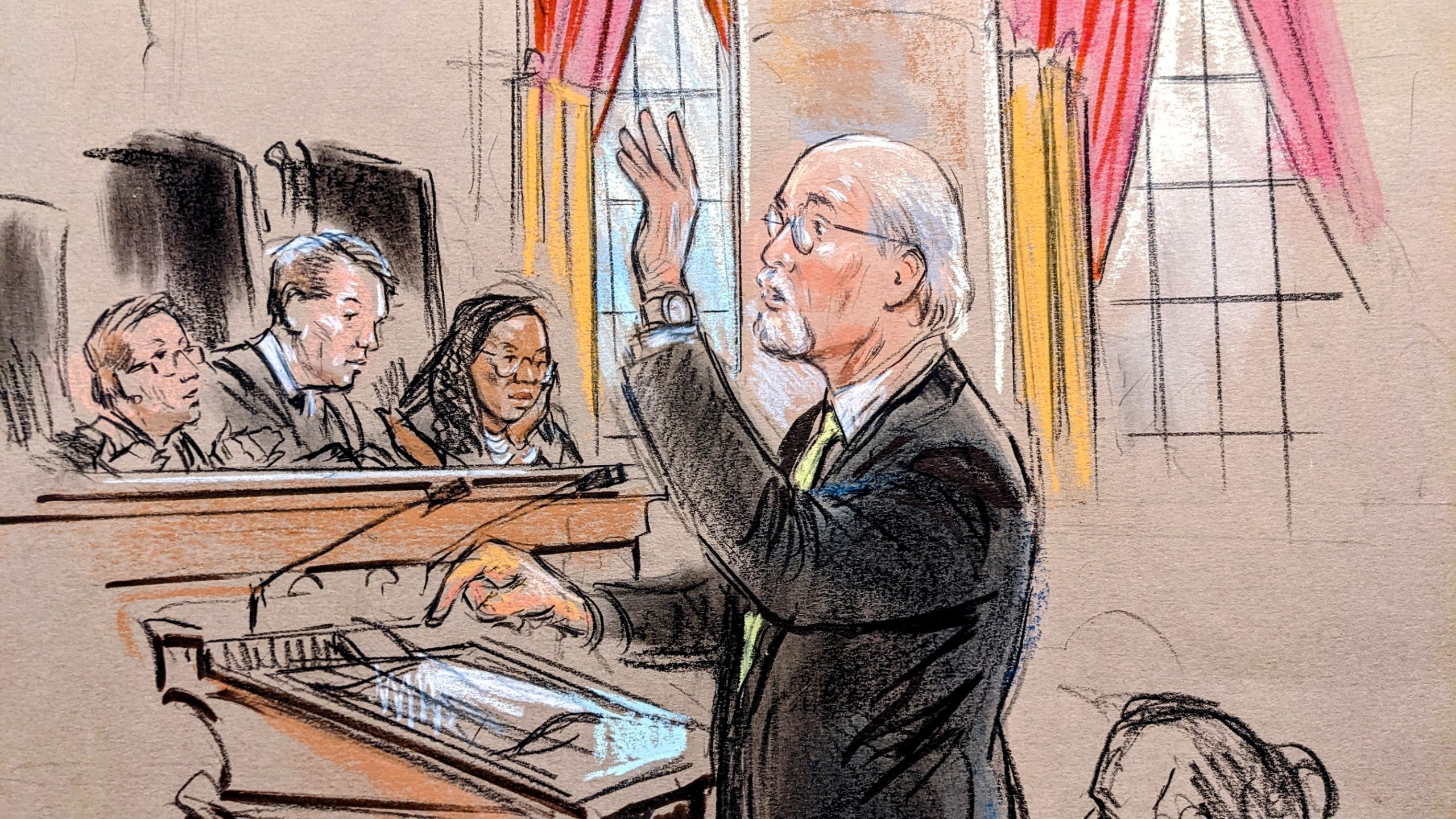 Tuesday's argument in Health and Hospital Corp. of Marion County v. Talevski did not reveal a Supreme Court ready to reconsider or overrule a line of cases allowing private suits for damages in federal court under 42 U.S.C. § 1983 to enforce rights created under federal spending clause legislation.
Congress enacted the Federal Nursing Home Reform Act of 1987 under its spending clause power, providing Medicare and Medicaid funds to operators of nursing facilities in exchange for the operators abiding by certain federal obligations. Those obligations include certain limits on using physical or chemical restraints and on transferring or discharging patients.
Gorgi Talevski lived at a public nursing home owned by Health and Hospital Corporation of Marion County; prior to his death, he was medicated to control his behavior and transferred to a different facility. This case presents whether a resident deprived of those rights can sue a publicly owned and operated nursing home under Section 1983, which provides a cause of action against government actors who deprive anyone of rights secured by the "laws" of the United States, meaning other federal statutes, including spending clause enactments.
Arguments of Health and Hospital Corporation
Lawrence Robbins argued for HHC and other petitioners. Robbins centered the fundamental error in the court's precedent allowing individuals to enforce spending clause enactments through Section 1983. Spending clause enactments must clearly notify states of all conditions attached to funds, including that they are subject to private suit if they accept those funds. Section 1983 liability and damages represents the most costly and significant factor states weigh in deciding whether to accept federal money. Congress must provide clear notice of possible Section 1983 liability in the spending clause enactment for such suits to be possible.
Although Robbins wanted to focus on the incorrectness of any private enforcement and the need to reject precedent, the court's questions focused on whether FNHRA is enforceable through Section 1983 under the current doctrinal framework asking whether the statute creates enforceable individual rights and whether Congress intended to preclude presumptive private enforcement. Chief Justice John Roberts and Justices Elena Kagan and Brett Kavanaugh emphasized how the statute uses the word rights "over and over again" and requires recipients to "protect" those rights; Robbins urged the court to look beyond isolated word to focus on the statute's "unambiguous focus" on the officers and offices regulating facilities rather than facility residents. Kagan and Kavanaugh shifted to when administrative remedies preclude private judicial enforcement, with Kagan suggesting a presumption in favor of Section 1983 absent "incompatibility," a conflict or tension between administrative remedies and private litigation. Robbins responded that private litigation is antithetical to the substantial enforcement power and discretion FNHRA accords states and the secretary of health and human services. Kagan's suggested presumption disappears if the court agrees that Section 1983 cannot permit suits by third-party beneficiaries because they were not available for contract claims at common law.
Robbins centered his overruling arguments in serial-question exchanges with Justices Amy Coney Barrett and Ketanji Brown Jackson. He described the legal framework as a "marriage" of Section 1983 and FNHRA, both of which bring "old soil" with them and require the court to analyze historic common law to determine the scope of "rights" and "laws" described in Section 1983. In response to Justice Sonia Sotomayor, Robbins questioned the accuracy of an amicus brief from legal historians arguing that third-party beneficiaries could enforce contracts under 19th-century common law; the scholars "rigged the game" to make it appear that more cases allowed such enforcement.
Arguments of the State of Indiana
Indiana Solicitor General Thomas Fisher argued in support of HHC. He argued that the prospect of Section 1983 enforcement frustrates state assessments of whether and when to accept funds, disrupts efforts to administer complex programs, and prevents states from pursuing policies they value more highly than full federal funding. He urged the court to "finish what it started" and hold that no federal spending conditions are privately enforceable unless Congress says so in the spending enactment.
Roberts and Barrett questioned whether the court can address the state's concerns by retaining and reemphasizing the stricter standard established in recent cases rather than overruling precedent. Fisher responded that lower courts have not taken the signal; they continue citing older cases, reaching conclusions "all over the map" as to Medicaid and other programs. Moreover, he told Sotomayor, there are too many cases and too many spending statutes to continue using flexible standards. He urged the court to require Congress to expressly provide for private enforcement in the statute; nothing else suffices.
Arguments of the United States
Assistant to the Solicitor General Benjamin Snyder argued for the United States in support of neither party. He argued that HHC provided "no sound basis" for revisiting precedent holding that Section 1983 provides an express cause of action that by default applies to any right created by any federal statute. They offered no evidence that Congress enacted Section 1983 in 1871 with contract cases in mind; showed no well-settled background principles had been incorporated into the statute; and ignored amendments to the Social Security Act (another spending clause law) endorsing some private enforcement under the court's established approach. The court therefore should reaffirm the "basic framework" in which spending clause enactments can be privately enforced. But FNHRA displaced Section 1983, and therefore the court should reverse.
Snyder's argument that FNHRA precludes Section 1983 rests on FNHRA's unique feature — more than 90% of nursing homes are privately owned. In enacting FNHRA, Congress considered but rejected a private cause of action against private homes. That choice reflects congressional judgment that administrative remedies suffice for the vast majority of residents and indicates Congress did not believe private enforcement was necessary for the small number of residents in public facilities. Justices Samuel Alito and Kagan pushed Snyder on "how low" Congress can go and how FNHRA compares to many spending laws (such as Title IX) that regulate private and public recipients. Snyder argued that Congress would not have assumed Section 1983 applies; it knew it was creating a private right but that most fund recipients could not be sued because Section 1983 applies to government actors. Congress thus must have concluded that a comprehensive administrative process was sufficient to protect all home residents.
Arguments of Talevski
Andrew Tutt argued for Talevski. Tutt emphasized his general agreement with the United States. They departed over whether Congress showed clear intention to preclude Section 1983 by extending FNHRA rights to private-facility residents, who never could use Section 1983 to enforce those rights. That framing "gets the statute backwards." FNHRA's text shows Congress wanted to preserve all remedies — private state tort remedies, enforcement by the U.S. attorney general, and Section 1983. Tutt agreed with Kagan that Congress precludes Section 1983 only where private enforcement is incompatible with the statutory scheme.
Roberts, Kavanaugh, and Jackson queried about FNHRA's individualized administrative remedial scheme. Tutt argued that Congress precludes Section 1983 by providing more restrictive federal judicial remedies, because plaintiffs otherwise could undermine that remedy by resort to Section 1983. But FNHRA's administrative scheme cannot preclude because it is not judicial, personal, or comprehensive; it offers nothing to residents beyond minimal state-level remedies such as "telling on the person abusing you" and hoping state regulators take action. He insisted that Talevski received no remedy here — the family hired a private neurologist to adjust his medications and the facility did not allow him to return despite an administrative order. The "family was crying out for help and using every possible lever at their disposal. Section 1983 was the last resort." It provides a "lifesaver for people who cannot actually make effective use of the administrative scheme."
Rebuttal of HHC
Robbins argued that the spending clause allows Congress to do things it otherwise could not do, such as micromanaging nursing facilities in Indiana. It can do so because states consent by taking money, making consent crucial to FNHRA's constitutional validity. That validity must account for common law principles, which generally prohibited individuals from bringing third-party beneficiary claims on government contracts.