BREYER RETIREMENT
Profile of a potential nominee: J. Michelle Childs

on Feb 3, 2022
at 10:41 am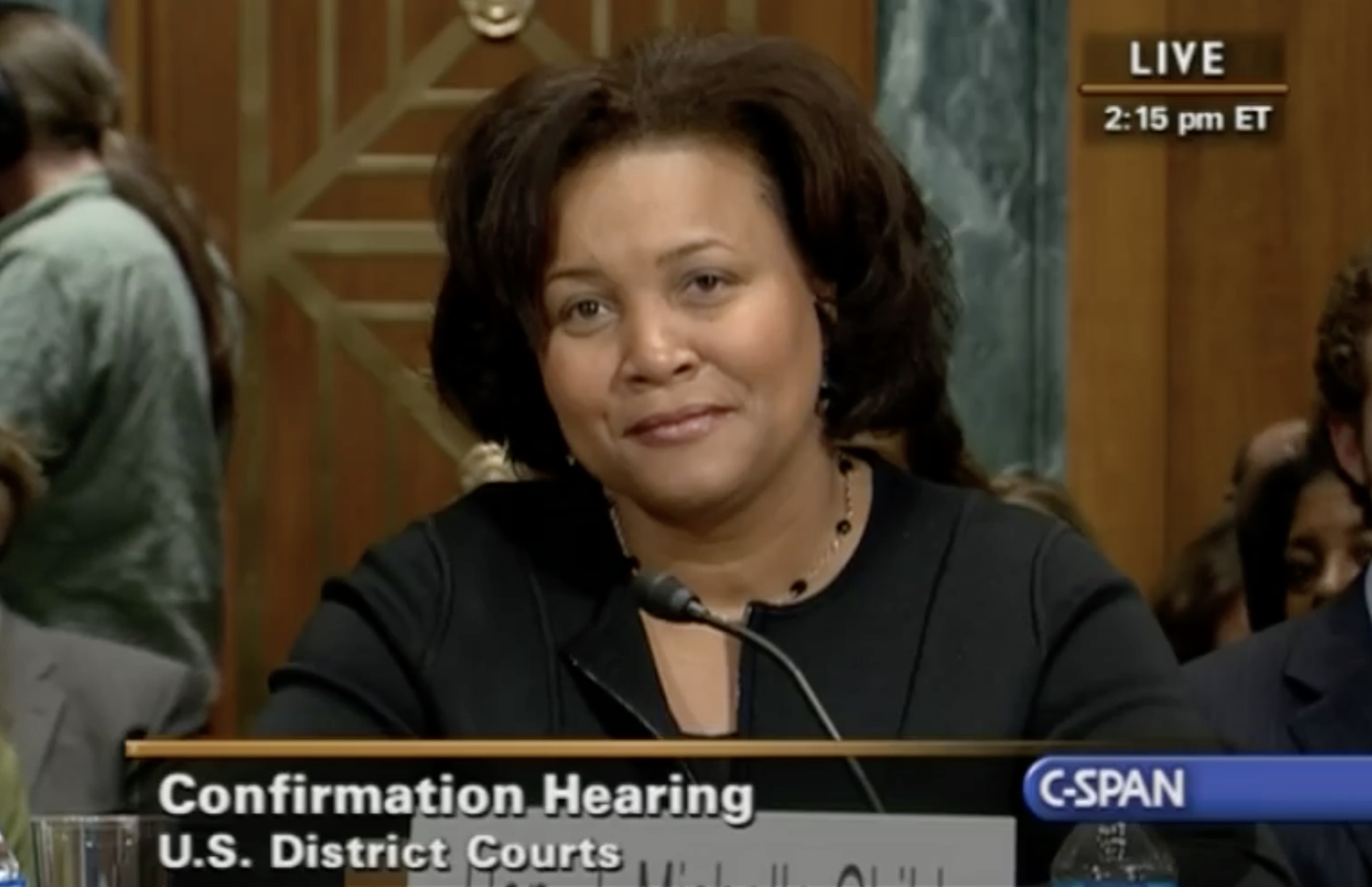 In 2020, Rep. James Clyburn of South Carolina made a key endorsement, backing then-candidate Joe Biden in the state's Democratic primary. Less than two years later, Clyburn has made another major endorsement, urging Biden to nominate Judge J. Michelle Childs, a federal trial judge in South Carolina, to succeed Justice Stephen Breyer when he retires. Clyburn told Axios that he has been advocating for Childs at the White House for six months, well before Breyer announced that he intends to step down at the end of the current term. "Judge Childs has everything it takes to be a great justice," Clyburn said on the day Breyer made his decision official.
Childs' supporters see her as an outsider who would bring fresh perspective to the Supreme Court. Her legal background differs in some respects from the D.C.-centric resumes that have become typical for Supreme Court short-listers in recent decades. She did not clerk on the Supreme Court, serve in the Department of Justice, or spend time at a white-shoe D.C. law firm. Instead, she has spent her career in her home state of South Carolina, where she worked at one of the state's top law firms and then served in two state government agencies. She has extensive experience as a judge – four years in state court and 12 years on the federal bench.
If she were nominated and confirmed to the Supreme Court, Childs, 55, would be one of only two justices on the nine-member court who did not attend an Ivy League law school. (Justice Amy Coney Barrett, who graduated from Rhodes College and Notre Dame Law School, is the other.) And Childs would be the only justice who attended public universities. Her supporters say that her educational background makes her better able to relate to ordinary people – a trait that might appeal to Biden, who graduated from the University of Delaware before attending law school at Syracuse.
Clyburn predicted that, if nominated, Childs would garner support from Republican senators – particularly Sens. Lindsey Graham and Tim Scott of South Carolina. On Face the Nation this week, Graham had high praise for Childs, though he stopped short of saying he would vote for her if she were nominated. Graham described Childs as "highly qualified" and said that he couldn't "think of a better person for President Biden to consider for the Supreme Court than Michelle Childs."
Early life and education
Childs was born Julianna Michelle Childs in 1966 in Detroit, Michigan. She was raised by a single mother who moved the family to Columbia, South Carolina, after her father died.
Childs graduated from the University of South Florida in 1988 with a bachelor's degree in management. She was named the school's most outstanding graduate that year.
She returned to Columbia to attend the University of South Carolina, where she received a law degree and a business degree in 1991. While in law school, she worked as a law clerk at Nelson Mullins Riley & Scarborough, one of the state's oldest and largest law firms.
Childs would later add another degree to her collection as a federal district court judge, picking up a master's degree in judicial studies from Duke University's law school in 2016.
Rising star in private practice and government
After law school, Childs joined Nexsen Pruet, another one of the state's largest law firms, in its Columbia office. She spent seven years there as an associate before becoming a partner in 2000 – the firm's first Black female partner. During her time in private practice, Childs litigated in state and federal courts in cases involving issues such as family law, qualified immunity for social workers, the Americans with Disabilities Act, and employment discrimination. Her clients included the shipping company UPS, a state utility company, government officials, a beachwear retail chain, and a state university. She also represented televangelists Jim and Tammy Faye Bakker in a case stemming from their settlement of claims by the Internal Revenue Service that they owed taxes. The pair, who divorced in 1992, wanted to clarify what rights they would have to the proceeds of any book sales. The Bakkers' case eventually settled.
Childs left Nexsen Pruet in 2000 to become the deputy director of the South Carolina Department of Labor. She stayed there for two years, until she was appointed by then-Gov. Jim Hodges as a commissioner on the South Carolina Worker's Compensation Commission, a job she held from 2002 to 2006.
Childs was also active in the South Carolina Bar Association. She served as the president of the state bar's young lawyers' division and as a member of the group's house of delegates.
A move to the state bench
In 2006, Childs was elected by the state's legislature to serve as a circuit court judge in Columbia; she was reelected in 2009. She was appointed to serve as the chief administrative judge for criminal courts from January 2008 until January 2010, as well as the first chief administrative judge for business courts. She also served on several occasions as an acting state supreme court justice. During her time in state court, she presided over roughly 50 trials in both civil and criminal cases.
Childs was assigned a 2009 case that garnered national headlines, involving one of the largest armored car heists in U.S. history, leading to the theft of over $9 million. An Associated Press headline declared that Childs had "[n]o mercy" for the defendants, several of whom had been students at local colleges at the time, as she sentenced five of them to at least 25 years in prison.
A bipartisan district court pick
In December 2009, President Barack Obama nominated Childs to the U.S. District Court for the District of South Carolina. Childs was presented at her April 2010 district court confirmation hearing by Graham and Clyburn. Graham noted that he and the state's other Republican senator at the time, Jim DeMint, had worked with Clyburn and Rep. John Spratt, a Democrat, to identify strong candidates for the federal judiciary. Childs' nomination was uncontroversial, and her confirmation hearing was uneventful. The American Bar Association unanimously rated her "well qualified," and she was confirmed in August 2010 by a voice vote.
One of Childs' highest-profile rulings as a district judge came in 2014, in a challenge to South Carolina's refusal to recognize the marriage, performed in the District of Columbia, of two women. Childs agreed with the couple that the state's failure to recognize their out-of-state marriage violated the Constitution. The women, she wrote, have a "constitutionally protected, fundamental liberty interest in the right to marry" that the state's marriage laws take away. A year later, the Supreme Court issued its landmark ruling in Obergefell v. Hodges, holding that same-sex marriage is a fundamental constitutional right.
Childs issued another important ruling six years later, during the 2020 election cycle. A group of South Carolina voters, the South Carolina Democratic Party and the Democratic National Committee challenged a state law that requires voters to sign absentee-ballot envelopes in the presence of a witness. Childs barred the state from enforcing the witness requirement for the state's June primary and again for the upcoming November election. She concluded that the challengers were "substantially likely" to be able to show that, because of the "unique risks posed by the COVID-19 pandemic," the witness requirement would violate the challengers' constitutional right to vote.
After the full U.S. Court of Appeals for the 4th Circuit left Childs' order in place, state election officials (along with Republican leaders of the state's legislature and the South Carolina Republican Party) went to the Supreme Court, asking the justices to allow them to enforce the witness requirement. The justices granted the officials' request and reinstated the requirement, although they made clear that ballots that had already been cast would still be counted as long as they were received in the next two days.
As a district judge, she told Law 360 that when drafting her opinions, she was writing not only for the parties involved in the case, but also for the rest of the world. "In many ways," she said, "I've looked at my job as trying to bring some truth to that old joke: I'm from the government, and I'm here to help."
A D.C. Circuit nomination – put on hold
In December 2021, Biden nominated Childs to fill the vacancy created when Judge David Tatel of the U.S. Court of Appeals for the District of Columbia Circuit announced that he would take senior status. The Senate Judiciary Committee was scheduled to hold a hearing on Childs' nomination on Feb. 1, but the hearing was postponed because she is among the candidates being considered to fill the Breyer vacancy.
Personal life
In 2000, Childs married Dr. Floyd Angus, a gastroenterologist who practices in Sumter, South Carolina – approximately an hour's drive from Columbia. The couple has one daughter, Julianne, who is now a teenager.
In addition to her work with bar groups, Childs has also been active in the local community. At the time of her confirmation to the district court, she was a trustee for ETV Endowment of South Carolina, a nonprofit that provides the funding for public television and public radio in South Carolina. She has served as a trustee on the board of St. Martin de Porres Catholic School, a Catholic elementary school in Columbia originally founded to provide an education for African American children in segregated 1930s South Carolina. A picture of Childs appears on the school's website. She is sitting on the bench in her black judge's robe, surrounded by children in the school's uniform.
Childs also served for several years on the board of the Columbia Urban League. The non-profit describes its mission as enabling "African-American and other under-served communities to secure self-reliance, primarily in education, employment, and economic development."
This article was originally published at Howe on the Court.