Event Recap
Senate Judiciary holds hearing on "dark money" and Supreme Court
on Mar 11, 2021
at 10:40 am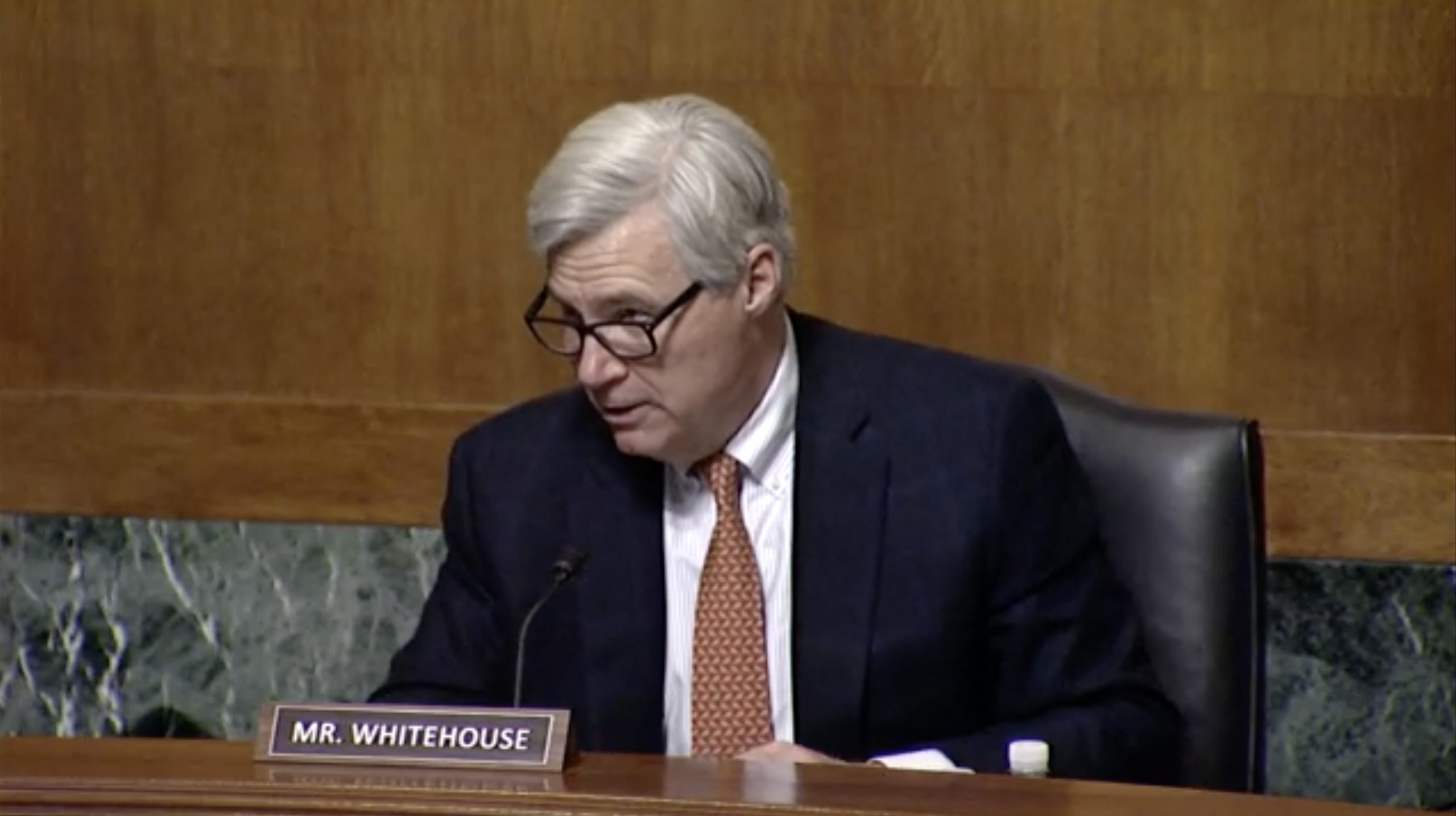 Sen. Sheldon Whitehouse has been talking about anonymous political donations and the Supreme Court for a long time. Now, Whitehouse is using his new position as the chair of a key Senate subcommittee to bring more attention to the issue. The senator on Wednesday held the first in a series of hearings to investigate whether large political donations are exerting undue influence on Supreme Court nominations and decisions, provocatively titled "What's Wrong with the Supreme Court: The Big-Money Assault on Our Judiciary."
In his opening remarks, Whitehouse, D-R.I., contended that a "multi-hundred million dollar covert operation" influences conservative Supreme Court justices at three stages. First, a "gatekeeping organization" Whitehouse didn't name (which witnesses later identified as the Federalist Society) grooms potential nominees for vacancies on the bench. Second, advocacy groups lobby for votes to confirm a chosen nominee in the Senate. And third, law firms and interest groups — allegedly with the same anonymous backers as the gatekeeper and advocacy groups — file amicus briefs urging the court to decide cases for the benefit of corporate interests.
The problem is not one of partisanship, Whitehouse said, noting that "in recent years Democratic dark money has caught up" to similar backing of Republican efforts. Rather, the issue is transparency. "Dozens of anonymously funded legal organizations have sprung up," Whitehouse claimed, and the lack of any requirements for donor disclosure means the public – and the justices – cannot know when the same sources that supported a justice's confirmation might be backing the legal team behind a party, or amicus, in a given case.
Sen. John Kennedy, R-La., ranking member of the Senate Judiciary Committee's subcommittee on federal courts, gave brief opening remarks as well. The "debate over politics and money is not new," he said, but rhetoric around dark money and the courts has "reached a fever pitch." "I witnessed an unprecedented level of vitriol leveled at Justice Brett Kavanaugh and Justice Amy Coney Barrett," Kennedy lamented. Voicing support for transparency, he insisted that the right of political expression, monetary and otherwise, under the First Amendment "has to be honored."
Weathering the most scrutiny were two groups: the Federalist Society on the right, and the consulting firm Arabella Advisors on the left.
Besides Chief Justice John Roberts, every conservative Supreme Court justice has ties to the Federalist Society (Roberts, through a spokesperson, denied any association when he was nominated to the court in 2005). Thanks to the group's nominations maven Leonard Leo, "judicial confirmations are more like political campaigns," said Lisa Graves, a senior fellow at the left-leaning watchdog Center for Media and Democracy. Graves emphasized the "amicus flotilla" in operation at the court. From 2015 to 2019, she told the subcommittee, four conservative groups donated $87 million to repeat amicus filers. Graves paired that figure with a Washington Post report that groups led or advised by Leo raised $250 million for efforts surrounding the courts over a similar period.
Kennedy asked Graves whether she believes that the Federalist Society has ever "bribed" a justice to vote a certain way in any case. Not in the "narrow statutory definition" of bribery, Graves responded, but certainly in the sense that bribery constitutes "undue influence."
Kennedy also pressed this point with Ben Jealous, president of People for the American Way and former president of the NAACP. Kennedy repeatedly asked Jealous whether, in his testimony, Jealous was claiming that Roberts had ever voted in a certain way because he was paid off by dark money – an allegation Kennedy called "as serious as four heart attacks and a stroke." Jealous deflected, pointing to the millions spent to confirm Trump's nominees to the court and cement a conservative supermajority.
Scott Walter, president of the right-leaning Capital Research Center, which investigates nonprofits and their donors, said "dark money" is far more prevalent on the left than on the right, and he specifically pointed at Arabella Advisors. That group, which advises many groups that donate to progressive causes, lists among its beneficiaries the judicial advocacy organizations Demand Justice and Take Back the Court. Arabella, Walter told the subcommittee, raised $1.5 billion over the same period in which conservative groups accrued their $250 million.
Sen. Thom Tillis, R-N.C., highlighted spending and other advocacy activities by groups with ties to Arabella. For further evidence of Democrats' complicity in rallying around the court for the sake of fundraising, he said his challenger in the 2020 election raised $6 million in one week after the death of Justice Ruth Bader Ginsburg.
Following up with Walter, Sen. Ted Cruz, R-Texas, asked whether groups on the left do anything different from those on the right with their funding from anonymous donors. "Not at all," Walter responded. He pointed to a report that Demand Justice spent $10 million after Ginsburg's death on a campaign to keep her seat open until after the 2020 election.
Like their finger-pointing at the Federalist Society and Arabella, both sides championed their own legislative solutions, coyly wondering why no one from the opposing party had lined up behind their efforts.
Whitehouse, along with Democratic Sens. Richard Blumenthal of Connecticut and Mazie Hirono of Hawaii, promoted the DISCLOSE Act and Amicus Act, which would require groups that engage with the court at the nominations or amicus level to disclose their donors. Cruz, for his part, brought up his SuperPAC Elimination Act, which would allow unlimited individual direct contributions to campaigns but require automatic disclosure within 24 hours.
Asked by Blumenthal whether they would support "stronger disclosure laws across the board," Graves and Jealous answered yes. Walter said that like "the NAACP in 1958," pointing to the court's decision in NAACP v. Alabama allowing the group to refuse disclosure of its membership lists to the state, he would not.
Correction (Thursday, March 11, 9:15 p.m.): This article has been updated with a corrected description of Arabella Advisors and its relationship to organizations it advises.