New York synagogues ask justices to lift attendance limits (updated)

on Nov 16, 2020
at 6:53 pm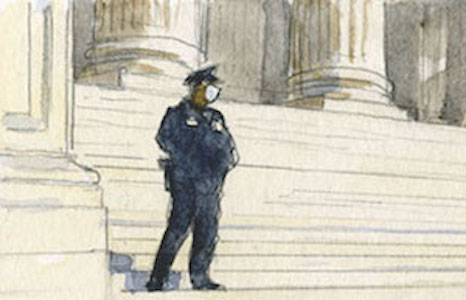 Four days after the Roman Catholic Diocese of Brooklyn asked the justices to block enforcement of a New York executive order restricting attendance at houses of worship, two Orthodox Jewish synagogues came to the Supreme Court to make a similar request. Arguing that their neighborhoods and religious institutions had been "targeted," the challengers – which also included two rabbis and an Orthodox Jewish organization – told the justices that the "guilt-by-religious-association restrictions" imposed by the order "have made it impossible for" them to "exercise their religious faith."
The order at the center of both filings was issued by New York Gov. Andrew Cuomo (D) in October. It limits in-person attendance at church services to either 10 or 25 people, depending on the number of COVID-19 cases in the areas in which a particular religious institution is located. The challengers went to federal district court in New York, where they argued that the restrictions make it impossible for the synagogues to conduct services for all of their congregants. The restrictions also have an outsized effect on Orthodox Jewish worshippers, the challengers continued, whose religious beliefs do not allow them to travel by car or public transportation to synagogues in areas without the restrictions.
The district court rejected the synagogues' request to put the order on hold, and the U.S. Court of Appeals for the 2nd Circuit then declined to block the order while the synagogues appealed. Judge Michael Park dissented from the 2nd Circuit's ruling, concluding that Cuomo's "public statements confirm that he intended to target the free exercise of religion."
Stressing that the Supreme Court should block enforcement of Cuomo's order for all of the reasons outlined in the diocese's filing last week, which focused on the extent to which the order allowed secular businesses to remain open while imposing severe restrictions on houses of worship, Monday's filing by the synagogues argued that Cuomo's order affirmatively targeted Orthodox Jewish communities: The governor made clear that he was imposing these strict limits because other Orthodox Jews had not complied with previous COVID-19 rules, leading to an increase in infection rates, even if the synagogues now before the Supreme Court had followed them. "The Governor's targeting of a religious minority for blame during a pandemic, falsely tarring them as perpetrators rather than victims of the virus," the synagogues concluded, "is incompatible with the" Constitution's free exercise clause.
A few hours after the diocese filed its request last week, Justice Samuel Alito – who would have granted two requests over the summer by churches in California and Nevada for relief from COVID-19 shutdown orders – spoke at the annual convention for the Federalist Society, the conservative legal group. As Kalvis Golde reported for SCOTUSblog, Alito told the audience that the pandemic "has resulted in previously unimaginable restrictions on individual liberty."
The synagogues' request goes initially to Justice Stephen Breyer, who is currently fielding emergency appeals from the 2nd Circuit. Breyer could then refer the request to the full court.
Update (Tuesday, Nov. 17, 9:45 a.m.): On Monday evening, Breyer called for a response to the application by Friday, Nov. 20, at 2 p.m.
This article was originally published at Howe on the Court.