Justices allow Alabama to restore ban on curbside voting

on Oct 21, 2020
at 10:07 pm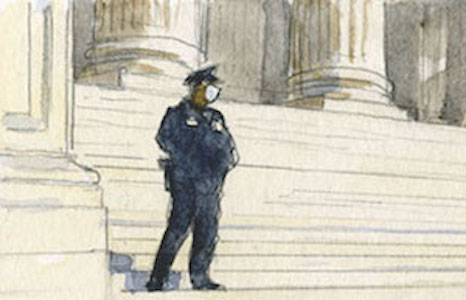 The Supreme Court on Wednesday night granted a request by Alabama election officials to allow them to ban curbside voting. The justices put on hold an order by a federal district judge that would have allowed counties to adopt curbside voting while the state appeals to the U.S. Court of Appeals for the 11th Circuit and, if necessary, the Supreme Court. Wednesday's order means that, as a practical matter, curbside voting will not be available for the upcoming election in November. Justice Sonia Sotomayor would have denied the state's request; she filed a dissent that was joined by Justices Stephen Breyer and Elena Kagan.
Alabama law neither prohibits nor requires curbside voting. Alabama's Republican secretary of state banned counties from using it this year. Wednesday's order came in a lawsuit filed in May by Alabama voters seeking (among other things) to block the secretary's ban on curbside voting in light of the coronavirus pandemic. A federal district judge ordered the state to allow counties to implement curbside voting, concluding that the ban violated the Americans with Disabilities Act by requiring voters with disabilities, who have a higher risk of serious complications or death from the virus, to cast their ballots in person and therefore increase their exposure to the virus.
After the 11th Circuit temporarily stayed other parts of the district court's order but declined to freeze the part of the order permitting curbside voting, the state went to the Supreme Court. In a one-paragraph order on Wednesday night, the justices put the district court's order on hold.
In her dissent, Sotomayor noted that the Centers for Disease Control and Prevention has recommended curbside voting as one way to fight the spread of COVID-19. And election officials, she observed, do not "meaningfully dispute that the plaintiffs have disabilities, that COVID-19 is disproportionately likely to be fatal to these plaintiffs, and that traditional in-person voting will meaningfully increase their risk of exposure." Instead, she wrote, they contended only that the plaintiffs can still vote using absentee ballots. But absentee voting is not the same as in-person voting, Sotomayor suggested: Among other things, absentee voting requires witnesses and a copy of the voter's photo ID, and the voter runs the risk that his ballot may arrive too late or be rejected.
Sotomayor depicted the district court's order as a "modest" and "reasonable accommodation." It doesn't require counties to implement curbside voting, she stressed; it merely allows them to use it if they opt to do so. Sotomayor concluded with a quote from an older Black man with asthma and Parkinson's disease, who told the district court that "[S]o many of my [ancestors] even died to vote. And while I don't mind dying to vote, I think we're past that – we're past that time." With election officials in at least two counties "ready and willing to help vulnerable voters" by allowing curbside voting, Sotomayor wrote, the Supreme Court "should not stand in the way."
This article was originally published at Howe on the Court.