Courtroom access: Final trip to see justices before enlistment nearly thwarted by shifting line
on Apr 8, 2020
at 11:46 am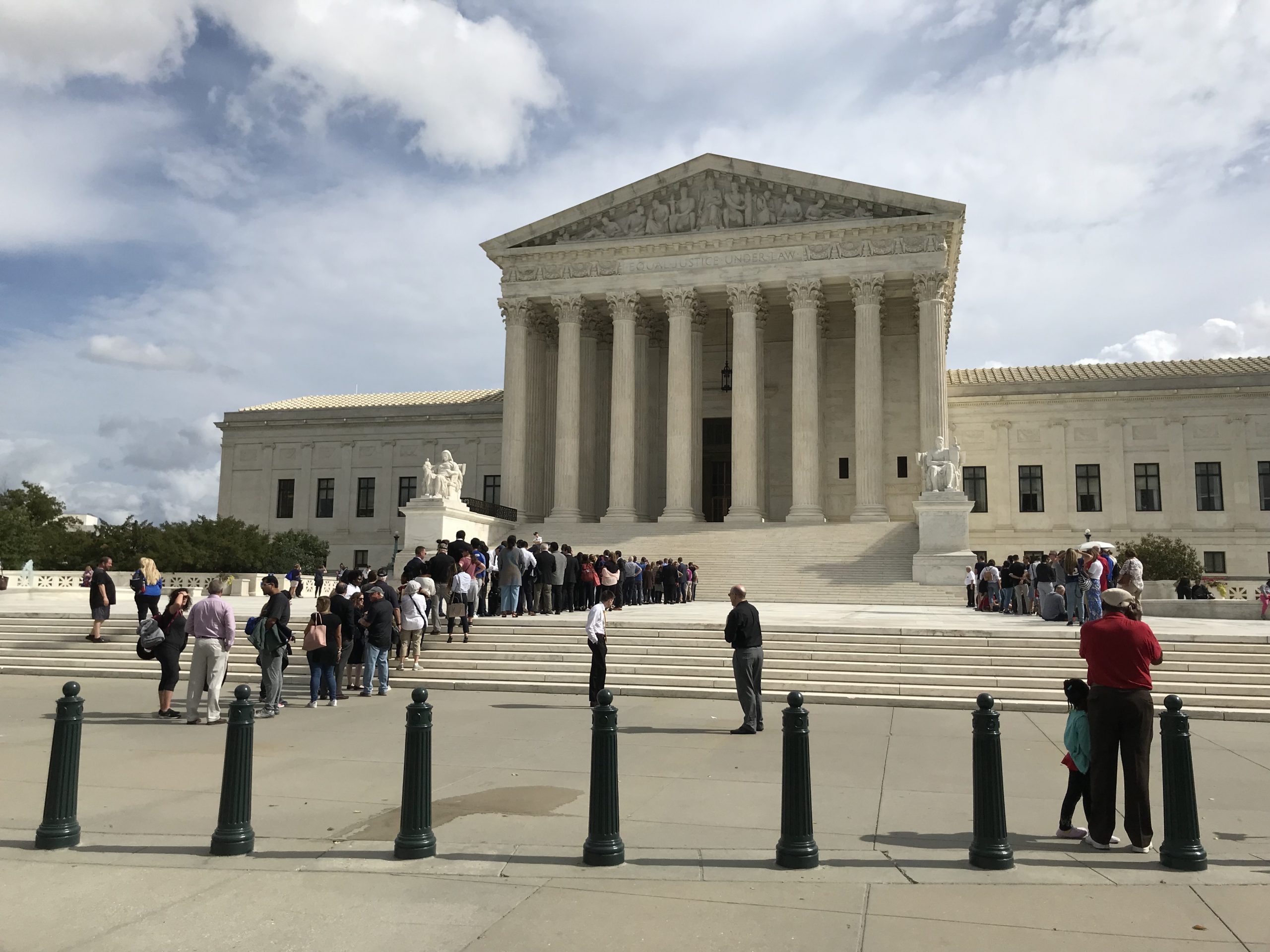 Patriotism plays a central role in many Americans' decision to join the military. It did for Matthew Roland (referred to by a pseudonym for reasons of personal privacy), who chose to enlist in the Marine Corps Special Forces. Before Matthew left last fall for boot camp, the Roland family took one final trip together, and Matthew had a clear idea of where he wanted to go.
"He specifically wanted to see oral arguments at the [Supreme Court] before shipping out," Matthew's father relates.
The Rolands instilled in their three sons a strong sense of pride in American government. Having lived overseas, they "experienced first-hand what a difference a Constitutional Republic can make in the lives of its people," says Matthew's father. He, like his son, holds the justices in high esteem: "The Supreme Court is the highest court in the land and the justices are men and women to be honored and respected … [they are] a critical part of what balanced government looks like."
The Roland family chose October 15, 2019, as their date to wait together in line outside the court. As Matthew's father tells it, they were "not concerned with the actual arguments" taking place. The day's sole argument turned out to be Financial Oversight and Management Board for Puerto Rico v. Aurelius Investment, a dispute over the constitutional validity of the board Congress created to bring financial stability back to Puerto Rico after the territory's recent debt crisis. With "scarce" online direction about when to arrive, the Rolands settled on 3:45 a.m.
The experience taught Matthew's father that "you need to arrive earlier than you think." The case turned out to be quite popular, and his family's pre-4 a.m. arrival time, usually safe for quieter days, earned them spots 39-43 in line. "People skipped the line," however, and "others were holding places." As a result of all the shifting, he recalls, by the time the 50 tickets guaranteeing spots inside the court were handed out around 7:30 a.m., only "four of the five members of our family made it inside."
Because "the honor system isn't reliable," Matthew's father says he "would like to see a very simple system that has numbers being passed out immediately when someone arrives to get in line," a request he feels is "valid" even though it "isn't very feasible given that people show up" so early in the morning – and for high-profile cases, often days in advance.
Such a system was not in place that morning. Upon receiving a firm no from court officers when the family pleaded for one additional ticket, Matthew's mother "made the choice to wait outside so [her] boys could experience it." Generally, the court will hand out additional tickets closer to 10 a.m., when arguments begin, to those still in line outside. But for what might be the only time we observed across the entire 2019 term, it seems the court handed out no additional tickets to the argument that morning.
(Three additional members of the public got in for the whole argument on October 15, but only by sheer luck. They had traveled all the way from Puerto Rico for the argument, to the tune of $1,200 per person, and got in line at 5:30 a.m. According to one of the three, upon failing to make the cut they immediately entered the three-minute line, hoping for a brief glimpse of the argument. Once the group was inside, an officer told them that three extra seats were left in the public gallery if they wanted to stay for the entire argument, an offer they readily accepted.)
The Roland family – minus Matthew's mother — overcame their initial disappointment outside the court. "The experience inside was wonderful," Matthew's father emphasizes. "At the risk of sounding overly dramatic, it was awe-inspiring."
Matthew's decision to enlist in the Marine Corps was no outlier; the family "is a huge supporter of the military and its purpose to defend our freedoms," his father explains. His strongest memory from the morning is of a "particularly moving" statement made by another of his boys: "My middle son, who is 14, leaned over to me during the arguments and whispered, 'Dad, you're right. THIS is worth fighting for.'" His son "wasn't talking about the justices, or the arguments being made," Matthew's father elaborates. Rather, "he was talking about the institution and what it represents … and what it protects."