A Supreme Court ceremony for Justice Stevens: "A modest and humble man"

on Jul 22, 2019
at 1:15 pm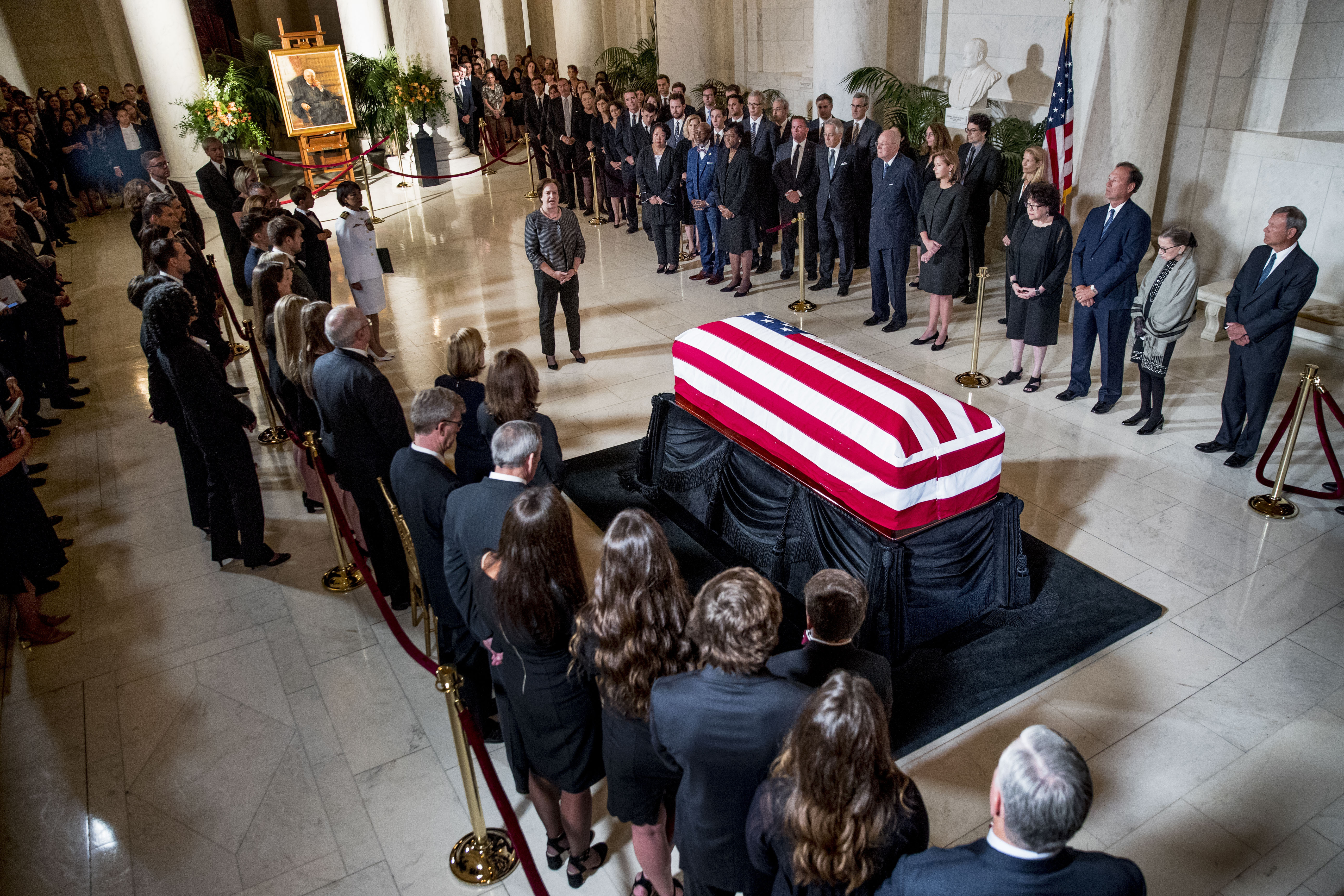 Justice John Paul Stevens was brought into the Great Hall of the Supreme Court building on Monday to lie in repose, with his successor, Justice Elena Kagan, saying that his memory "will be a blessing in this court, which he served so well for so long."
"It will be a blessing in the lives of all the people whom he personally touched," Kagan added. "And it will be a blessing in the wider world, which has been made far better for his efforts."
Kagan was the only member of the court to speak during the brief ceremony, but she was joined by Chief Justice John Roberts, Justices Ruth Bader Ginsburg, Samuel Alito and Sonia Sotomayor, and retired Justice Anthony Kennedy.
Four justices were absent because of long-planned travel or other commitments, the court said. Justice Neil Gorsuch is in Italy and Justice Brett Kavanaugh in England to teach summer law-school seminars beginning this week. (Kavanaugh's wife, Ashley Kavanaugh, lined up with the members of the court for the ceremony.) Justices Clarence Thomas and Stephen Breyer had other long-planned obligations.
Others in attendance included Cecilia Marshall, the widow of Justice Thurgood Marshall, and Cathy Douglas-Stone, the widow of Justice William Douglas. Court employees, including staff members of Justice Stevens' chambers, also found their way to the Great Hall for the ceremony.
Stevens died July 16 at age 99 after suffering a stroke the day before. He served on the court from his appointment by President Gerald Ford in 1975 to succeed Douglas until his retirement in 2010 under President Barack Obama.
Justice Stevens' casket was taken up the steps of the Supreme Court building by a Supreme Court police force honor guard, accompanied by honorary pallbearers, as a retinue of some 80 former Stevens law clerks lined the steps.
Justice Stevens' surviving daughters, Elizabeth Sesemann and Susan Mullen, led some 30 family members, with nearly every male member of the group, including grandchildren and young great-grandchildren, wearing bow ties in honor of the justice, who favored such neckwear.
United States Navy Captain Judy Malana, the regional chaplain of the Naval District of Washington, offered a prayer at the beginning of the ceremony for a man who joined the Navy on Dec. 6, 1941, one day before the Japanese attack on Pearl Harbor.
"As we honor Justice John Paul Stevens, who was indeed a great man from our greatest generation, we gather with hearts of gratitude knowing that he faithfully answered the call to serve our country when we, the people, needed him the most," Malana said. "He stepped up to the plate, using his talents to help our nation navigate towards victory during World War II."
Kagan, who succeeded Stevens, said the justice was proud to have taken the seat once filled by Justice Louis Brandeis. And just as Stevens considered Brandeis a hero, she considers Stevens a hero.
"He was a brilliant man, with extraordinary legal gifts and talents, which he combined with a deep devotion to the rule of law and a deep commitment to equal justice," Kagan said. "He thought that no person, no matter how high and mighty, was above the law. And he insisted that the law and the legal system treat every person, however weak or defenseless, with dignity and with fairness."
"He was a modest and humble man," Kagan continued. "He didn't think much about himself. And yet there was nobody who could stand on principle more firmly. There was nobody who stuck more firmly to his own convictions. In doing so, over the years, he built up a body of work, both in majority opinions and dissenting opinions, that demonstrates an extraordinary judicial wisdom, unsurpassed by any modern justice."
Addressing the law clerks in attendance, Kagan drew laughter when she said, "Now let's be frank. Justice Stevens, more than most justices, did not need law clerks. Indeed, in many years, he did not take his full complement. You could be an even bigger group than you are."
Many told her Stevens was the best boss they ever had, she said.
"You learned how to lead a good and honorable life," Kagan said to the clerks. "You learned about treating people with dignity and with courtesy and with respect and with kindness. And you learned about the importance of putting all of your legal talents and gifts towards serving others."
"If ever there were a case where a funeral should become a celebration of a life well-lived, this is that case," Kagan said. "Justice Stevens lived a long life. He lived a great and important and influential life. And he lived a life of integrity and kindness and decency and service."
After the ceremony, Stevens clerks took turns standing watch over the casket, along with members of the police honor guard. Pamela Harris, a judge on the U.S. Court of the Appeals for the 4th Circuit, and Douglas Winthrop were the first former clerks to take such positions. The law-clerk vigils will continue while Justice Stevens lies in repose until midnight.
About an hour after the ceremony ended, President Donald Trump and Melania Trump arrived to pay their respects. They stood in silence with eyes closed at the casket for a few minutes before stopping at the portrait of Justice Stevens painted by James Ingwersen in 1991, which was on an easel in the hall.
Justice Stevens is to have a private funeral and burial at Arlington National Cemetery on Tuesday. He will be interred next to the body of his second wife, Maryan Mulholland Stevens, who died in 2015 at age 84.