SCOTUS Map: February and March 2019
on Mar 13, 2019
at 2:01 pm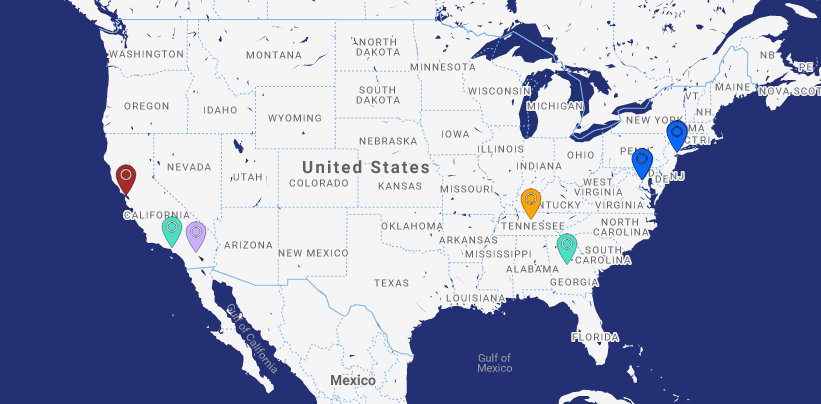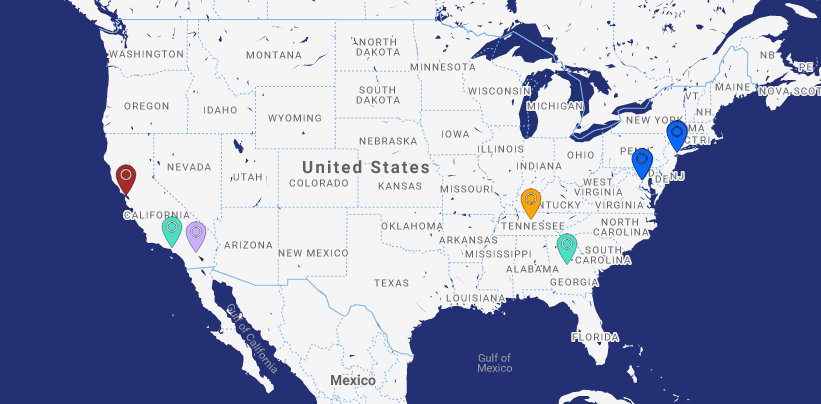 At a February 1 Hastings Law Journal symposium honoring retired Justice Anthony Kennedy's 43 years as a federal judge, Kennedy bemoaned what he sees as the lack of "rational, enlightening dialogue" and the dissipation of the "social framework of decency." Of the Supreme Court's two newest justices (and former Kennedy clerks), Justices Neil Gorsuch and Brett Kavanaugh, Kennedy had only ringing endorsements: "[Gorsuch is] going to be a wonderful judge, just like Brett." The San Francisco Chronicle covered his comments.
On February 4, Justice Elena Kagan spoke to students in a Q&A session and received the Fordham-Stein Prize from the Fordham University School of Law. Coverage comes from The Fordham Observer and Fordham Law News, which reports that Kagan encouraged attendees at the Fordham-Stein Prize Dinner to connect with one another. "I do truly believe one thing, and that is we only make progress by listening to each other and by learning from each other, and that we should do that across every apparent divide: jurisprudential, political, you name it."
In a February 6 Belmont University Law School appearance, Chief Justice John Roberts mused about the challenges of achieving consensus and reducing the number of 5-4 decisions. "Some days are better than others," he noted. He continued:
I think it's something worth working at. I have eight extraordinarily accomplished colleagues who work hard, and have a particular view, and they also are committed to having us work together as much as possible. I think a unanimous or closely unanimous decision is much more effective and acceptable than a sharply-divided 5-4, or even worse, 4-3-2… The narrower the decision, the more likely you are to get people to agree with it. It's when you start branching out that people will fall off.
Citing Chief Justice Earl Warren's short, unanimous decision in Brown v. Board of Education, Roberts pointed out:
You get the sense that he wanted unanimity… If he had written another paragraph, people would start saying, no, I don't agree with that. I'm not going to go along with that. So, I do think it's a worthy objective. Not at all costs – if you have strongly held views on a particular approach to a case, and that results in a 5-4 decision, then that's the way it is. But I do think it's worth trying to get broader agreement.
The chief justice was also questioned about Kavanaugh's confirmation process. "The process is not working the way it's supposed to," Roberts said. He explained:
All too often, you have members of the committee asking questions that the nominee can't fairly answer, or for reasons of their own, and the nominee having to give answers that aren't answers. How are you going to rule on this? What do you think about this case? It's inappropriate to ask a nominee that and inappropriate for a nominee to answer. And yet you kind of go through all of that anyway. I don't think that's helpful.
Roberts suggested that senators instead ask other probing questions such as: What is the nominee's understanding of the Constitution? What is the proper role of the Supreme Court? What are your favorite books, and why? What are nonlegal decisions you've made, and how did you make them?
The Tennessean covered the event, video for which is available on YouTube.
Justice Sonia Sotomayor delivered remarks at the Society of Children's Book Writers and Illustrators' Golden Kite Awards Gala on February 8. Coverage comes from Publishers Weekly.
On February 14, Sotomayor spoke at the Library of Congress, as part of the Supreme Court Fellows Program. Video of the full talk, which covered topics such as her career in the judiciary and her plans for another children's book, is available on C-SPAN.
Sotomayor appeared alongside the actress Eva Longoria Bastón at the George Washington University on March 1. C-SPAN has also posted video of the event. Three days later, Sotomayor gave the introduction at the Americans for the Arts' Annual Nancy Hanks Lecture at the John F. Kennedy Center.
On March 2, Gorsuch was presented with an Honorary Fellowship to the American College of Trial Lawyers at the ACTL's 2019 Spring Meeting.
Sotomayor was in New York last week, stopping by the New York City Bar Association on March 7 to receive the Association Medal and to see her portrait unveiled. The justice spoke about the importance of representation and expressed her delight at having her portrait placed next to Justice Ruth Bader Ginsburg's and Justice Thurgood Marshall's. In a lighthearted moment during the Q&A session, Sotomayor was asked whether she, Kagan, and Ginsburg "hang out" off the bench. "Sometimes we do," Sotomayor replied. "I've had them over to my house for dinner. The other two don't cook, so they're impressed I do."
On Friday, Sotomayor made an appearance at the National September 11 Memorial & Museum, where she discussed the impact of the 9/11 attacks on American society, as part of the museum's New York Stories series.
On March 11, Justice Clarence Thomas delivered the keynote speech at a Mercer University School of Law courtroom dedication in Macon, Georgia.
Thomas also travels to California this month, speaking at Pepperdine University's Annual School of Law Dinner on March 30.
* * *
Past case linked to in this post:
Brown v. Board of Education, 347 U.S. 483 (1954)