Exams aren't over yet: SCOTUS quiz on "Table for 9"
Posted Fri, December 22nd, 2017 11:38 am by Andrew Hamm
We dine once a year with the President, and that is all. On other days we take our dinner together, and discuss at table the questions which are argued before us. We are great ascetics, and even deny ourselves wine, except in wet weather [when it is medicinally advisable].

What I say about wine, sir, gives you our rule; but it does sometimes happen that the Chief Justice will say to me, when the cloth is removed, "Brother Story, step to the window and see if it does not look like rain." And if I tell him that the sun is shining brightly, Judge Marshall will sometimes reply, "All the better for our jurisdiction extends over so large a territory that the doctrine of chances makes it certain that it must be raining somewhere." You know that the Chief was brought up upon Federalism and Madeira, and he is not the man to outgrow his early prejudices.

–Justice Joseph Story in a letter to a friend about early practices at the Supreme Court.
"Food in good company has sustained Supreme Court Justices through the ages," writes Justice Ruth Bader Ginsburg in her foreword to "Table for 9: Supreme Court Food Traditions & Recipes," by Clare Cushman of the Supreme Court Historical Society. In this book – filled with tidbits from history, quotations drawn from letters, dozens of pictures and, of course, over 40 recipes – Cushman looks at the history of the Supreme Court through the lens of its food customs. This isn't just a cute topic — it relates directly to the effective functioning of the court. As Cushman writes of the justices, "[t]o foster harmonious working relations, they have traditionally sought opportunities to enhance cordiality and cooperation by breaking bread together."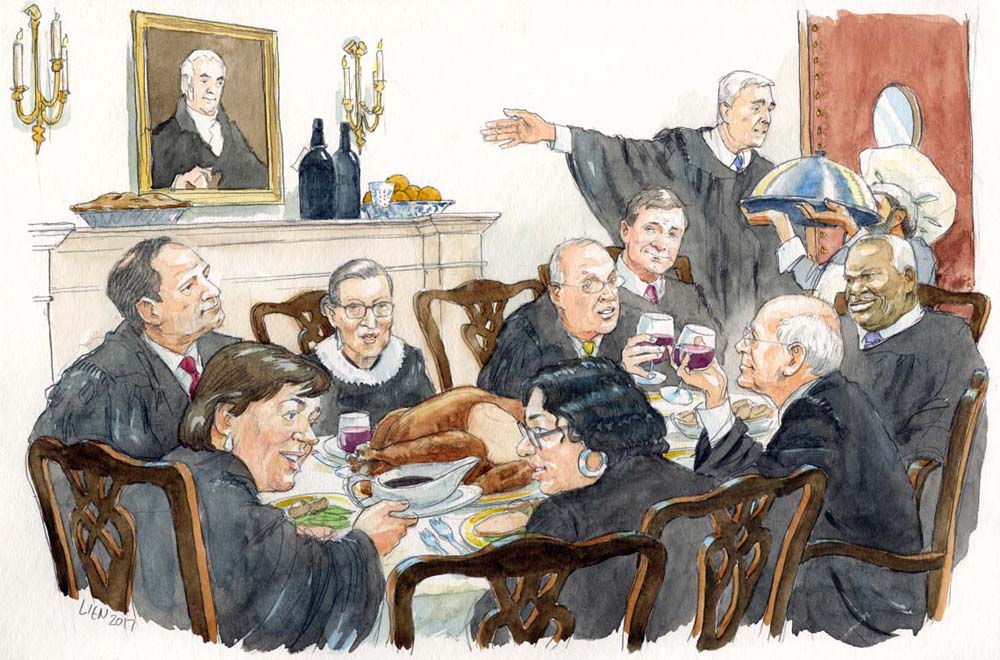 These recipes provide a glimpse into the lives of the justices before and during their time on the bench. For instance, we learn how to make:
Lazy B Ranch Beef Jerky – Justice Sandra Day O'Connor's brother produced this jerky on the Arizona cattle ranch where they both grew up.
Gibson Island Club Maryland Crab Soup – Justice Thurgood Marshall made this soup as he put himself through law school by working summers at the exclusive club on the Chesapeake Bay.
Oysters Le Burger – Chief Justice Warren Burger invented this oyster dish in 1979 to celebrate the circulation of the final 16 opinions of the term.
Throughout the book, Cushman also introduces us to various characters who have shaped the court from off the bench, including:
Jasper Crouch, a black freedman who worked as a bartender and pig-roaster in Richmond, Virginia. Crouch was highly praised by early 19th-century elites (especially Chief Justice John Marshall) for his mint juleps and pigs seasoned with mustard, cayenne pepper and mushroom ketchup.
Dorothy Kurgans, the wife of Justice Arthur Goldberg. She hosted Passover seders at their home for the justices and other leaders in Washington.
Marty Ginsburg, Ginsburg's late husband. The cross-ideological friendship of Justices Ginsburg and Antonin Scalia has been widely documented: Marty Ginsburg cooked the venison from the deer Scalia hunted.
* * *
This quiz based on quotations from the book will test your mastery of Supreme Court food-related trivia. Answers (with explanations) are available at the hyperlink below.
1) "I'll tell you what, if I am lucky enough to be confirmed, I will ask Justice Scalia to take me hunting." Which justice made this promise to the Senate Judiciary Committee?

John Roberts
Samuel Alito
Sonia Sotomayor
Elena Kagan

2) "Good cheese is one of the gifts of the Gods, a fact that is not appreciated in this country as it ought to be." Which chief justice lamented this sad fact?

William Rehnquist
Harlan Fiske Stone
William Howard Taft
Charles Evans Hughes

3) "The Justice had a lot of faith in bourbon as a cure for just about any ailment." A clerk said this about which Kentucky-born justice?

John Marshall Harlan
Louis Brandeis
Stanley Forman Reed
Fred Vinson

4) Which Prohibition-era justice, after being sent three bottles of wine, made this pseudo-constitutional determination: "The 18th Amendment forbids manufacture, transportation and importation. It does not forbid possession or use. If I send it back I will be guilty of transportation. On the whole, I think I shall apply the maxim de minimis and drink it."

James McReynolds
Edward Sanford
Oliver Wendell Holmes
Louis Brandeis

5) "The trick is to keep the steak moving on the hot pan, add butter just before it's finished, and accent with a little garlic salt." Which justice offered this culinary advice?

Hugo Black
Sandra Day O'Connor
Earl Warren
Neil Gorsuch
True or false?
6) The justices eat during oral argument.

7) The justices discuss legal matters together during lunch.

8) Justice Sonia Sotomayor doesn't cook Puerto Rican food.

9) Bread should be served with pasta.

10) I have spent entirely too much time preparing this post.
Answer sheet at this link.
Recommended Citation: Andrew Hamm, Exams aren't over yet: SCOTUS quiz on "Table for 9", SCOTUSblog (Dec. 22, 2017, 11:38 AM), https://www.scotusblog.com/2017/12/exams-arent-yet-scotus-quiz-table-9/