Portrait of a justice: Roberts and Barrett on the life and legacy of Robert Jackson
on Nov 3, 2017
at 12:24 pm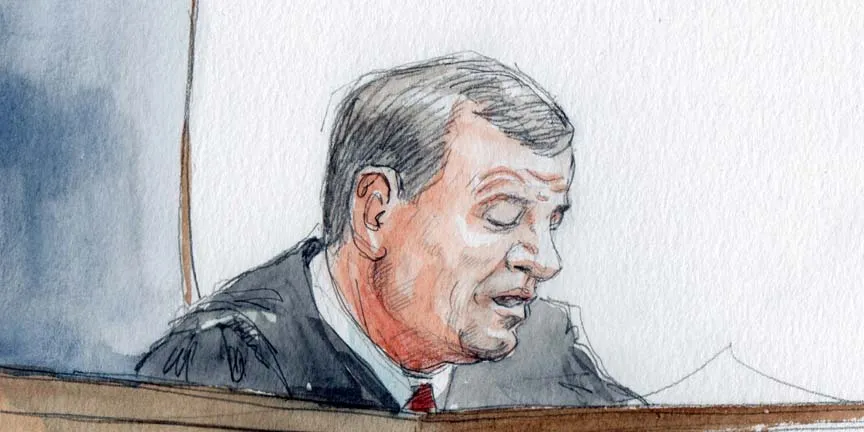 Among the privileges and immunities of the chief justice is the right to adorn the walls of the Supreme Court. And in the justices' private conference room, Chief Justice John Roberts has chosen to hang portraits of John Marshall, Benjamin Cardozo, a John Marshall Harlan (wagers as to which one?), and the subject of a lecture sponsored by the Supreme Court Historical Society on Wednesday, Robert Jackson.
Roberts – who clerked for then-Associate Justice William Rehnquist, who clerked for Jackson – proudly noted this "genealogical connection" to the renowned jurist. After praising Jackson's "eye for allocating his time and talent for the furtherance of our constitutional system of government," Roberts suggested that the historical society could offer a whole series just on Jackson the country lawyer; or on Jackson the chief prosecutor in Nuremberg; or on Jackson the solicitor general, a position Justice Louis Brandeis once said he wished Jackson could occupy for life. Or of course the society could host a series just on Jackson the Supreme Court justice, a dissenter from the infamous Korematsu v. United States decision that upheld the internment of Japanese Americans during World War II and the author of the enduring aphorism about the justices – remember Korematsu – "We are not final because we are infallible, but we are infallible only because we are final."
"But an evening on Jackson as a member of FDR's cabinet is a good place to start," Roberts concluded.
Roberts yielded the lectern to John Q. Barrett, a law professor at St. John's University School of Law and the sender of the "Jackson List" – periodic emails about Jackson, the Supreme Court, Nuremberg and other topics.
Barrett opened by evoking the official groundbreaking for the current Supreme Court building. On October 13, 1932, President Herbert Hoover held a trowel as lawyers crowded around him. Barrett hypothesized that Jackson was among them. After all, Jackson – an attorney in private practice in upstate New York and friend of (and campaigner for) Franklin Roosevelt – was in Washington that day to speak at the American Bar Association's annual meeting.
If Jackson was there, he likely did not even daydream about one day taking a seat behind the bench of the completed courtroom, Barrett suggested. Jackson, then 40, had "great self-confidence and ambition," but that "would have been far-fetched."
A "meteoric" rise got Jackson there in nine years. Barrett detailed the timeline:
1932: Roosevelt wins the presidency.

1933: Jackson "plays a little hard to get." He wants a "lawyerly job with stature."

1934: Jackson becomes general counsel of the Bureau of Internal Revenue in the Treasury Department – a precursor to the Internal Revenue Service that makes Jackson the head of the largest law office in the country (larger than the Department of Justice).

1935: Jackson moves to the Securities and Exchange Commission to work on defending the constitutionality of the Public Utility Holding Company Act.

1936: Jackson becomes assistant attorney general in charge of DOJ's tax division.

1937: Jackson takes charge of DOJ's antitrust division.

1938: Jackson becomes U.S. solicitor general.

1939: Jackson loves his job. The "switch in time that saved nine" – in which the Supreme Court became more "inclined to support" New Deal legislation – helps, but Jackson's success in nearly 40 oral arguments is "overwhelming."

1940: Jackson becomes attorney general. He's also a serious presidential candidate. Expectation remains high that Roosevelt will retire as all two-term presidents have before, following a tradition set by George Washington. (Hitler's aggression will change the political calculus, but Jackson remains a possible nominee for vice president.)

1941: Jackson becomes an associate justice.
Another date that Barrett evoked came after Jackson had served as a justice for a decade. On May 13, 1952, Jackson and his colleagues heard oral argument in Youngstown Sheet & Tube Co. v. Sawyer.
The U.S. solicitor general, Philip Perlman, sought to defend President Harry Truman's seizure of steel mills to prevent a labor strike during the Korean War. As Roosevelt's attorney general, Jackson had defended similar actions during World War II. Time and again Perlman referenced this earlier position.
In the end Jackson did not agree with Perlman, and he wrote an influential concurrence about the limits of executive power (distinguishing Roosevelt's policies). However, Barrett did not dwell on the specifics of Jackson's argument, but on more personal realizations swirling in the justice's mind after oral argument. Jackson realized that he was one of the last living participants in Roosevelt's administration and that his own memories of that period were fading. He began writing a biography of his former friend, one he did not complete before his death two years later.
Much of Jackson's work as attorney general involved war preparation and its legal arguments: about the resumption of selective service and the seizure of defense-production facilities; about "lend-lease," in which the United States would "lend" material aid to the Allies, who in return would "lease" bases around the world; and about detentions of foreign nationals and citizens, at that time only envisioned to be Germans and Italians. One legal argument suggested that the United States need not make a formal declaration of war, because instead of joining a battle the country would be aiding victims of Nazi Germany's international crimes – an argument dropped but later developed during the Nuremberg prosecutions.
Barrett's lecture – and Jackson's writing about Roosevelt – extended beyond the professional ties between these 20th-century luminaries.
It seems that the two men were not disposed to deep emotional intimacy, but they took "pleasure in each other's company" – fishing or playing poker together. They also shared a "sense of propriety," and only once, Jackson wrote, did Roosevelt attempt to compromise Jackson's judicial principles. During a poker game, Roosevelt asked Jackson how he had voted in Southern Steamship Company v. National Labor Relations Board. (Jackson joined a five-justice majority ruling against the president's position.)
Barrett suggested that Roosevelt valued Jackson's independence. Whether that's true – and Barrett was not entirely sure – Jackson was certainly not a "yes man." Barrett quoted from a letter written by Jackson to Roosevelt in 1916, before they were friends. Jackson had recommended a candidate for postmaster in upstate New York, but someone else had been nominated:
Our friend Mr. Smith … was turned down … because some time in the remote past he suffered from a venereal disease. Just how this disqualified him as postmaster I am not able to see, but never having suffered from this affliction myself, I cannot share the prejudice against it which the Post office officials seem to have.
As for Jackson's unfinished biography of Roosevelt? Jackson's son gave the manuscript to Barrett, who edited and completed the work: "That Man: An Insider's Portrait of Franklin D. Roosevelt."
The Supreme Court Historical Society has three upcoming events:
November 8: "The Reenactment of Clay v. United States"

November 30: "James Wilson and the American Founding," by William Ewald of the University of Pennsylvania

December 6: "Answering the Call: Leaving the Bench to Serve the President – James F. Byrnes and FDR," by Sidney Milkins of the Miller Center for the Presidency